A tent has the power to make or break a camping trip. Whether you're an experienced camper or a first-timer, a tent is an important investment that will shape your experience.
However, with so many tents on the market, it can be difficult to decide which one is best suited to your family.
To help you find a high-quality tent that will keep the whole family happy we have rounded up some of the best models in Australia and assessed them against a range of important criteria including size, design and durability.
Use the reviews and comparisons below to help you find the best tent for your next camping trip.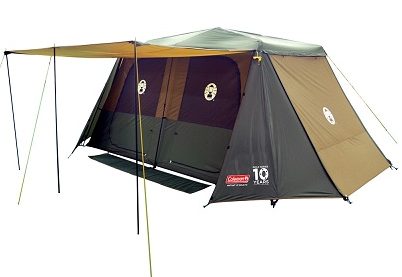 Full Capacity: 10 people
Recommended Capacity: 4-5 people
Weight: 30kg
Waterproofing: 3000mm
Pros: Excellent waterproofing, high-quality, easy access to each area, fast setup, value for money
Cons: Potential for rain to pool on awning, can catch the wind easily, room divider is a potential trip hazard
The Coleman Instant Up is one of the most popular family tents in Australia and it's easy to see why. The biggest selling point of this tent is how quick and easy it is to pitch. The Coleman Instant pole design means this large tent can be put up in just a few minutes, removing much of the stress and confusion that can come with camping (particularly for beginners).
The Coleman Gold Series Tent is considerably more heavy duty than the Silver Series. This family tent uses 75/185D ripstop fabric and offers a waterproof rating of 3000mm which is double that of the Silver range. 3000mm is the highest waterproof rating offered by the tents we have reviewed (3 x higher than the Wanderer Nightfall tent) so the Coleman Instant Up ranks very well in that department.
One of the things we love about this family tent is how spacious it is. It is large enough for a queen-sized bed and a couple of single beds (or 2 queen-sized beds) with room to spare for your bags and kit. The max head height is 200cm so you can stand up comfortably and there are 4 access points so everyone can come and go as they please without needing to trip over each other to reach the door.
The biggest downside to this tent is the weight. At 30kg it isn't the most portable tent and could do with 2 people carrying it from the car. If that's not an issue then the Coleman Instant Up 10P Gold is the best family tent for most camping trips of 4-5 people.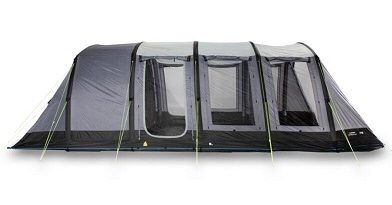 Full Capacity: 6 people
Recommended Capacity: 2-4 people
Weight: 35.35kg
Waterproofing: Not stated
Pros: Large living area, airframe technology, fitted carpet, great ventilation
Cons: Heavy, expensive, small sleeping space
The Daydream 6 Air Tent frame is made from airpoles that are inflated rather than using traditional tent poles. The air poles are quick and easy to set up making this type of tent an increasingly popular and more convenient tent choice. However, air tents are expensive and are also very heavy, making them difficult to transport.
The Daydream 6 offers campers convenience and comfort with a couple of premium features that add a touch of luxury to the camping experience.
The living space is huge but the bedroom area is limited so we think this tent is best suited for up to 4 people. The total space inside this tent makes it the largest on our list and it offers a good design for families that want a large living space for hanging out and playing games.
One of the well thought out aspects of this tent is the ventilation. In addition to the windows and doors, there are high and low ventilation points and gussets to help direct the airflow. This gives campers better control over the temperature and air circulation.
The Daydream 6 also has a fitted fleece carpet for added comfort, something none of the other family tents offer. This is the best family tent for families that want an easy set-up, lots of living space, and don't want to worry about losing or breaking tent poles.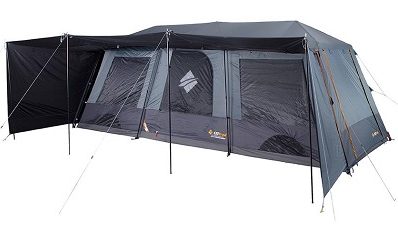 Full Capacity: 10 people
Recommended Capacity: 5-6 people
Weight: 33kg
Waterproofing: 3000mm
Pros: Block out canvas, quick to set up, removable room dividers, excellent waterproofing
Cons: Heavy, included set up instructions could be clearer
This is an excellent tent option for larger families and for family camping during summer in Australia.
One of the first things to highlight about this tent is the block out canvas. This is a gamechanger for hot summer nights and bright early mornings. The block out material stops most of the light from getting into the tent and helps keep the tent cool meaning it is more comfortable to sleep and you can sleep for as long as you want.
The other thing we love about this tent is the layout. There are 3 large rooms with a removable room divider so you can adapt the space as needed. The space of this family tent is complemented further by the 200cm headroom which allows adults to stand up and walk around comfortably.
This tent also features a Fast Frame design which means it can be pitched in just a few minutes, similar to the Coleman Instant Up tent reviewed above. In terms of size, the Oztrail is the larger of the two offering 600cm x 220cm of internal space and the option to pitch awnings from each side of the tent.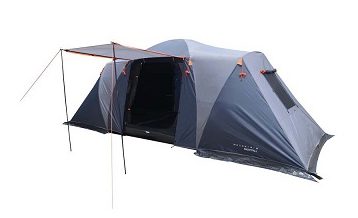 Full Capacity: 10 people
Recommended Capacity: 4 -5 people
Weight: 16.5kg
Waterproofing: 1000mm
Pros: Lightweight, black out rooms, zippered dividers, handles wind well
Cons: Not as much ventilation as other tents, tent pegs could be larger
The Wanderer Nightfall Dome Tent is a great family tent for 4 or 5 people. Similar to the Oztrail tent above, the Nightfall Dome Tent features blackout bedrooms. This means the rooms stay dark even when its light outside so users can sleep whenever they want. This feature is particularly helpful during summer and can help the younger members of the family get to sleep more easily during daytime naps or early nights.
Compared to other family tents on the market, the Wanderer Nightfall is lightweight and easy to carry. It weighs just 16.5kg, the second lightest on our list and is considerably lighter than most of the other tents.
Don't worry, a lightweight tent doesn't mean it is going to blow away at the first gust of wind. The Wanderer Nightfall handles high winds and rain well. It is rated 1000mm waterproof, offers UPF50+ sun protection and dome tents are designed to handle wind better than other tent types.
One thing that could be better about this family tent is the ventilation. The tent rooms can get hot when the privacy dividers are zipped up. Summer camping in Australia can be brutally hot, so the nights may be more comfortable if you have the dividers unzipped.
In contrast, the Instant Up Gold Series tent from Coleman and the Dometic Daydream 6 both have a number of well-thought-out ventilation features that help airflow so these may be better suited if you know you'll be camping in very hot weather.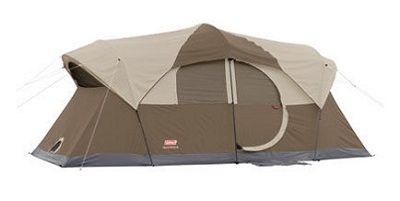 Full Capacity: 10 people
Recommended Capacity: 4-6 people
Weight: 14.06kg
Waterproofing: Not stated
Pros: Well-ventilated, roomy, great for up to 6 people, hinged door closes itself, mesh roof allows stargazing
Cons: Not good for wet weather/ storms, 2 person assembly recommended
This tent is ideal for longer camping trips in dry weather. It offers enough room for up to 6 people so is suitable for family camping trips as well as friend groups.
One of our favourite features of this family tent is the hinged door. Rather than being zippered like most tents, the main access door is on a hinge so it is quick and easy to get in and out. This is great for kids who often struggle with the zippers on tents.
One of the other great features is the mesh roof that allows you to make the most of the clear nights by stargazing from your bed.
In addition to this, the large windows and ventilation of this tent is excellent. One of the downsides to having lots of people in the tent is that there is a risk of it getting hot and stuffy but the WeatherMaster is designed with air circulation in mind.
Although the WeatherMaster Tent sounds like a tent that can handle all weather conditions it's really best for camping on warm summer nights.
The total weight of this tent is 14.06kg making it the lightest family tent we have reviewed. It doesn't use thick, heavy canvas like some of the family tents on our list and uses quite a thin fabric so doesn't hold heat in particularly well. With this in mind, if you're looking for a summer tent at an affordable price, this is a great option.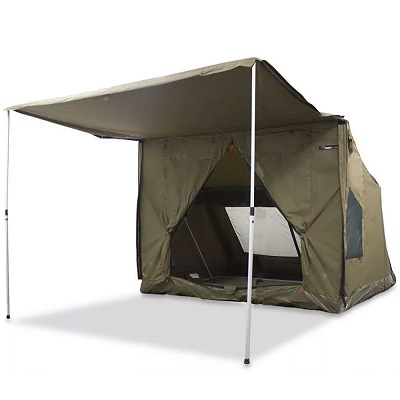 Full Capacity: 5 people
Recommended Capacity: 2–3 people
Weight: 24kg
Waterproofing: 100% waterproof canvas
Pros: Fast set up, high-quality canvas, 100% waterproof
Cons: Heavy, large when packed away
At 260cm x 260cm, the smallest family tent on our list is the RV5 Touring Tent from Oztent. This is a perfect size for 3 people with extra space for your kit and even a pet.
This canvas tent is ideal for people who love to move from campsite to campsite and want something that can be set up and packed down in an instant. The RV5 is designed for ease of use and durability. It has a strong aluminium frame that means your tent can be set up quickly and you can be relaxing inside in just a few minutes.
One of the big advantages of this camping tent is the quality heavy duty canvas that is used. The canvas looks and feels great and is 100% waterproof.
In addition to this, the tent has multiple openings, a large window and a mesh door so there is lots of ventilation to keep you comfortable. The high-quality materials are one of the reasons this tent is able the withstand the rugged conditions in Australia. The RV5 can handle all weather conditions including high winds and heavy rain.
There is one big downside to this tent and that's the size of it when it's packed down. If you have a roof rack and don't mind attaching your tent to the roof as you move between campsites then this is ideal as the RV5 storage bag is 200cm long so won't fit into the back of the car like most tents.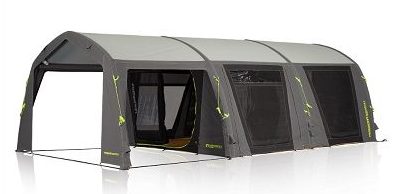 Full Capacity: 10 people
Recommended Capacity: 4-6 people
Weight: 57.1kg
Waterproofing: 1200mm
Pros: 5-year warranty, large size, high-quality canvas, no poles, single point inflation
Cons: Very heavy, inflated with a hand pump
Having a tent without any poles may sound strange but the Zempire Airforce 1 V2 expertly demonstrates how well this can work. This is an air canvas tent that uses a frame that is inflated in just a few minutes from a single point of inflation. For ease of use, this one point inflates the entire frame including the front awning.
This family tent is free-standing and has a cabin style which provides users with 210cm of headroom, 2 rooms and plenty of space. One of the rooms comes with a dividing curtain so it can be split into 2 smaller bedrooms if needed. This design makes the Airforce 1 V2 a good choice for families of 4-6 people.
The ventilation options in this tent are excellent, with multiple large windows and 3 access doors. Although, we would've liked to have seen a back door so the second room could be accessed from the outside as well as through the first room.
The other downside to this comfortable tent is the size and weight of it when it is packed away. 57.1kg is a considerable weight and is more than double the weight of most of the tents we have reviewed. The Dometic Daydream 6 is also an inflatable tent and weighs a more manageable 35.35kg.
However, if you are going car camping and have the space to transport this cabin tent and a couple of people to help you move it around then it makes a quality tent choice for families wanting comfort when camping.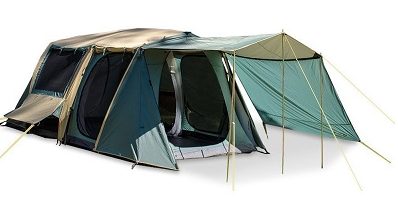 Full Capacity: 8 people
Recommended Capacity: 2-4 people
Weight: 24.8kg
Waterproofing: 3000mm
Pros: Spacious, lots of headroom, well ventilated, excellent in all weather
Cons: One room has mesh walls so may be colder if used as a bedroom, no separate awning panel (doors double up as awning)
The Bedarra 2 Room Dome Tent is best suited to small families or couples looking for a spacious living area while camping. The 2 room design and large size (500cm x 270cm) mean there is plenty of space for a family of up to 4 people.
However, one of the rooms uses mesh walls rather than solid walls so we wouldn't recommend using this as a bedroom during winter. For a couple, the backroom makes a spacious bedroom that can fit a queen-sized mattress and the second room is a great storage and living area.
One of the things that make the Bedarra stand out is the 210cm headroom. The almost vertical walls mean adults can stand anywhere in this family tent without needing to crouch. This is a welcome contrast to many tents where the headroom refers only to the high point in the middle of the tent that is surrounded by sloping walls.
Another great feature is the ventilation, the tent has lots of large mesh windows that let natural light in and help keep air circulating throughout the tent. The bedroom also has Ventraflow panels and the tent has 4 doors, all with mesh and privacy screens.
The Bedarra is well suited to use in Australia. It is protected against UV damage and has a 3000mm waterproof rating so users don't need to worry about the rain when camping. The dome style tent can also handle windy weather conditions well.
Family Tent Comparison Table
Family Tent Buying Guide
As you can see from our reviews, family camping tents come in all shapes and sizes. Each one offers something slightly different so it's important to know what features you need in your new tent.
Consider how many people will be camping, where you will be camping, the time of year and the average length of a trip to help you determine which tent is right for you. Use this buying guide to help find the best family tent for your adventures.
Type of Tent
Dome Tent
Dome tents use flexible poles which cross over the centre of the tent to create a dome shape. These tents are sturdy, reliable and handle wind well. Dome tents are often available for an affordable price but the overall cost will depend on the size and features. However, dome tents do become less stable as the size increases.
Instant Tents
An instant tent is one that uses a spring frame that opens out once released from the carry bag. This sprung type is often low cost and poor quality due to the use of low-quality materials so it's best to look at quick-pitch tents that use a fold-out frame design instead. The Coleman Gold Instant Up tents and the Oztrail Fast Frame tents are two excellent family camping tents that are high-quality, reliable and can be pitched in just a couple of minutes.
Air Tents
The air tent, or inflatable tent, has become increasingly popular in Australia in recent years. Rather than using poles, the tent has air tubes that are inflated either individually or from a single inflation point. An air pump is used to inflate these tents and the models often come with a hand pump but this can usually be upgraded to an electric pump for an added cost.
These camping tents often use high-quality materials that make them heavier and more expensive than other tents. Despite this, these tents are popular thanks to their quick set-up and pack times and spacious design.
Multi-Room Tents
A multi-room tent is a good choice for a family camping trip. The rooms are separated with dividers to give privacy and they are often comfortable and spacious. Due to the larger size of these family camping tents, they are more challenging to pitch, harder to pack away into the carry bag and they can be unstable in windy conditions.
Size
One of the most important aspects to consider when buying a family tent is the size. Larger family tents will often take slightly longer to set up but will offer more living and sleeping space for a more comfortable and enjoyable trip.
When selecting a tent consider how many people (and pets) will be sleeping in the tent as well as and if you have any large bags or camping equipment that will also be inside the tent. Considering all of this should help you to determine the minimum size family tent to go for.
When comparing tents, remember the person calculation (e.g. 4 person tent) does not take into account bags or gear, only people laying side by side. So, a 4 person tent is actually much better suited to 2 people rather than 4 people. As a rough guideline:
The size and design will vary from tent to tent so only use this to give you a rough idea of the kind of size you should be considering. In the reviews above we've included "recommended capacity" to help you figure out if each tent offers enough space for your family.
Floorspace is often a good guide if you are still unsure about the size. Adult family members often like to have 25-30 square feet of space each (around 8-9 square metres). This will be less for younger family members but can help you determine if a tent is large enough.
Key Features
Doors
When comparing family camping tents, look at how many doors there are. When there are multiple rooms and a higher number of people inside, you ideally want a few ways in and out of the tent. Having to climb over each other to get in and out is going to become annoying very quickly so consider tents with a few doors.
Ventilation
Airflow is important for any camping tent. Without ventilation, the tent will be stuffy and the sides can become wet with condensation. The number of windows, mesh panels and any other ventilation features can be a good indicator of how well ventilated the family tent is going to be. If there are room dividers, make sure each room has its own window or ventilation points.
Height
The tent head height will let you know if you can stand up and walk around inside the tent. This might not be an important factor for you if all you're going to do is go inside the tent to sleep but taller family tents do make spending time inside more comfortable, particularly for the adults.
Ratings
Tents are often rated as 3 season tents or 4 season tents. A 3 season tent is more common and is suitable for use in spring, summer and autumn. 3 season tents tend to have lots of ventilation and are durable enough for camping during most of the year. A 3 season tent is best for most family camping adventures in Australia, unless you plan a trip in very cold conditions.
4 season tents are heavy-duty, seam-sealed and are made to handle harsh winter conditions. Although these tents are called 4 season, they are really designed for use in winter as if you use one of these tents during the summer in Australia you will be far too hot. If your trip is taking you somewhere where there will be extreme cold and high winds, look for a 4 season tent.
Other Features
Vestibule
The front vestibule area is a covered area where you can store muddy gear so you don't bring mud into your tent. Having a vestibule area is useful and convenient so it's worth seeing if the family camping tent you're considering has this feature.
Power Access
Most family tents will have a small zipper where you can bring a power cord into the tent. This means you can keep your technology charged and enjoy electricity when inside the tent while keeping the door safely shut. There should also be hooks for lanterns at the top of each area.
FAQ
How big of a tent do I need for a family of 4?
An 8 person or 10 person tent is best for a family of 4. This will provide enough space for beds and bags so the whole family can enjoy the experience without feeling like they are tripping over one another.
What are the best tent brands in Australia?
Oztrail, Coleman, Zempire and Oztent are among the top tent brands in Australia. These brands target different ends of the market but each have strong reputations for creating high-quality, reliable and durable tents.
Featured Image: Coleman