The beach is the home of the Australian summer and a great place to spend the day with friends and family.
However, we all know the dangers of too much sun and this can be a factor in cutting short an enjoyable day at the beach.
When it comes to protecting yourself or your family from the harsh Australian sun, a good beach umbrella is one of your best options.
It's important to look for quality in a beach umbrella as there are plenty of below-par options on the market that are unlikely to last more than a few outings.
To help you in your search, we've rounded up the best beach umbrellas in Australia and compared them on key metrics including strength, stability, and price.
The Sport-Brella Sun Shelter is a great option for people who are looking for a portable, durable sun shelter that can provide UPF 50+ protection.
It's reasonably priced, easy to set up and store, and has an innovative design that provides more sun protection than a traditional beach umbrella
It utilises 210 D Polyester fabric and side flaps for full sun and wind protection. It also features UPF 50+ sun protection (protecting you from 99.5%+ of UVA and UVB rays).
Some users find the design means it catches the wind easier than other shelters, but this is not a deal breaker for most users who are happy with its overall performance.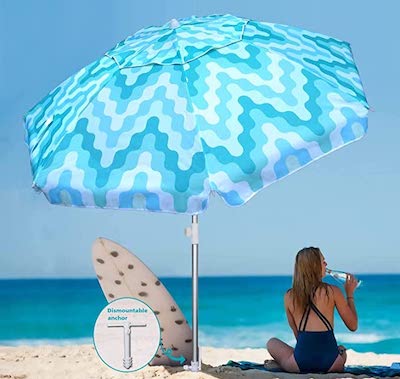 This is a very popular beach umbrella and with good reason.
The AMMSUN Beach Umbrella is a 2.1m diameter beach umbrella that uses an air-vent design to provide airflow for stability and prevent it from blowing over in strong winds.
The 60° tilt keeps you out of the sun all day while the stable steel pole and steel ribs construction ensure it will stay upright even during strong gusts of wind.
This umbrella is easy to assemble and disassemble for transport, and comes with its own handy travel backpack for easy carrying wherever you go. It weighs 2.6kg including the carry bag,
AMMSUN recommends you also purchase the optional sand anchor device (view at Amazon) for extra stability.
The only downside? The price tag is pretty steep. But if you're looking for a high-quality product that's sure to last for years to come (and allow you to enjoy long days at the beach), then we think it is worth it.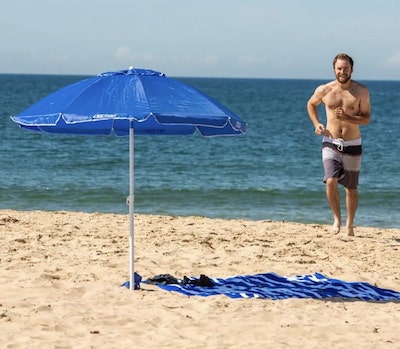 The Adventure Kings Beach Umbrella is a great affordable option for families looking to shade themselves at the beach.
This umbrella has a 2m diameter, which means it's big enough for two people to sit under comfortably. It also has a sturdy steel frame and 210D Oxford fabric, so it's designed to last through many beach days.
The tilt design allows it to be adjusted quickly, making it easy to find the perfect angle for sun protection.
The Adventure Kings Beach Umbrella is a great option for those on a budget who want a sturdy umbrella that will last them years of use.
The only drawback is that it does not have wind vents or screws in the base, which can make it less stable in high winds.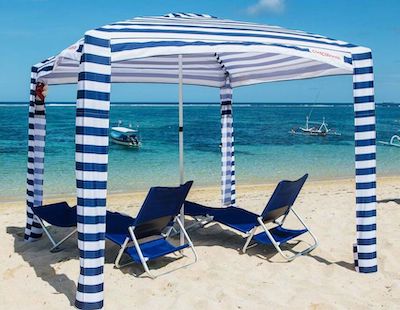 If you're looking for a beach gazebo that provides a large amount of coverage and sun protection, the CoolCabanas Beach Shelter is a great choice.
The cotton-poly canvas fabric provides 50+ UPF protection, and the patented, super compact fold-up design makes it easy to store. It weighs around 5.3kg.
It's easy to assemble and take down and also has 8 internal pockets to store valuables and essentials.
This beach shelter provides a large amount of coverage with its 2m x 2m dimensions, making it ideal for families or groups who want to spend long days at the beach together.
The price point on this product is a bit higher than others on the market, but with an innovative design like this one, we think it's worth paying a little bit extra for something that will last longer than your typical beach shelter.
It's also bulkier than some other options available, which can make it more difficult to carry when folded up and stored away in between uses.
Beach Umbrella Buying Guide
Size
Beach umbrellas come in a variety of shapes and sizes. Consider the size of your family or group when choosing an umbrella, as well as how much shade you want to provide.
Durable construction
A beach umbrella should be made of durable materials that can withstand moderate winds.
Try to find an umbrella that is made of fibreglass or steel, rather than plastic. These materials will be stronger and less likely to bend or break in strong winds.
Beach umbrellas are exposed to sunlight, which can degrade materials and make them susceptible to damage over time.
Look for an umbrella that is made of UV-resistant materials which won't fade or weaken in the sun.
UPF 50+ sun protection
A beach umbrella should block UV rays, which can increase your risk of sunburn and skin cancer.
UPF or Ultraviolet Protection Factor is a measure of how well a fabric blocks UV rays. The higher the number, the more protection it offers from harmful rays.
Look for an umbrella with UPF 50+ protection, or at least SPF 25+.
Screw base
Most beach umbrellas feature a screw mechanism at the bottom of the pole to help anchor the umbrella in place.
Look for a beach umbrella that has a screw base, as this will make it easier to secure your umbrella on the sand.
Easy set-up and storage
Most beach umbrellas are self-standing and do not require any additional tools or parts for assembly.
Look for an umbrella that can be set up and taken down quickly so that you don't have to spend too much time fiddling with your umbrella when you want to head back home after the beach.
Storage and transport are also important to consider. Look for a beach umbrella that has a carry bag or case so that you can easily transport it from place to place.
Beach Umbrella FAQ
What is a good beach umbrella size?
Around 2 metres in diameter is a good size for most people. It gives you plenty of space to shelter from the sun, without being too bulky for transport and storage. A telescopic pole can also come in handy if you are concerned about storage size.
How do you keep a beach umbrella in the sand?
The easiest way to keep your umbrella in place is with a sand anchor. These are usually made from plastic and either come with the beach umbrella when you buy it or can be purchased separately. They attach to the base of the umbrella and screw into the sand to keep your umbrella in place.