A camping fridge is essential for keeping food and drinks cool when spending a few days away from home. The best camping fridges are quiet, energy-efficient, and have a capacity large enough to store everything you need.
To help you narrow down your options, we've analysed the most popular camping fridges on the market in Australia and assessed them against key criteria including size, functionality, temperature range and warranty period.
There are options to suit every budget so use the below reviews and comparisons to help you find the best camping fridge for your next trip.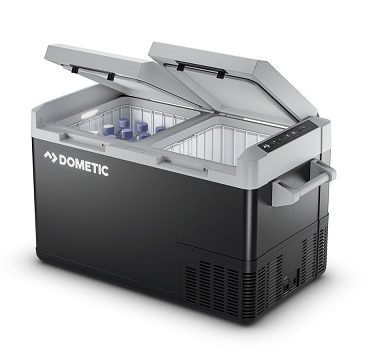 Capacity: 70L (40L fridge/ 30L freezer)
Weight: 26.37kg
Dimensions: 91.4 (with handles) 78.5 (without handles) x 43.3 x 50cm
Pros: Large compartments, insulated cover, high-quality build, removable handles
Cons: Bulky
Our pick for the best camping fridge is the Dometic CFF 70DZ. This is a reliable and high-quality fridge freezer that is suitable for Australian conditions and extended trips away from home.
This is a spacious 70L option with a 40L and a 30L compartment. Each compartment comes with a basket for storing items without damaging the fridge walls and the compartments can be individually controlled to give the ultimate flexibility for your trips.
Unlike most of the other fridges on our list, this one comes with a high-quality cover. The cover has velcro and zips for easy access and also has ventilation panels so the fridge can continue to vent with the cover on.
With the handles attached, this is the largest portable fridge on our list in terms of size (but not capacity) so may not be the best option for trips when space is premium. The handles can be removed which is good for reducing the overall size of the fridge to a more manageable width of 78.5cm.
This portable fridge freezer has a sturdy lid but does use plastic hinges rather than stainless steel like those seen on the Engel MT-V60F. However, this fridge does come with a 3 year warranty so users can take some confidence that Dometic stand behind the overall durability of the fridge.
The Dometic CFF fridge freezer comes with an AC power cord and a DC power cord for added flexibility and ease of use.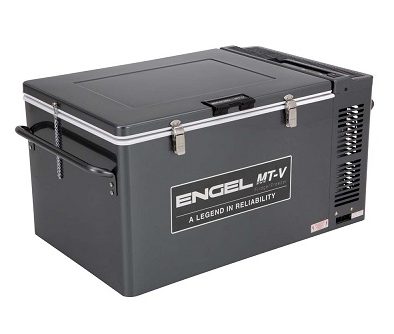 Capacity: 60L
Weight: 33kg
Dimensions: 79 x 44 x 49cm
Pros: 3 state battery protection, reliable, digital control panel, stainless steel construction, 5 year warranty
Cons: High price, only one compartment
The Engel 60L fridge freezer is popular amongst Australian 4×4 owners and campers thanks to its high-quality and low power draw, making it perfect for extended trips. 
While Engel is a high-quality brand, its products come at a price premium and therefore are suited for more serious campers looking to make an investment. 
The MT-V60F stands out from other options as it has a 3 stage battery protection system that minimizes harm to the battery when the fridge is hooked up. The fridge also has a built-in battery monitor and uses low power (between 0.5 – 3.6 ah/h) meaning it can be run for longer.
This fridge freezer is heavy duty and has a stainless steel door latch, corner protection, and strong tie-down points. Another indication of the high build quality of this model is the 5 year warranty.
One downside when compared to the Dometic CFF above is the Engel fridge freezer has a single compartment rather than a dual zone so it can be used as a freeze or a freezer, not both at the same time.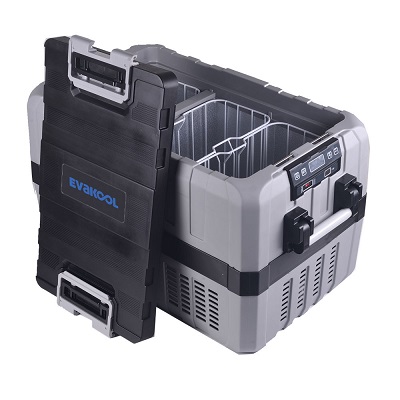 Capacity: 51L
Weight: 19.5kg
Dimensions: 79.5 x 44.8 x 43.5cm
Pros: Durable, lightweight, lots of features, USB port, SECOP compressor, digital controls
Cons: Baskets have large gaps
The EvaKool TMDZ60 is a great mid-range dual zone camping fridge that has many of the features of the more expensive brands (like Dometic Waeco/Engel) but at a lower cost. 
They use the same SECOP compressor that is seen in many other fridge brands and has been proven to provide great reliability in a range of Australian weather conditions.
This compressor is quiet, reliable, and has a self-diagnostic fault system. It can also handle use in hotter climates, ideal for use in Northern Territory, Western Australia, or Queensland.
The EvaKool is a feature-rich camping fridge that is very user-friendly. It has a bi-directional lid for easy access, an internal LED light and removable baskets.
Another feature that isn't offered on most of the other camping fridges listed is a USB port. This 0.5A port is ideal for keeping small devices charged.
One thing we would adjust is the basket inside the compartment which has large gaps so smaller items can slip through if the basket is lifted out.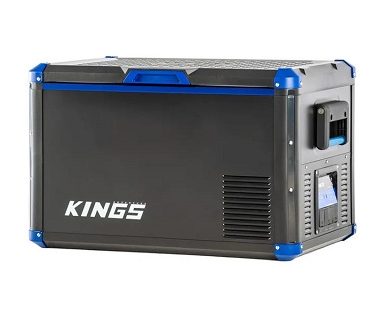 Capacity: 60L
Weight: 25.3kg
Dimensions: 76.8 x 47 x 46.1cm
Pros: Affordable, USB ports, two DC power inputs, 5 year warranty
Cons: Not as durable as some more premium models
The Kings 60L Stayzcool portable fridge freezer has had a recent revamp and now boasts a rugged exterior and steel construction. The outside may have changed but the dual zone fridge freezer still utilizes the SECOP BD35F compressor.
This fridge is a great choice for cost-conscious travellers. It is around 50% cheaper than the Engel MT-V60F and is hundreds of dollars cheaper than the Evakool TMDZ60.
The lower price makes this a good choice for those searching for an entry-level camping fridge freezer that is reliable and is covered by a long warranty.
Some of the features we love on this fridge freezer include the two DC power input ports, the two 2.4A USB ports and the LCD display with a battery monitor.
It is great to see the recent upgrades on the Kings Stayzcool fridge as this helps to make this affordable fridge even more reliable and user-friendly.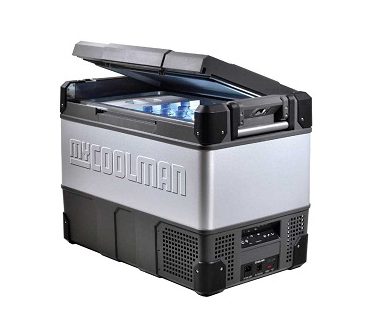 Capacity: 69L
Weight: 27.2kg
Dimensions: 73.2 x 45.6 x 55.5cm
Pros: Lots of features, power inlets are both sides, built-in handles, compact, USB ports
Cons: High price
MyCoolman entered the portable fridge market in 2019 but it didn't take long for the new brand to find its feet among the big brands such as Engel, Dometic and Evakool. This is thanks to the high-quality, feature-rich, and cutting-edge tech seen on the My Coolman models.
This camping fridge freezer has three stage battery protection and comes with two 12/24V and 240V power sockets. There are inlets at both ends of the fridge for convenience and flexibility when packing and using the unit.
Unlike most portable camping fridge freezers, this one has built-in handles that don't protrude over the end of the fridge meaning you still get the handles without increasing the size of the fridge.
The attention to detail helps the My Coolman portable fridge freezer stand out. There are built-in bottle openers, the lid is thicker to help avoid warping, and the dual zone fridge freezer comes with a USB port and charger. The fridge can be operated via the display or using the app.
The My Coolman fridges offer all the features you can expect from a portable camping fridge as well as a host of extras. Although not a big name like Dometic, there's no denying this fridge freezer is high quality and packed with premium features.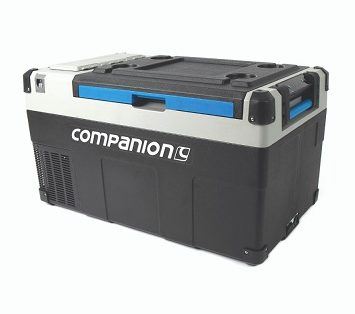 Capacity: 60L
Weight: 26kg
Dimensions: 82 x 48.2 x 46cm
Pros: Integrated power pack, SECOP compressor, can be used with solar, long run time on single charge
Cons: Not dual zone
The Companion 60L is a single zone camping fridge that stands out from the competition thanks to the built-in lithium battery making this a fridge/ freezer and power source all in one.
The fridge uses a reliable dual speed SECOP compressor and is a great choice for holidays and longer trips. It offers a capacity of 60L and offers a range of power options to suit all situations.
This car fridge is suitable for 240V AC and 12V/24V DC operation and it also has an Anderson plug inlet for connecting solar panels. In addition to this, there are dual USB outlets offering a power source to keep your small devices charged.
The Companion 12v fridge offers a 16 hour run time on a single charge and a direct solar connection offers an extended run time so it is suitable for getting off the grid.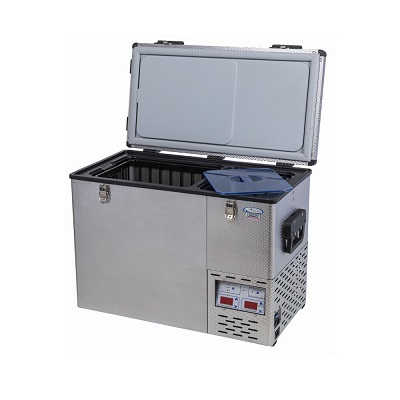 Capacity: 50L (38.3L / 11L)
Weight: 24.75kg
Dimensions: 71 x 38.5 x 50.6cm
Pros: Lightweight and compact, durable, impressive temperature range, reliable
Cons: Not as many features as some fridges of a similar price
The National Luna 50L Legacy Camping Fridge is a high-quality option that is great for long-distance travel and extended use. This fridge has been designed and made in South Africa and has been proven to be reliable in harsh conditions. The Legacy is similar in build and price to the Engel MT-V60F.
This fridge uses the new National Luna off-road compressor, has a digital temperature controller and has an impressive thermostat range of -24°C to +20°C.
All of this comes in a compact package, with a 50L capacity, 3 baskets and a size of 71 x 38.5 x 50.6cm. This fridge also weighs just 24.74kg making it one of the lightest portable camping fridge freezers on our list.
Overall, the National Luna is an excellent quality option that is well suited to long trips and harsh conditions.
Although this fridge freezer has a high price tag, it does not come with some of the extra features such as USB ports and the warranty is 3 years rather than the top 5-year coverage seen on the Engel, Evakool and Kings models.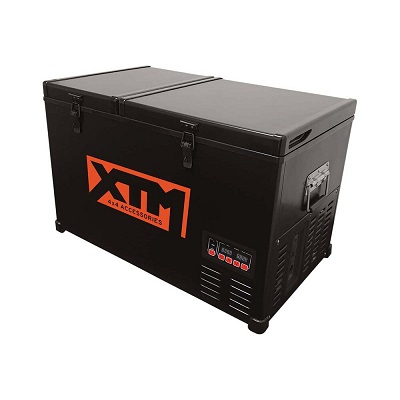 Capacity: 74L
Weight: 30kg
Dimensions: 82 x 47 x 51.5cm
Pros: Spacious, affordable, multiple power supply options
Cons: Bulky and heavy
The XTM75 is a great value for money option ideal for an extended camping trip or for carrying food and drinks for larger groups.
This dual zone fridge freezer is one of the larger and heavier models we have reviewed. It offers a 75L capacity and weighs 33kg so it is best for keeping in the vehicle rather than carrying to and from camp sites.
This camping fridge uses the EvaKool DL22C compressor, and can be powered by 12/24V DC or 240 AC. It can also be powered using solar making it a good off-grid option.
Although lower cost than many other big brand fridges, this camping fridge offers all of the key features including a digital control panel, removable baskets and an internal LED light. It also comes with dual lids and the base, walls and lids are all fully insulated.
Although this model is not as heavy duty as the National Luna, Engel, or Dometic models it does have a powder coated steel body, comes with a cover, and has a 2 year warranty.
This is a great low cost option that is best suited to a bigger group or a longer camping trip.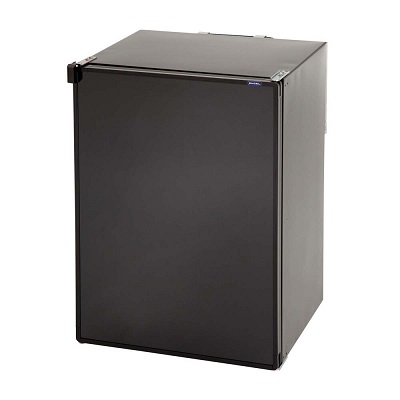 Capacity: 80L
Weight: 28kg
Dimensions: 78 x 52 x 54.8cm
Pros: Big capacity, compact size, Sawafuji motor, reversible door
Cons: High price, small freezer space
This is upright fridge freezer is well suited to caravanning. It is free standing and offers a large 80L capacity.
Something that is different from many of the portable fridges reviewed above is the energy efficient Sawafuji swing motor the Engel ST90F uses. This is a reliable option as it has a high build quality and only has one moving part so is less likely to break or get damaged.
Although this is an upright fridge freezer that offers a larger 80L capacity it is compact in size with not much difference between it and the XTM75 or the Companion 60L.
One downside to the ST90F-g4 is there is less control over the temperature and there is less of a temperature range offered.
This camping fridge automatically switches between 12/24V to 240V power, has a separate freezer compartment and is thermostat controlled.
It also has 2 ice cube trays, 2 door pockets, a drainage pan and 2 shelves so you can arrange your food and drinks more efficiently than in a chest style fridge freezer.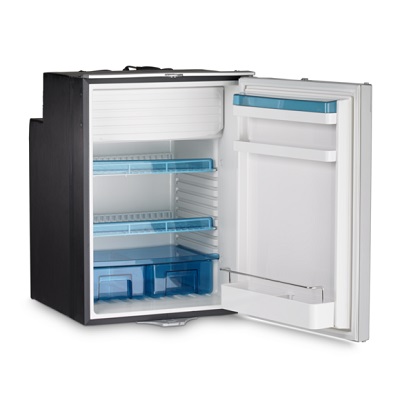 Capacity: 107.5L (9.5L freezer compartment)
Weight: 27.6kg
Dimensions: 55.8 x 52 x 74.5cm
Pros: Large capacity, compact size, reliable, good for use with solar, Waeco compressor
Cons: High price
One of the best camping fridge models for regular use and extended trips is the Dometic Waeco CoolMatic CRX110.
This fridge freezer offers the biggest capacity (107.5L) of all the models we reviewed but still manages to be compact and lightweight. The size isn't much bigger than the My Coolman 69L model despite offering almost 40L more space.
This upright fridge freezer also offers a larger temperature range compared to the Engel ST90F-G4 fridge discussed above.
This camping fridge uses an energy efficient Waeco compressor which has an excellent reputation for being efficient, quiet and well suited to use with solar panels.
This is a large and reliable camping fridge but it does come at a high price.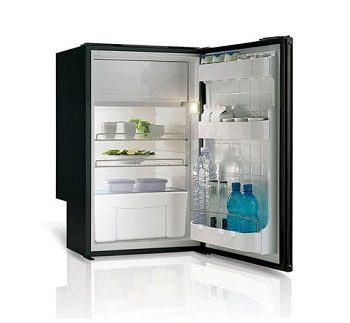 Capacity: 90L (12.8L freezer compartment)
Weight: 26.5kg
Dimensions: 48.5 x 79.1 x 42.7cm
Pros: Airlock door, well insulated, quiet, large capacity, economical
Cons: High price
The Vitrifrigo C85IL is the lightest of the reviewed upright fridge models and boasts a 90L capacity. Despite offering a 10L larger capacity than the Engel ST90F-G4 the Vitrifrigo is more compact so is great for use in smaller caravans and RVs.
This fridge features a new airlock door handle which keeps the door firmly closed.
It also has a high insulation rating which is great for keeping the fridge cold while using less power. It uses around 2.8 Ah/h on 12V. The fridge can be used on 12V and 24V but can also be used on 240V with an adaptor.
This is a sturdy, sleek and quiet fridge freezer that is best for use in caravans.
Camping Fridge Comparison Table
| | | | | | | | |
| --- | --- | --- | --- | --- | --- | --- | --- |
| Best Camping Fridge | Our Verdict | Weight | Capacity | Dimensions | Dual Zone? | Temperature Settings | Warranty |
| Dometic CFF 70DZ | Top Pick | 26.37kg | 70L (40/30L) | 91.3 x 43.3 x 50cm | Yes | -18°C – 10°C | 3 years |
| Engel MT-V60F | Premium Pick | 33kg | 60L | 79 x 44 x 49cm | No | -18°C + | 5 years |
| Evakool TMDZ60 | Best Value | 19.5kg | 51L | 79.5 x 44.8 x 43.5cm | Yes | -18°C – 10°C | 5 years |
| Kings 60L Stayzcool | Best Budget Option | 25.3kg | 60L | 76.8 x 47 x 46.1cm | Yes | -18°C – 10°C | 5 years |
| My Coolman 69L | Feature-Rich | 27.2kg | 69L | 73.2 x 45.6 x 55.5cm | Yes | -18°C – 10°C | 5 years |
| Companion 60L | Great for Longer Trips | 26kg | 60L | 82 x 48.2 x 46cm | No | -20°C – 20°C | 3 years |
| National Luna 50L Legacy | Most Compact | 24.75kg | 50L (38.3L/11L) | 71 x 38.5 x 50.6cm | Yes | -24°C – 20°C | 3 years |
| XTM75 | Great Value | 30kg | 74L (34L/40L) | 82 x 47 x 51.5cm | Yes | -18°C – 10°C | 2 years |
| Engel ST90F-G4 | High Quality Upright Fridge | 28kg | 80L | 78 x 52 x 54.8cm | Yes | <0 – 9°C | 3 years |
| Dometic Waeco CoolMatic | Best Upright Fridge | 27.6kg | 107.5L (9.5L freezer) | 55.8 x 52 x 74.5cm | Yes | -18°C – 12°C | 2 years |
| Vitrifrigo C85IL | Compact Upright Fridge | 26.5kg | 90L (12.8L freezer) | 48.5 x 79.1 x 42.7cm | Yes | -15°C – 12°C | 2 years |
Camping Fridge Buying Guide
Camping fridges are an essential piece of equipment when on camping, 4WD, caravanning, and overlanding adventures. Having a fridge means you can enjoy time off-grid with cool drinks and good food.
There is, however, a range of factors to consider when looking for the best camping fridge for your needs. Factors such as size, temperature adjustability and power consumption can make or break your experience.
Use this buying guide to help you find one that ticks all the boxes for your travels.
Single Zone Vs Dual Zone
Camping fridges can be single or dual zone.
Single zone means the fridge has one large compartment that can be set to the desired temperature (within the fridge's temperature range). This means the compartment can be set to operate as a fridge OR a freezer but not both at the same time. A fridge with a single compartment tends to be a compact and cost effective option for campers that don't require both a fridge and a freezer at the same time.
The other option is a dual zone camping fridge. This fridge type tends to be larger in size but offers the freedom of keeping some items frozen and others refrigerated. The size of the two compartments varies depending on the make and model of the fridge but one side is usually larger than the other. The best camping fridge offers complete control over the temperature of both compartments so they can be used as fridges, freezers, or one as a fridge and one as a freezer.
If you only need a fridge and not a fridge freezer then it is worth choosing a single zone model as this will save you money while giving you everything you need.
Capacity
One of the most important considerations when comparing camping fridges is the capacity.
Consider if you will be storing food and drinks in the fridge as well as the number of people camping and the length of the trip. Many factors impact what size fridge you need but they become more expensive and less easily portable as they increase in size so it's best to take the time to carefully consider how much fridge capacity you actually need.
The capacity of the fridge is measured in litres and many brands also provide information on the number of cans the fridge is able to hold too. Here is a portable fridge size guide to help you figure out what size is best for your needs:
>25L: Small size that is ideal for individuals or couples needing to carry drinks and one meal
25 – 40L: This is the best camping fridge size for two people away for a weekend.
40-50L: This size is best suited for a small family away for a weekend or for longer trips where food and drink can be replenished along the way.
50-65L: This larger size is best for longer trips. 50-65L is great for families enjoying long weekends away or couples on trips of 1 week+.
65L+: This is the best camping fridge for people camping remotely or larger groups camping for longer periods (1 week+).
Size & Weight
The size & weight of the camping fridge is also hugely important. While a larger fridge may be more convenient it will also be less portable, have higher power consumption, and be more expensive. A smaller camping fridge is a good option for short trips and trips where space is limited.
The weight of the camping fridges we have reviewed vary from 19.5kg to 33kg and this is before they have any food/drink packed inside. The weight is particularly important if you need to move the fridge from your vehicle once you reach your camping spot.
RELATED: The Best Eskys and Ice Boxes
Durability
Camping fridges are made to be moved from place to place and as such they have features that help them last longer.
Key features to keep a look out for include:
Thick lid
Lid clips
Corner protection
Strong, heavy-duty exterior
Handles or wheels for moving the fridge around
Power Consumption
The power consumption of camping fridges is another factor that can vary a lot between models. A single zone camping fridge can use between 1 – 3 Amps per hour while a freezer will use between 2-4 Ah/h.
It's best to look at the average consumption over a 24 hour period as some camping fridges will use a lot of power to get to the optimal temperature and will then have low power consumption for the rest of the time.
The power consumption is impacted by a range of factors including the compressor, insulation, materials, location and size of the fridge, outside temperature and how much stuff is inside the fridge.
RELATED: Evakool Fridge Review
Other Features
Removable lid – the lid is an important part of the portable fridge. To make life easier the lid should be removable and should be able to open both ways. For upright fridges, the door should have adjustable hinges so you can choose which way it opens.
Wheels – some of the larger, heavier portable fridge models include wheels to make it easier to move them around. This is an important feature for fridges that are too heavy to lift safely.
Handles – for lightweight fridges handles are essentially for safely moving them from the car to the camp site. Some of the larger fridges have double handles so two people can carry the fridge together.
Baskets – all of the best camping fridge models come with baskets that sit inside the compartments. The baskets are great for separating food and drink and also protect the walls of the fridge from damage.
Digital controls – a digital control panel makes it a lot easier to monitor the power consumption of the portable fridge. It also makes checking and changing the temperature straightforward too. Most camping fridges now have digital temperature controls and displays.
USB ports – some of the best camping fridge models offer USB ports so campers have a power source to keep their gadgets charged too. This is a convenient feature that is great if you will be spending time off grid.
App – some premium camping fridges offer app connectivity meaning you can monitor and control the temperature range from your smartphone.
Drain plug – this is a simple but helpful feature that makes it quick and easy to clean moisture and ice from the fridge after use.
Camping Fridge FAQ
How do you power a 12V camping fridge?
The best way to power a 12V camping fridge is by using an auxiliary battery as part of a dual battery system. Installing this system prevents the vehicle's battery from being run down by the fridge as the auxiliary battery will power the fridge and other 12V accessories.
How long will a 12v battery power a fridge?
A 12V battery can usually power a fridge for around 12 – 24 hours.
Do I need a dual battery system to run a fridge?
While not essential, a dual battery system is, by far, the best way to run a fridge as this keeps the fridge running as needed without using power from the starting battery.