If you're looking to get a new sleeping bag, you probably have a few questions. What's the difference between down and synthetic? Which temperature rating should I choose? Does a rectangular or mummy shape work best for me?
To help you in your search, we've broken down the key considerations below to help you find the perfect sleeping bag.
But first up, our picks for the best sleeping bags currently on the market in Australia:
Best for camping: Coleman Big Game Sleeping Bag
The Coleman Big Game Sleeping Bag is a great option for those who want to get out into the wilderness without breaking the bank.
With a -6°C temperature rating and a full-cover construction that keeps you warm at night, it's perfect for camping all year round. It's insulated with hollow polyester insulation, so you shouldn't have any trouble with moisture either like you might with down.
The Thermolock draft tube helps keep your body heat in the bag, and the soft flannel lining keeps you comfortable while you rest your head on the included pillow.
This sleeping bag also has an exterior tuck pocket for storing small items like keys or wallets.
Best for swags: Darche Cold Mountain Sleeping Bag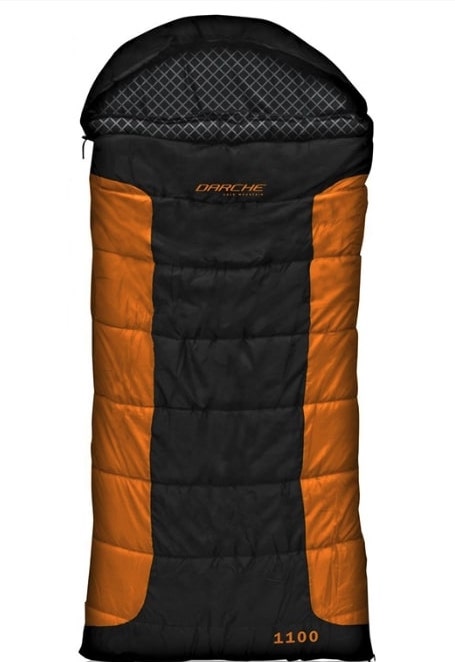 Another Aussie favourite, this sleeping bag is for those who looking for more of a 4 season sleeping bag and are likely to encounter colder conditions.
The filling is a dual-layer 350gsm hollow fibre, while the other is a water-resistant Polyester ripstop 70D. The Cold Mountain also has a super comfortable silk inner liner.
This is a large, box-shaped bag and is for general use – Darche has designed this sleeping bag for swags and roof-top tents.
It has a dual zip system allowing entry and exit from either side, along with a separate zip at the bottom of the bag to assist with ventilation.
Other features include an internal zippered pocket, shaped hood with drawcord, and compression bag.
Best lightweight down bag: Sea to Summit Treeline Sleeping Bag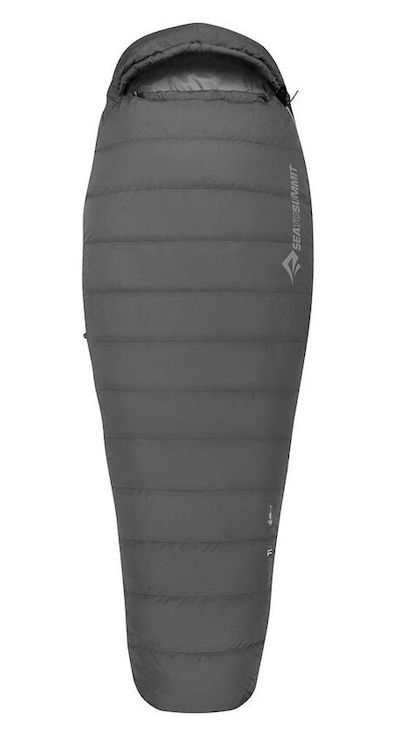 The Sea to Summit Treeline is a great value sleeping bag for those seeking a lightweight three-season option.
Rated down to -3°C, this bag is suitable for use in a variety of conditions.
The Treeline weighs 970 g and features a relaxed mummy shape and lofty RDS 600 fill power down. The outer is a durable 50D Nylon shell.
Internal drawcords in the hood and neck let you adjust for warmth and comfort and it also has a two-way zip that allows you to ventilate or warm-up as needed.
Best for summer hiking: Kathmandu Comet Sleeping Bag
The Kathmandu Comet is a lightweight down sleeping bag designed for hiking.
It has a comfort rating of 11 degrees Celsius, and weighs only 0.61 kg, making it a great option for hikers who don't want to carry too much weight on their shoulders.
The Comet has duck down insulation with 600 fill power. The down is responsibly sourced (RDS certified) and is water repellent (DownTek).
Its drawcord adjustable hood and two way separating zips make it easy to regulate temperature when you're in the outdoors.
Best for kids: Kathmandu Mini Globe Kids' Sleeping Bag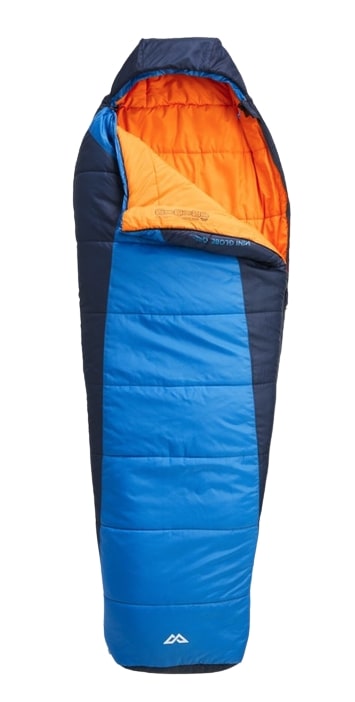 The Mini Globe Sleeping Bag is a great choice for kids who want to sleep in style.
It has a synthetic fill that includes recycled polyester fibres and has a water repellent finish so can withstand light moisture and spills. It also comes with an adjustable drawcord, so you can adjust the fit as needed.
The two-way zip allows you to open up the foot end, which means your little one can stay comfortable while they sleep.
The draft tube stops warmth from escaping through the zipper, so it keeps your child warm even in cold weather conditions.
This kids' sleeping bag even has a wide-shaped foot box for comfort and quick-drying fabric that makes it easy to care for.
It also includes a stuff sack for storage when not in use and comes in two different colours so you can pick one that matches your child's personality.
Best budget option: Kings Hooded Sleeping Bag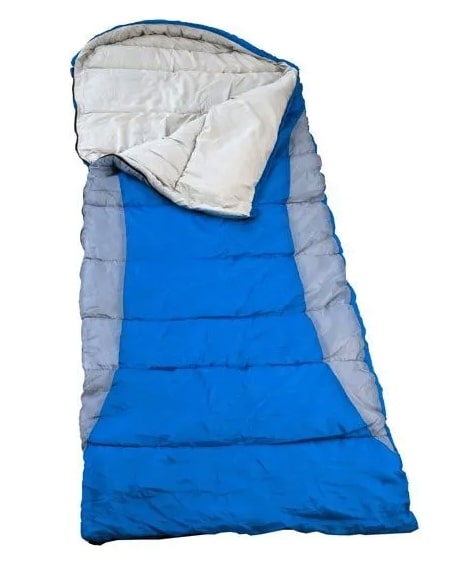 The Kings Hooded Sleeping Bag is a great choice for those who are looking for a budget sleeping bag that will keep them warm on the occasional camping trip.
This sleeping bag is rated to -2°C and is lightweight and breathable, with 500gsm polyester insulation filling and 70 denier Polyester outer that's tough and durable.
It comes with an included stuff sack and measures 2.4m long and 0.9m wide, so you'll have plenty of room to stretch out on those cold nights!
Also great: Oztent Bowen XL Sleeping Bag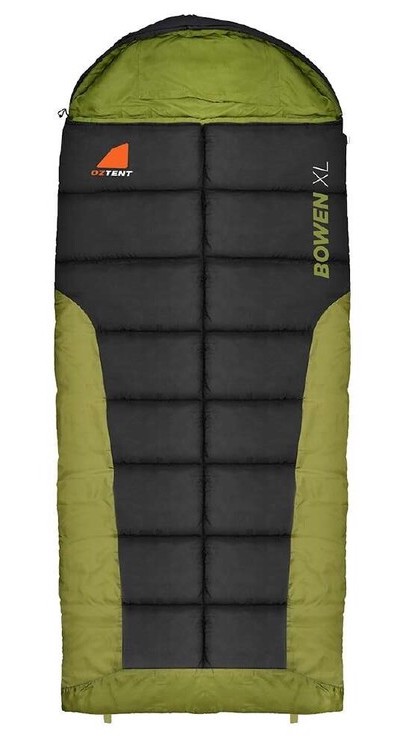 The Oztent Bowen XL Sleeping Bag is a great general-purpose sleeping bag. It has a temperature comfort rating of +1°C and a limit rating of -5°C, which means it can be used year-round.
The 210 Ripstop Polyester Outer Shell is incredibly durable and will ensure your bag lasts for many years to come. The brushed polyester inner feels soft against your skin, making for a comfortable night's sleep.
The full-length 'Simple Glide' auto-lock zipper makes opening and closing the bag easy, even when you're half asleep. The inner storage pocket provides plenty of space for storing small items such as phones or wallets so they don't get lost inside your bag while you sleep.
The drawcord closure at the top of the bag maximises warmth retention by keeping heat inside where it belongs, while a Velcro closure at the zip opening point ensures that no cold air gets inside while you're sleeping.
RELATED: Check out our guide to the best sleeping bag liners.
Types of sleeping bags
There are two main types of sleeping bags: lightweight hiking sleeping bags and general-purpose car camping sleeping bags.
Lightweight sleeping bags are designed for backpacking. They're light and compact so you can carry them with ease, but they also provide warmth without being too heavy or bulky.
Car camping sleeping bags focus on comfort and warmth. They don't cut corners to save a few grams. Instead, they are made from durable materials and are large enough to provide a comfortable night's sleep.
RELATED: The Best Camping Stretchers
Temperature Rating
The temperature rating of your bag is the lowest temperature at which you can expect to be comfortable in it.
You'll want to make sure that you get a sleeping bag with the right temperature rating for your trip.
There will often also be a comfort rating, a limit rating, and an extreme rating, indicating the various limits the bag has been tested to.
Keep in mind that manufacturers have their own ways of measuring temperature ratings, while others ignore them altogether. This makes comparing bags from different brands very difficult.
Sleeping Bag Shape
Sleeping bag shapes come in two main varieties: rectangular and mummy.
Rectangular sleeping bags
These are what we call car camping sleeping bags. They are the type of sleeping bag most people are familiar with.
This shape offers more comfort, especially if you roll around during the night.
Mummy sleeping bags
Mummy shape sleeping bags are narrower in general, but particularly around the legs and feet.
Mummy bags tend to be lighter weight and warmer than their larger counterparts because they're designed to trap heat close to your body while still allowing room for movement when necessary.
This type of sleeping bag is popular with hikers who want to keep their weight down.
Fill type
When it comes to sleeping bag insulation, down and synthetic are the two main types of fill.
Down sleeping bags
Down is generally warmer and more compressible than synthetic insulation. It has better thermal efficiency due to its ability to trap air between its fibres, making it an excellent insulator
The main downsides of down are that it doesn't work well when wet, can be tricky to wash, and requires animal products which can lead to ethical concerns. If you go with down, make sure it is RDS certified, which is the global standard in ethical soucing of down.
Synthetic sleeping bags
Synthetic insulations are generally more durable than down and they can withstand moisture without losing their thermal properties.
However, they generally don't perform as well as down in terms of warmth-to-weight ratio and compressibility which makes them less desirable for hikers.
With this said though there has been an increase over time in popularity among hikers who use synthetic sleeping bags because they offer many benefits including being easy-care and quick-drying.
Fill power
Fill power is a measure of how much space one ounce of down can fill. The higher the fill power rating, the more efficient the insulation and therefore warmer it is for its weight.
For example, a sleeping bag with a fill power of 900 will keep you warmer than one that weighs the same but has a fill power of 700.
Most people don't need to worry too much about fill ratings:
If you want a lightweight sleeping bag that will still keep you warm, look for a high fill power rating.
If you're not concerned about the weight, you can just focus on the overall weight of the down in the sleeping bag.
Other features to look for
Hoods: If you're going to be camping in cold weather, a hooded sleeping bag will keep your head warmer than one without one.
Compression sacks: These are designed to compress the sleeping bag down into a smaller size for transporting.
Water-resistant down: While it does weigh more and is more expensive, water-resistant down means you're less likely to run into trouble with moisture while you're camping.
Waterproof footbox: Since the end of the sleeping bag can often come in contact with the end of the tent, some sleeping bags feature waterproof materials in this area.
Zippers: The quality of a zipper affects how easily you can get in and out of your bag.