Camping generators have become increasingly popular among Australian campers over recent years as the cost has dropped significantly and the noise output has been minimised through advancements in technology. It is now much easier to find a high-quality camping generator, if you know what you're looking for.
To help you find the best camping generator for your needs we've analysed and compared the most popular camping generators on the market. In this review, we have assessed important features such as power output, reliability, size, and noise.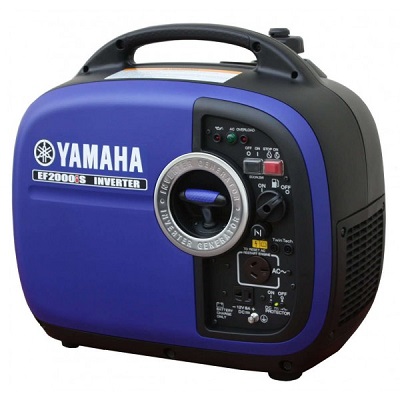 Output: 2000W
Rated Output: 1600W
Weight: 20kg
Noise: 52-61dB
Pros: Quiet, versatile, high-quality, lightweight, feature-rich, 4 year warranty
Cons: Low rated output compared to other options
The Yamaha EF2000iS is our pick for the best camping generator in Australia.
It is a professional-grade generator that has been a top choice for many years. Recent improvements to the model mean it is now quieter, lighter and available at a lower price.
Thanks to the latest updates, this inverter generator is one of the quietest on the market generating 52-61dB depending on the load.
The new version also has new programming which means it can power a wider range of appliances than the previous version. The updated controller board can also handle the maximum current output for longer before overloading.
One of the things we really like about the EF2000iS is the layout of the controls. They make starting and using the unit easy, even for beginners.
Something else that makes this camping generator user-friendly is the safety features including fuel shutoff, oil warning system and fuel gauge displays. In addition to this, the Smart Throttle automatically adjusts the engine speed to suit the required use for better fuel efficiency.
This generator offers a rated output of 1600W, which is a slightly lower than the other inverter generators on our list but it remains a great generator for general camping trips.
This is a versatile generator that is high-quality, quiet and fuel-efficient. It is great for overnight use and extended trips and comes with a 4-year warranty – the best warranty coverage on our list, matched only by the Engel 2000W.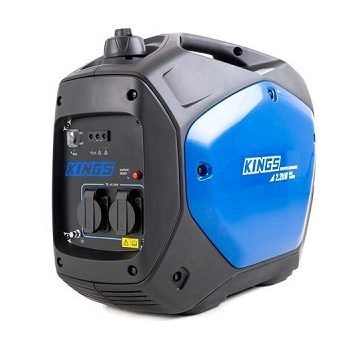 Output: 2200W
Rated Output: 2000W
Weight: 21.5kg
Noise: 59 – 73dB
Pros: Low cost, high output, compact size
Cons: Limited port types, louder operation
The Adventure Kings 2KVA is an excellent entry-level model available at a low price. These generators are affordable but don't necessarily offer the same build quality as some of the more premium models, although they do come with a 2-year warranty for added peace of mind.
This is a good option if you need a high power entry-level option. It offers a peak output of 2200W and a rated output of 2000W. The fuel tank is 4.1L which is standard for this size generator.
However, there are limited connection options with only 2 x 240V AC. Also, the running time of this model is shorter than the other generators listed.
In addition to this, the 59-72dB sound output means this camping generator is not as quiet as competitors.
The power is comparable to other options but this might not be the best generator to choose for heavy or continuous use.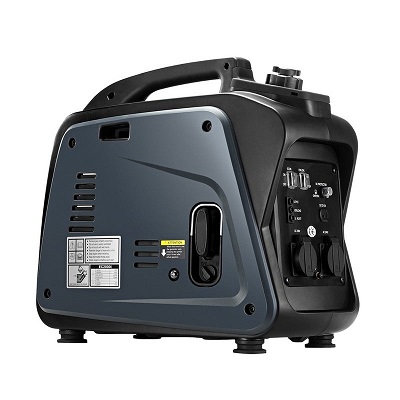 Output: 2000W
Rated Output: 1700W
Weight: 22kg
Noise: 58dB
Pros: Affordable, 4.5L fuel tank, high power
Cons: Basic features
The Gentrax inverter generator is another low-cost entry-level option that is a good generator for camping and light use.
This generator has 2 AC output ports (the same as the Adventure Kings model reviewed above) and offers a rated output of 1700W. The max power is 2000W which is high but overall this generator does not offer as much power as some of the others listed.
The Gentrax is one of the larger options, weighs 22kg and produces 58dB of sound. This larger size means the generator is able to offer a good fuel tank capacity of 4.5L and a 9 hour run time.
Some users have commented that this generator is not as easy to start as other options and the exhaust can have a strong smell at times too. However, for the price, the Gentrax camping generator offers good results and is easy to use.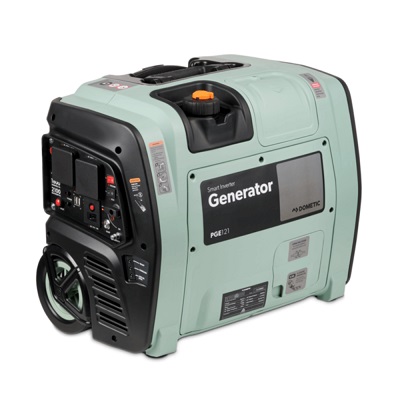 Output: 2100W
Rated Output: 1800W
Weight: 26.5kg
Noise: 61dB
Pros: Durable, eco-mode, electric and recoil starter
Cons: Heavy
The Dometic 2100VA is a powerful and reliable inverter generator. It is the heaviest model listed at 26.5kg but it does have built-in wheels and a telescopic handle to make it more manageable to move around. The casing is also robust to ensure the generator is durable and long-lasting.
The Dometic 2100VA offers three connection options to power multiple appliance types and it has an eco-mode that varies the engine speed to suit the required use for improved efficiency.
This model has a 4.2L fuel tank, a low oil level indicator and both a recoil and electric starter. The electronic control unit means the generator is able to offer more power with less sound.
This camping generator has a range of user-friendly features including smart shutdown technology, a convenient display and a twin carrying handle. It's a good choice for use when space isn't limited.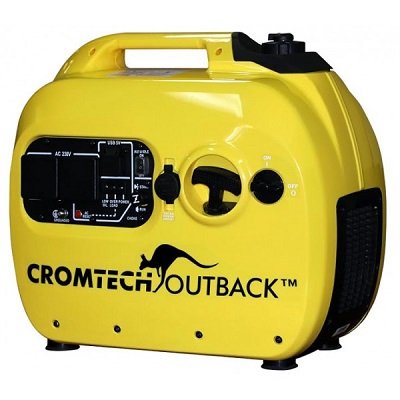 Output: 2400W
Rated Output: 2100W
Weight: 19.8kg
Noise: 52 – 59dB
Pros: Compact, high power, multiple outlets
Cons: Short warranty (1 year)
The 2400W inverter generator is Cromtech's smallest and lightest model. This inverter generator offers excellent value for money and is a good choice for camping and use in a caravan.
This model offers the highest power of the listed camping generators with a maximum of 2400W and a continuous output of 2100W. This makes it ideal for use in a caravan and for powering larger appliances such as air conditioners or power tools. It has a 5L fuel tank capacity but weighs an impressive 19.8kg thanks to its compact size.
The noise level of this generator is also low with a rating of 52 – 59dB.
The Cromtech 2400W is quick to start, easy to use and reliable. Compared to the other options on our list this camping generator offers great value for money, high power and a compact size.
The only improvement we would like to see is a longer warranty as it only comes with one year of coverage.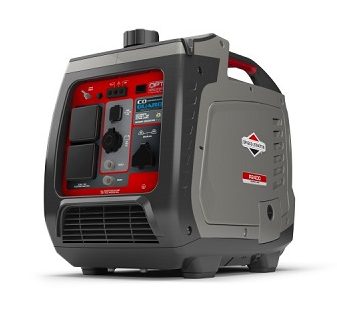 Output: 2400W
Rated Output: 1800W
Weight: 22.8kg
Noise: 58dB
Pros: User-friendly, good for high wattage appliance, quiet
Cons: Large size, small fuel tank
The Briggs & Stratton 2400W is one of the brand's more popular models as it provides a balance between size and price. This generator is one of the larger models on our list at 570 x 365 x 505mm. And although large in size, this model has a 3.7L fuel tank capacity which is actually the smallest on our list.
The P2400 is the replacement model for the P2200i and now offers a peak power of 2400W and a lower weight of 22.8kg.
The noise level of the P2400 is also quite low at 58dB. This inverter generator includes 3 outlets for flexibility and the ability to connect another PowerSmart Series to create a stronger power source.
The Briggs & Stratton 2400W inverter generator pack includes a generator cover, backpack, 5L fuel can, 600ml SAE 30 engine oil, fuel preservative sachet, Mr Funnel filter (to clean fuel of impurities) so the set comes with everything needed to get started and take care of the generator.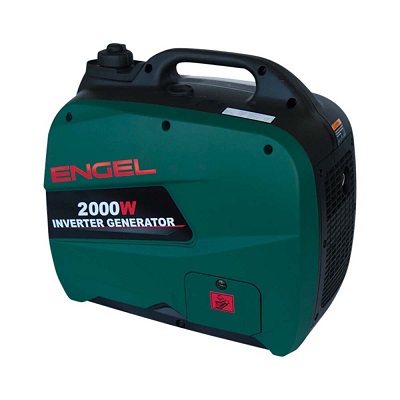 Output: 2000W
Rated Output: 1800W
Weight: 22kg
Noise: 68dB
Pros: Low cost, large fuel capacity, 4-year warranty, compact
Cons: No auto choke
The Engel 2000W is an affordable inverter generator that offers all the basic features users would expect.
It has a generous 4.8L fuel capacity, an impressive 4-year warranty and an easy pull start. It also has an eco-mode that is excellent for saving fuel and the generator also has overload protection to prevent equipment damage in the event of a power overload.
This inverter generator is compact and easy to start but it is one of the louder inverter generators on our list at 68dB.
Output: 2200W
Rated Output: 1800W
Weight: 21kg
Noise: 51dB
Pros: Long runtime, portable, quiet operation, user-friendly
Cons: Recoil start only
The Westinghouse iGen2200 is a powerful, portable and quiet inverter generator that offers an impressive 17 hour run time. It's a well-suited generator for camping, particular for extended trips.
This digital inverter generator is able to adapt to the requirements of the appliance. It also has an economy mode to help with fuel efficiency and reduce sound and carbon emissions.
This generator offers two 240V AC ports and two USB outlets so is easy to plug in different appliances.
The iGen2200 weighs 21kg and has an ergonomic suitcase design to make it easy to carry. The closed construction of this generator helps it to operate quietly, it has a sound output of 51dB making it the quietest camping generator listed.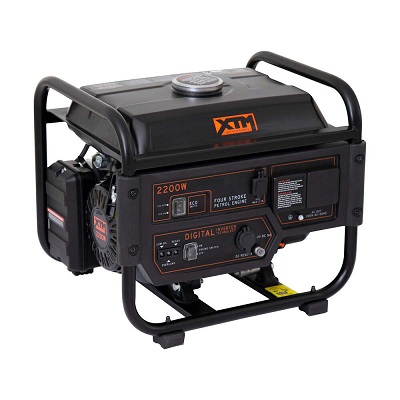 Output: 2200W
Rated Output: 2000W
Weight: 21kg
Noise: 68dB
Pros: Compact, lightweight, 7L fuel tank
Cons: Loud
The XTM 2200W is the most compact inverter generator we reviewed. It is also one of the lightest at 19kg making it easily portable and great for camping.
However, where this generator falls short is its sound level. The 68dB noise level is quite loud for a portable generator and this is because of the XTM's open-frame design.
The high sound level means this isn't the best generator for camping if you will be needing to use it to power appliances throughout the night.
With that said, the XTM is one of the most compact units but the 7L tank is the largest fuel tank on the list by 2L+. This large fuel tank means the run time is going to be longer and you won't need to worry about topping up the fuel so frequently.
Overall, this is a good generator if a compact size and high power output are needed on a tight budget. This is not as durable or reliable as the more premium models but it does come at an affordable price with a 2-year warranty.
Generator Comparison Table
| | | | | | | | | | | | |
| --- | --- | --- | --- | --- | --- | --- | --- | --- | --- | --- | --- |
| Camping Generator | Our Verdict | Output | Rated Output | Fuel Tank | Weight | Size | Outlets | Noise | Running Time | Starting System | Warranty |
| Yamaha EF2000iS | Best Overall | 2000W | 1600W | 4.4L | 20kg | 490 x 280 x 445mm | 12V DC, | 52dB | 4.2 – 10hr | Recoil | 4 year |
| Adventure Kings 2.0kVA | High Power Low Cost | 2200W | 2000W | 4.1L | 21.5kg | 555 x 320 x 465mm | 2 x 240V AC | 59 – 73dB | 3.5hr | Recoil | 2 year |
| Gentrax Inverter Generator | Best for Light Use | 2000W | 1700W | 4.5L | 22kg | 550 x 420 x 320mm | 2 x 240V AC | 58dB | 9hr | Recoil | Not listed |
| Dometic 2100VA | Most Durable | 2100W | 1800W | 4.2L | 26.5kg | 530 x 320 x 430mm | 2 x 240V C, 1 X 12V DC, 2 X USB | 61dB | 3.5 – 8hr | Recoil & Electric | 2 year |
| Cromtech Outback | High Power | 2400W | 2100W | 5L | 19.8kg | 512 x 315 x 447mm | 2 x 15 amp, USB, 12V DC | 52-59dB | 5 – 20hr | Recoil | 1 year |
| Briggs & Stratton P2400 | Complete Pack | 2400W | 1800W | 3.7L | 22.8kg | 570 x 365 x 505mm | DC, household, USB | 58dB | 8hr | Recoil | 3 year |
| Engel 2000W | Budget-Friendly | 2000W | 1800W | 4.8L | 22kg | 498 x 312 x 467mm | 5V USB, 240V AC | 68dB | 4.5 – 7hr | Recoil | 4 year |
| Westinghouse iGen 2200 | Quietest Option | 2200W | 1800W | 4.3L | 21kg | 500 x 440 x 340mm | 240V AC, 5V DC USB | 51dB | 17hr | Recoil | 2 year |
| XTM 2200W Inverter | Most Compact | 2200W | 2000W | 7L | 19kg | 448 x 385 x 382mm | 2 x 240V AC, 2 x 5V USB, 12V DC | 68dB | Not Listed | Recoil | 2 year |
Generator Buying Guide
An inverter generator is the best option for use when camping as they are more portable and more user-friendly than larger utility generators.
When purchasing a generator for camping there are a number of considerations that you will need to factor into your decision. Below we have listed the most important factors to help you find the best camping generator for your trips.
Watts
The first thing to consider when buying a portable generator for camping is the watts that are needed. The generator needs to offer enough power for your use otherwise you risk overloading it.
Overloading is one of the main causes of damage and failure in inverter generators.
Keep in mind that many appliances require a surge of current when they start and then they have a lower power requirement when running. The selected generator needs to be able to handle the initial high power demand. This is why it is important to take into consideration both the peak watts and continuous/rated power output.
RELATED: The Best Camping Fridge
Noise Level
The last thing you want when you are camping is a loud generator disrupting the peace. That's why camping generators list their sound level in their specifications.
Most modern generators make very little noise with most brands having an output of fewer than 60 decibels at 10 meters.
The amount of sound produced by the generator is a key consideration as you don't want the sound to drown out the atmosphere of the campsite or keep the kids or neighbours up if the generator is being used to power appliances at night.
To make things easier, the noise level is listed for each generator above so it is easy to compare options to find a quiet one.
For reference, the quietest generator we reviewed was 52dB and the loudest was 72dB.
Size
The size and weight are also important as camping generators need to be portable, lightweight and shouldn't take up too much space in your vehicle.
This is one of the main reasons inverter generators are so popular, they are much smaller in size compared to utility generators.
Inverter generators are usually lightweight at around 20- 25kg so they can be carried and moved around as needed. For improved portability, look out for camping generators with ergonomic handles or wheels.
Lighter generators are best as they are easier to move around the campground and to carry to and from your vehicle. The dimensions for most common inverter generators is around 500mm long, 280mm wide and 450mm high.
Performance
Inverter generators are generally very efficient and therefore you can expect the generator to be able to run all night (8-10 hours) depending on the number of appliances being powered. The performance of the inverter generator will be greatly influenced by the following factors:
The fuel tank capacity
The number of appliances or devices being powered
The climate
The maximum output of the inverter
Outlets
Each inverter generator offers different types and numbers of outlets. Some offer a couple of ports for AC output while others offer AC power ports, USB ports and 12V DC ports. The outlets needed will depend on the appliances you plan to run from the camping generator.
Having multiple outlets is more convenient and allows you to utilize the wattage of the generator.
Pure Sine Wave Inverters
You will notice that most of the generators note that they are pure sine wave inverters. There are two types of sine wave to be aware of; pure and modified.
A modified sine wave is cheaper but it can damage electrical devices and many devices cannot function with this type of inverter. Whereas a pure sine wave is naturally occurring and is much more effective. Pure sine wave inverters are efficient, effective and are the top choice for use with sensitive electronics.
Thanks to all of the benefits and advantages, pure sine is also used for solar power solutions.
Runtime
If the generator will be used overnight or for several hours at a time then it is worth checking the runtime to ensure you get the most from the unit before needing to refill the fuel.
The runtime lets you know how long the generator can run before needing to be refuelled. Higher runtimes are preferred as they are easier to control and don't need filling as often. A runtime of 8+ hours is good, cheaper models tend to offer lower runtimes.
Durability
The best camping generator is one that is durable and reliable. It's best to go for well-known brands that have a strong reputation for producing reliable camping generators as the last thing you want is to be left without any power during a long camping trip because the generator has stopped working.
It's also important to keep the portable generators care instructions handy as they need to be properly maintained.
Price
Most generators on the Australian market are very similarly priced. The price is mainly determined by the size of the generator. Smaller 1000W generators are generally priced between $800 – $1,200, 2000W generators between $1000 – $2000 and 2500W plus generators are $2,000+.
Lower cost generators tend to offer fewer features and have shorter warranty periods. They may not be as quiet and often have a shorter run time too.
Generator FAQ
What size generator do I need for camping?
Smaller generators offering between 2000 – 2400 watts are best for camping as they provide enough power without being too bulky. This is only a rough guide as the best size for you will depend on the electronics you are going to be powering.
Are Adventure Kings generators noisy?
Yes, with a noise output of 59-73dB, the Adventure Kings generators are louder than most of the competitor models we have reviewed.
Featured Image: Yamaha