Camping generators have become more and more popular amongst Australian campers in recent years as the cost has dropped significantly and the noise output minimised through advancements in technology. Generators generally fall into two categories:
Smaller Inverter Generators and

Larger Utility Generators.
For most family campers in Australia, we recommend purchasing an inverter generator as this will be able to power most electronics at your campsite.
When purchasing an inverter generator there are a number of considerations that you will need to factor into your decision:
Noise output:
Most modern generators make very little noise with most brands having a noise output of fewer than 60 decibels at 10 meters. The amount of noise that a generator outputs is a key consideration as you don't want the sound to drown out the atmosphere of the campsite or keep the kids or neighbours up if it's being used to power appliances at night.
Size

:
The size and weight of the generator is another key consideration as there is generally is limited space in your vehicle. Inverter generators are smaller in size compared to the larger utility generators and usually weigh between 15kg and 20kg. Lighter generators are easier to move around the campground and to carry to and from your vehicle. The dimensions for most common inverter generators is around 500mm long, 280mm wide and 450mm high.
Performance

:
Inverter generators are generally very efficient and therefore you can expect the generator to be able to run all night (8-10 hours) depending on the number of appliances being powered. The performance of the inverter generator will be greatly influenced by the following factors:
The size of the petrol tank

The number of appliances or devices being powered

The climate

The maximum output of the inverter
Price

:
Most generators on the Australian market are very similarly priced. The price is mainly determined by the size of the generator. Smaller 1000W generators are generally priced between $800 - $1,200 AUD, 2000W generators between $1000 - $2000 and 2500W plus generators are $2,000 AUD +.
Our Pick for Best Camping Generator
Yamaha EF2000iS Silent Inverter Generator - 2000W Review:
The Yamaha EF2000IS is our pick for the best camping inverter generator on the Australian market. This generator features the latest in inverter technology and can power a wide range of appliances at your campsite. A key feature of this model is that it is very quiet allowing it to be run even in busy campsites in reasonable proximity to your neighbours. 
The things we like about The Yamaha EF2000IS campsite generator include:
A rated output of 1600 watts and up 2,000 watts maximum.

10.5-

hour

running time at 1/4 load means it will be able to run through the night

Nice layout of buttons and switches that make starting the unit easy

Safety features like fuel shut off

A very low noise output of 51.5 dBA at 7 meters

Twin tech allows you to hook up 2 units to run more power hungry devices or appliances

The Yamaha EF2000IS also features a fuel gauge which is not common on most generators at this price point
Things we don't like about this inverter generator includes:
It's slightly 

heavier than its competitors

It does not come with oil like many other brands so this will need to be purchased.
Summary:
The Yamaha EF2000iS Silent Inverter Generator - 2000W is a high quality and well spec'd generator that will be suitable for most Australian campers. Its low noise output and fuel efficiency mean it can be run all night long making this perfect for extended trips around Australia.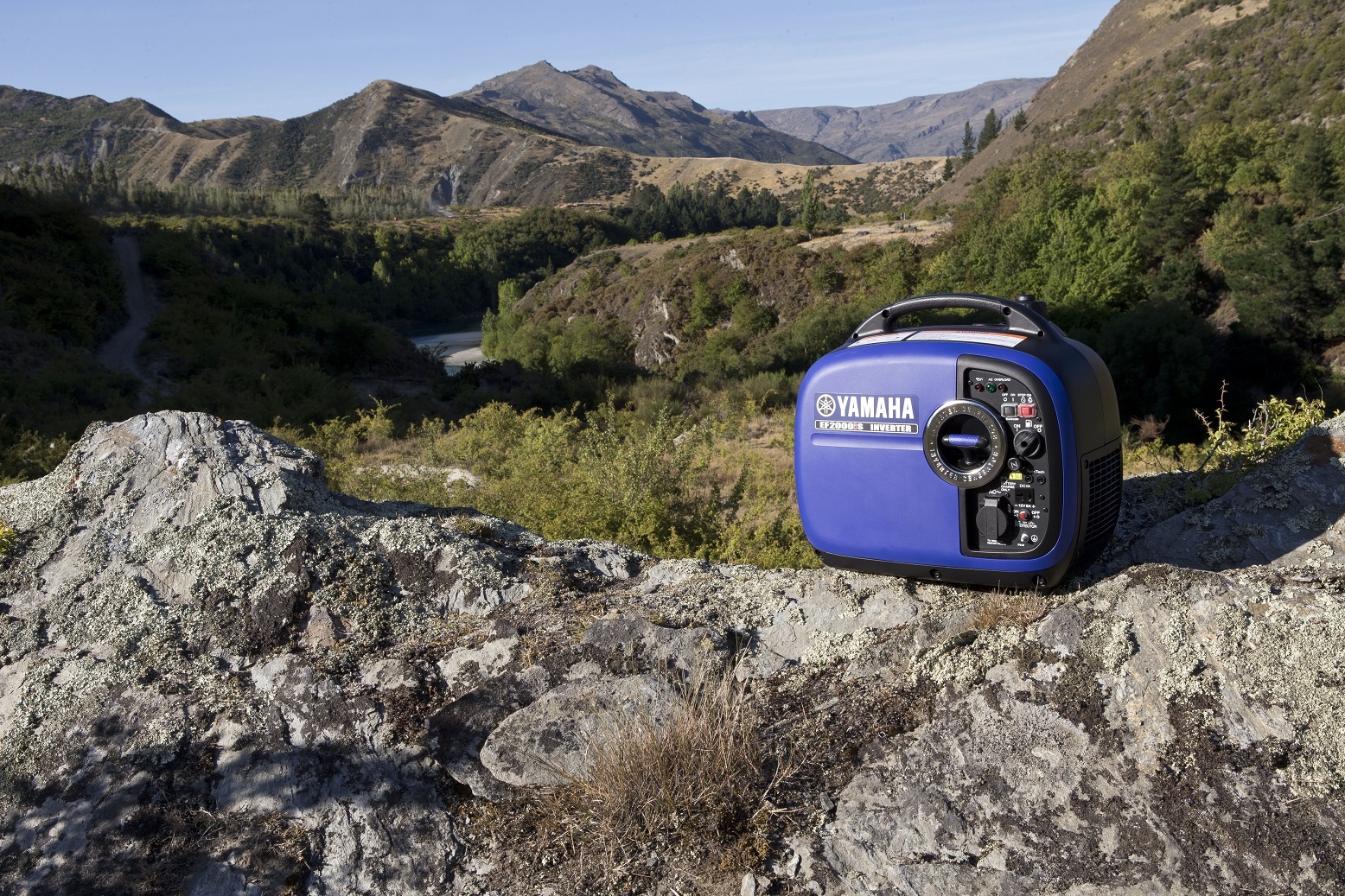 Our Pick for Runner Up Best Generator
Honda EU22i (2.2KVA) Inverter Generator Review:
The Honda series of Inverter Generators are considered as being some of the best on the market. They are packed with great features and are known for their reliability and durability in a range of conditions. 
The things we like about The Yamaha EF2000IS campsite generator include:
Comes with a sturdy handle and a vented cap so the fumes do not come out if this is being carried in your car or 4wd. 

The 4-Stroke GXR120 engine has a maximum output of 2200W. This engine is large enough to support caravans running continuous appliances being run including Air Conditioning units, fridges and TVs.

With is 4-litre petrol tank, this generator will run for 8 hours on specially designed Eco-Throttle+ setting.

With a noise output of 53dB at 7 meters, this generator is quiet enough for most campsites around Australia

A dry run setting meaning the unit will burn all the fuel in the engine preventing it going stale when being stored for extended periods of time (reducing maintenance costs). 
Things we don't like about this inverter generators include:
Honda generators are usually more expensive than other models on the Australian market

It does not come with USB charging points that are useful for charging modern electronic devices 
Summary:
Overall the new EU22i is a top quality generator that is perfect for the more serious camper. This Model of camping generator is capable of powering a larger campsite or campervan. The Honda EU22i builts upon the highly respected EU20i and is backed by an Australian wide warranty. The Honda EU22i would be our pick for the best camping generator in Australia if it was a bit cheaper and priced in line with some of the other models on the market.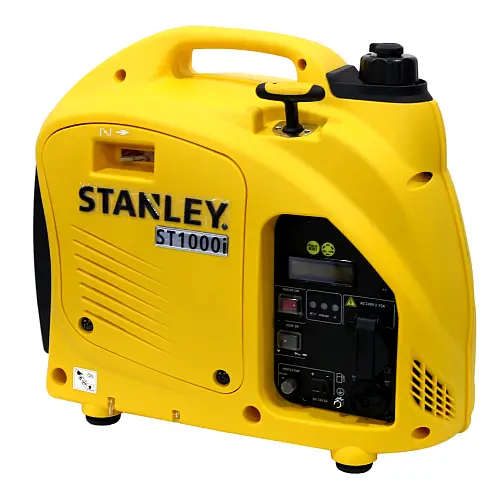 Stanley ST1000i Inverter Generator Review:
The Stanely ST1000i Inverter Generator is a lightweight unit that is perfect for campers who only need to run a small number of appliances. As this model only has a 900 watts (0.9kVA) and maximum 1000 watts (1.0kVA) output - it's not suitable for caravans or larger camping setups. 
The things we like about The Yamaha EF2000IS campsite generator include:
Only weights 14kg meaning it is easy to move around and get in/out of your vehicle. 

2-year domestic warranty

Smart throttle for efficiency and reduced emissions

7 hour run time at 75% load means it will run all night long 
Things we don't like about this inverter generators include:
This model only has an output of 900 watts (0.9kVA) meaning it is not suitable for those wanting to power multiple or high draw appliances like air conditioners. 

Only one outlet socket meaning only a limited number of appliances can be powered at once.
Summary:
The Stanely ST1000i Inverter Generator offers a combination of a high-quality build and lightweight design. This generator is suited for campers who are planning only running a couple of low draw appliances like fridges and TV's. If you are planning on running air conditioning units or microwaves, we recommend checking out the 2.0+ KVA models.
Our Pick for Best Budget Generator
Adventure Kings 2KVA Generator Review:
The Adventure Kings 2KVA (also branded as a Gentrax generator is some markets) is a low-cost generator for consumers wanting an entry-level option. The Adventure Kings range of generators are new to the Australian market and have been sold since 2016. The Adventure Kings 2KVA generators do not have the same build quality or the number of features as the Honda and Yamaha models. 
The things we like about the Adventure Kings 2KVA generator include:
The affordable price of $399 AUD makes this the cheapest generator on the Australian market and is a fraction of the price of its competitors.

At 18.5kg, this is also one of the lightest weight camping generators we reviewed making it perfect for those who are trying to keep weight down on their trips. 

A 100cc 4-Stroke engine with 2000W Power output with Two 240V plugs.

The economy control unit adjusts engine speed to suit power draw needs.
Things we don't like about this inverter generators include:
Lower quality build compared to leading models from Honda and Yamaha

With a noise output of 60.6 dBA it's not as quiet as its competitors 

The Adventure Kings Generators Only comes with a 12-month warranty and do not have the extensive dealer network of the Yamaha and Honda brands. 
Summary:
If you are looking for a low cost/entry level generator for light use we recommend this generator. While its output is comparable with other generators on the market, we would not recommend this generator for heavy or continuous use for extended camping trips.