Whether for relaxing at the campsite or sitting down to enjoy dinner and drinks with friends, a great chair can be the unsung hero of an enjoyable camping trip.
Finding the best option to suit your needs, however, can be more difficult than you would expect. Factors to consider include comfort, durability, size and weight.
In this article, we list what we consider to be the best camping chairs currently on the market in Australia and weigh up the pros and cons of each.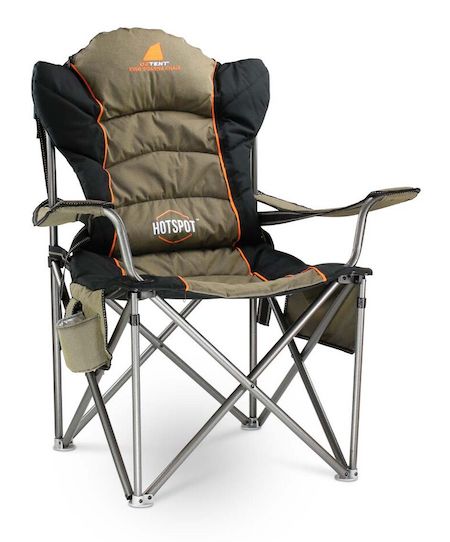 The Oztent Goanna has long been the go-to camping chair in Australia. This is the chair all others try to imitate.
What began with the original Goanna chair has developed into the more premium King Goanna.
This chair represents the perfect balance of comfort and durability and one of the most popular fold-up chairs in Australia.
The King Goanna features a padded headrest, insulated drink holders, soft armrests, and adjustable lumbar support.
The frame is made from heavy-duty steel and the material is 600D fully padded polyester. At only 6kg this chair is fairly lightweight but remains extremely sturdy and durable. It is weight rated to 200kg.
New and improved insulated drink holders are a clever feature with hot Australian summers in mind and a handy zippered carry bag assists with transport. 
To top it off, the King Goanna comes with a 5-year manufacturer's warranty.
If you are looking for a great value chair that will last you many summers, it's hard to look past the Oztent King Goanna.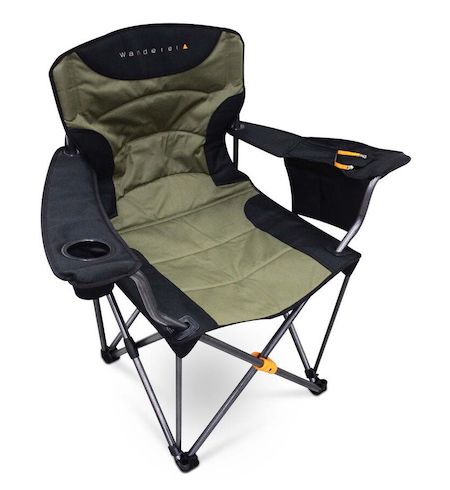 The Wanderer Touring Extreme Camp Chair is an affordable option with an impressive 200kg weight capacity.
It's built with a high padded back, so you can be sure that it'll be comfortable even after extended use.
We love this chair because it's more affordable than other options, but still has plenty of features that make it worth the price tag.
For example, it includes a built-in insulated cooler for storing drinks without having to bring along an additional cooler or esky.
It's also lightweight and folds away into the included carry bag for easy transport.
When compared to the more premium Oztent King Goanna Chair, this chair has less padding and is missing features like a headrest and adjustable lumbar support.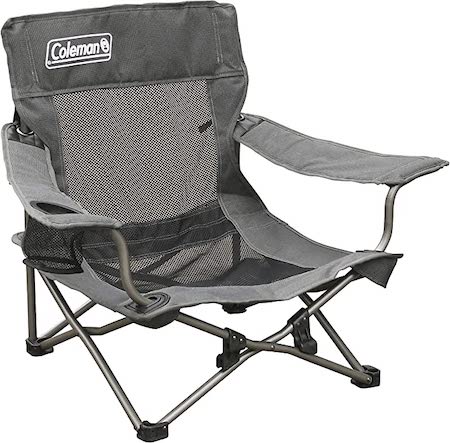 This Coleman chair is a great option for those who love to camp but don't want to spend a fortune on equipment.
It's lightweight and easy to carry, making it perfect for an occasional trip to the beach or your favourite campsite.
The low seating position won't work for everyone, but if you're looking for an affordable, high-quality option that packs down smaller than other chairs and is lightweight (2.6 kg), this is a great choice.
It's less suited to touring or for regular campers but if you're just getting into camping or don't camp frequently, this chair is a great buy.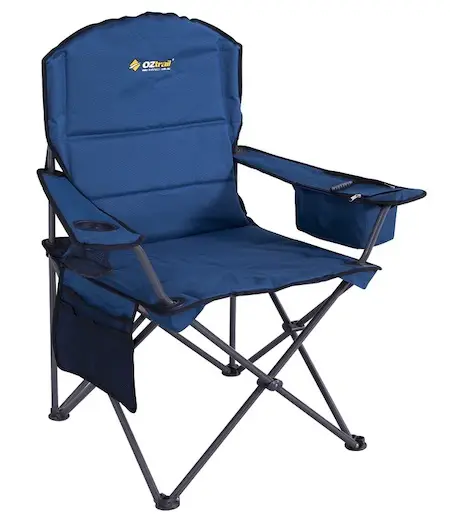 The OZtrail Getaway Camp Chair is an affordable, lightweight, and comfortable camping chair that's perfect for your next getaway.
This chair boasts a variety of features that make it more than just a place to sit.
It's got a large storage compartment at the rear, and there's even a side pocket organiser for storing small items like phones, keys, and wallets.
There's also a zippered insulated cooler compartment for keeping your drinks cool all day long.
In addition to its many storage features, this chair has some great comfort features too: padded arms, a high padded back, and extra reinforcement cross-bracing hubs help ensure that this chair will last through years of use.
The OZtrail Getaway Camp Chair comes in five colours making it easy to find one that suits your taste.
While this chair doesn't have a high weight limit (130 kg) when compared to the more premium options on the market, we think it represents great value for the average camper.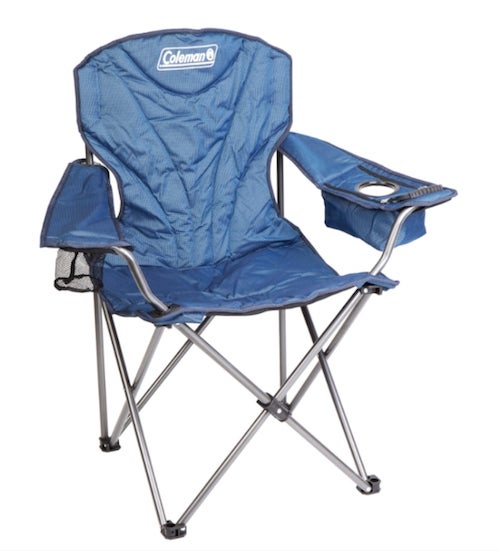 The Coleman King Size Arm Chair is a great product for those looking to upgrade from their old camping chair.
This chair is lightweight, portable, and comfortable, perfect for taking on your next outdoor adventure.
Like most chairs on our list, it comes with an insulated cooler bag that keeps drinks cold and an integrated drink holder on one arm.
This chair also has a mesh magazine holder on the back of the seat where you can store items like books or magazines while enjoying your outdoor activities together with friends or family.
The chair comes in a blue colour only, which may be an issue depending on your tastes.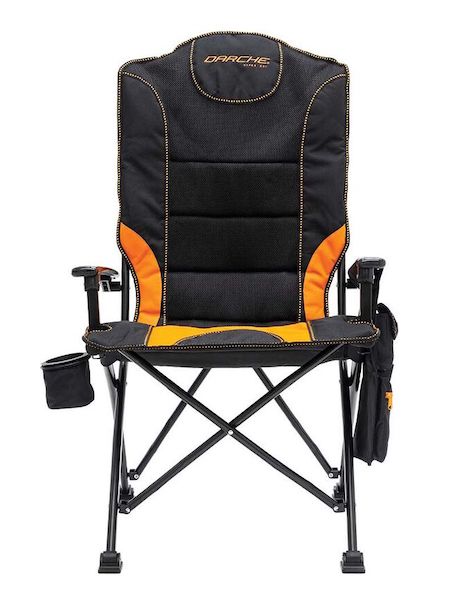 The Darche Vipor is a solid arm (not fabric) folding chair that offers comfort and support.
This chair is a worthy competitor to the Oztent King Goanna in terms of price, functionality, and comfort, but it does not have as high a weight capacity (150 kg vs 200 kg) or as many positive reviews as some other chairs in this price range.
However, Darche is a trusted name in outdoor equipment and we think it's unlikely you'll be disappointed with this premium piece of camping gear.
It has a high back, a headrest for extra comfort, padded durable 600D polyester, multi-use storage attachment, and a large rear storage pocket.
The sturdy steel frame construction ensures maximum stability while wide feet prevent sinking into soft ground.
Also included is a zippered carry bag for transport and storage.
Camping Chair FAQ
How do I choose a camping chair?
There are many things to consider when choosing a camping chair. First, think about where and when you'll be using it. Do you want one that's lightweight enough to carry for extended periods? Do you need a carry bag? Or is comfort the most important factor for you? If so, look for chairs that feature thicker padding, lumbar support, and a headrest.
What's the comfiest camping chair?
Our pick for the most comfortable camp chair is the Oztent King Goanna Chair (view at BCF). This portable chair features a high padded backrest, headrest, and lumbar support. It's made from heavy-duty steel and durable 600D fully padded polyester.