An esky is an essential item for camping, fishing or a day at the beach. However, there is a rapidly increasing number of eskys on the market, which can make it difficult to know which one is best for your needs. Different ice boxes suit different situations and the best option for you will be determined by your specific needs and preferences.
To help you in your search, we've analysed the most popular eskys on the market and assessed them against a range of important criteria including size, weight, durability and ice retention. Use this review and comparison to find the best esky for your next trip.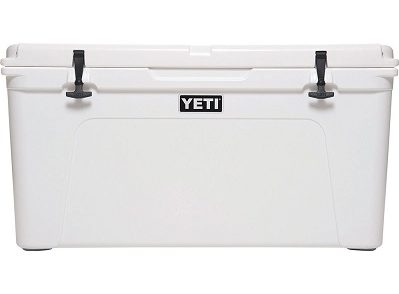 Size: 51cm x 94cm x 46cm
Weight: 21kg
Warranty: 5 years
Pros: Excellent insulation, drainage system, durable, spacious
Cons: High price tag, heavy
While the Yeti Tundra was originally designed with America's rafting community in mind, it is also a perfect fit for Australia's outdoors. It is a spacious and durable esky that makes a great choice for all outdoor adventures including touring, camping, and fishing.
One of the key features that makes the Tundra 110 stand out is its rotomold construction that is incredibly durable and built to last. This does mean the Tundra is heavier than other options but it boasts a high quality finish that isn't seen on some of the lower cost ice box models.
This esky is ideal for outdoor adventures. The design means it can be used as a seat and it has helpful tie down slots for holding it in position when on a boat or vehicle. It also has extra thick walls and an interlocking lid to lock the cold in.
As with other Yeti coolers, this one comes with a dry basket for organizing items inside. It also has heavy duty rubber latches and a vortex drain system. Although you don't get extras such as an integrated bottle opener with this esky you get the benefit of excellent build quality and insulation. The Tundra 110 is ideal for extended trips.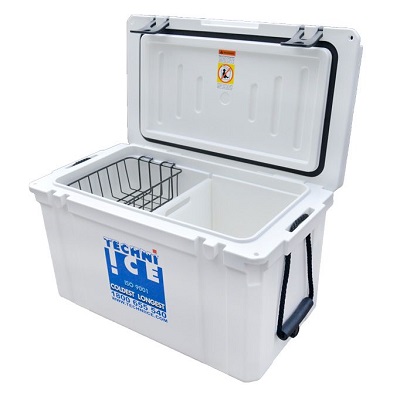 Size: 72.5 x 41 x 42.5cm
Weight: 12kg
Warranty: 10 years
Pros: Long warranty, durable, affordable, double airlock seal
Cons: Heavy
The Techni Ice Classic Hybrid is a popular camping esky thanks to its high quality design and affordable price tag. In terms of performance vs price, this is our top pick.
Something that stands out with this Techni Ice model is the dual latch system and the double airlock seal. It also has rope handles for easy transportation.
Similar to the Yeti, the Techni Ice Classic Hybrid also has a weight-bearing construction. This box comes with a divider and a basket to help you keep your food and drinks organised.
The Classic Hybrid comes with a huge 10 year warranty and is also one of the more affordable models in the Techni Ice range.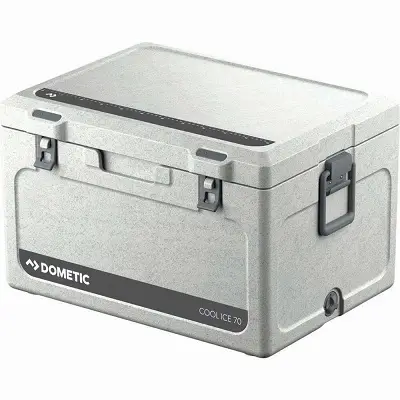 Size: 51.5 x 43.2 x 69cm
Weight: 11.8kg
Warranty: 5 years
Pros: Impressive ice retention, labyrinth seal, robust, tie down points
Cons: No basket or internal separator
Compared to the smaller Dometic Cool Icebox models, the CI70 boasts thicker insulation and uses a unique labyrinth seal design to keep food cold for longer.
Dometic has an excellent reputation for producing high-quality coolers that are robust and reliable. The CI70 comes with a 5 year warranty and is around the same weight as the Techni Ice Classic Hybrid but offers 16L more capacity.
These ice boxes can keep ice frozen for up to 10 days so is one of the best options for use during a longer camping trip where power is not available.
Size: 44.5 x 41.9 x 38.7cm
Weight: 5.8kg
Warranty: 5 years
Pros: Compact, lightweight, sturdy, ideal for wine/ 2L drinks, webbing handle
Cons: No drain plug, small size
The Yeti Roadie 24 is an upgrade of the popular Yeti 20. It is now 10% lighter, 20% larger and 30% more thermally efficient.
The upgrade also includes new latches that are ideal for one handed opening and closing. One of the best things about the Roadie 24 is its shape. The design is slim and compact but the portable cooler offers enough internal height for wine or soft drink bottles to stand upright. This shape and size is perfect for packing a range of contents with ease.
The Yeti Roadie is one of the only ice boxes that does not have a drain plug. Instead, it needs to be flipped upside down to empty it out. While this may seem like a drawback, it does provide peace of mind that there won't be any leakage from melted ice.
This model also has an interlocking hinge system and is the lightest on our list weighing just 5.8kg. This small esky is well suited to trips with 1-2 people, it is easy to carry around and is perfect for keeping drinks cold for a long weekend away.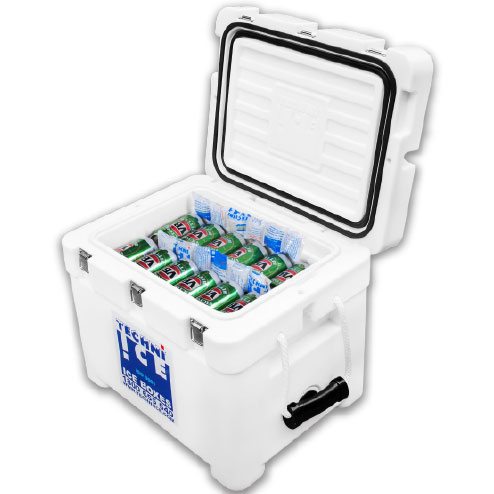 Size: 87 x 43 x 45 cm
Weight: 12kg
Warranty: Lifetime
Pros: Advanced features, durable, excellent thermal performance, lifetime warranty
Cons: High price
The Techni Ice Signature Series is their high performance range and is a level up from the Classic Series. The Signature boasts extra thick walls and an improved seal meaning ice can be preserved for up to 10 days. Campers can also enjoy a lifetime warranty on this cool box.
The Signature model is made of Polyethylene but exceeds the performance of some fibreglass models and is more durable. The downside is that it is heavier than fibreglass models.
This esky weighs 12kg and comes with heavy duty wheels to make moving it around easier. On our list, only this model and the Coleman Extreme Wheeled come with the benefit of wheels for added portability.
The Signature is durable, large and is well suited to longer trips where food and drink need to be kept cold for days or weeks. However, the advanced technology and features mean the Signature range is more expensive than other cooler box models.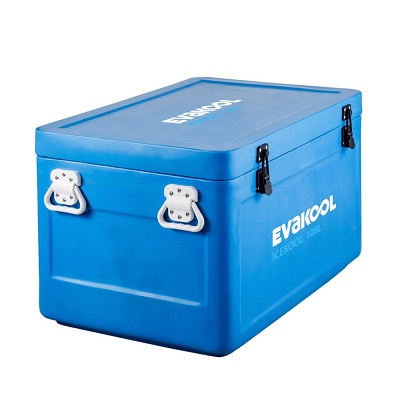 Size: 65 x 48 x 46cm
Weight: 13kg
Warranty: 5 years
Pros: Heavy duty, great for off grid touring, fibreglass, user-friendly features
Cons: Expensive
The Evakool Infinity is the only fibreglass ice box on our list and is only one of a few fibreglass models available on the market. This coolbox is extremely heavy duty while remaining relatively lightweight for its size at 13kg.
The insulation used in this esky can keep items cool for up to 15 days, ideal for extended camping trips and off grid touring.
The Infinity also boasts heavy duty handles, user-friendly latches and a drainage plug for removing melted ice. This Evakool esky comes with a 5 year warranty but is a more expensive option so is better suited to those in need of a top level model for going off grid rather than for short weekend trips.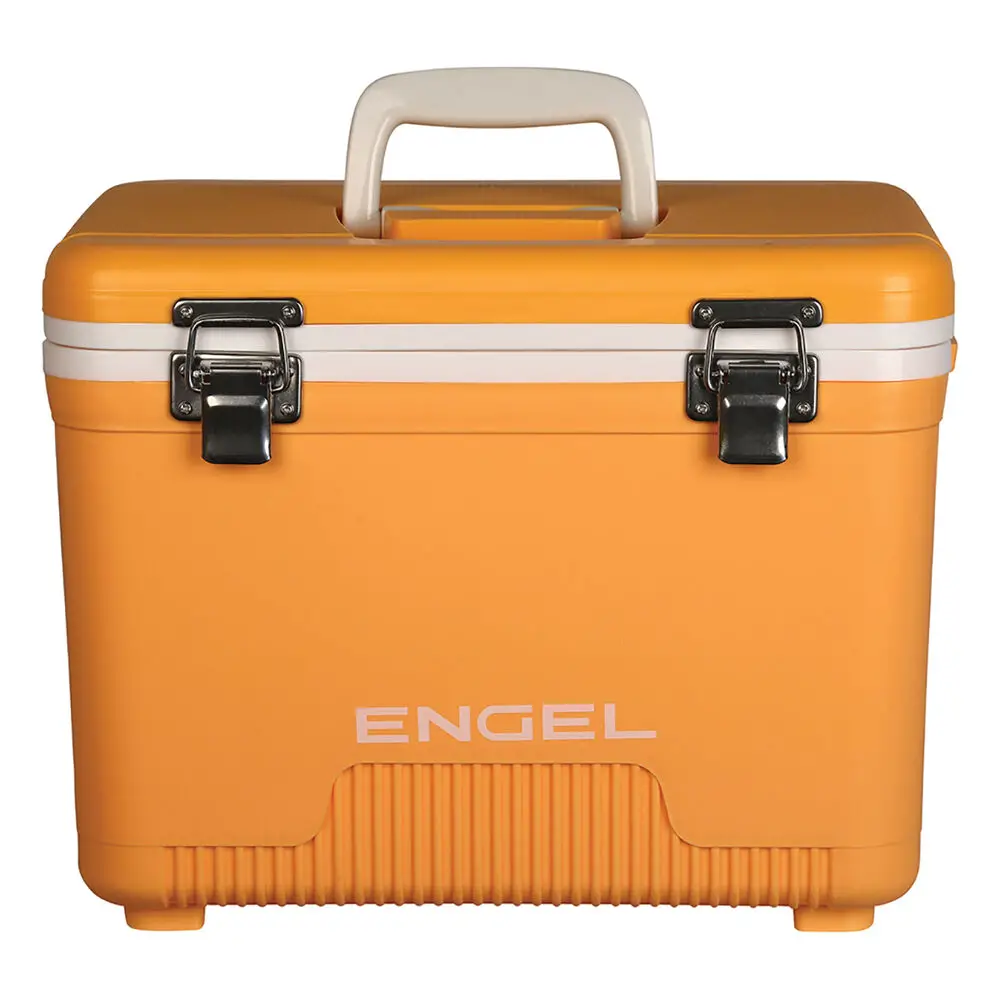 Size: 42 x 27 x 30cm
Weight: 2.5kg
Warranty: 5 years
Pros: Airtight seal, stainless steel latches
Cons: Not the best in terms of ice retention
Rather than being just for keeping items cold this Engel Drybox is ideal for keeping items dry too.
The EVA foam gasket ensures the esky is watertight. This means the box won't leak and it will actually float so is great for taking out on the water.
Rather than plastic latches the Engel cooler has stainless steel which is more durable and can handle exposure to water with ease.
Unlike the other coolers we've reviewed, the Engel Drybox has a small central handle rather than side handles. You can also attach a shoulder strap if preferred but the cooler can be heavy when it is full.
The Engel Cooler Drybox is lightweight, versatile and is ideal for use on short trips.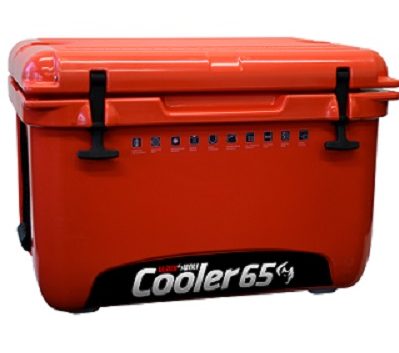 Size: 78 x 47 x 41cm
Weight: 13kg
Warranty: 1 year
Pros: High-quality materials, comes with cooler basket and chopping board, spacious, large drain plug
Cons: Short warranty
This BlackWolf cooler is a high-quality option that won't break the bank. It is made from food grade polyethylene and offers dry ice compatibility too.
The BlackWolf Hardside Icebox features a rapid drain plug and an easy flow drain spout to make removing excess water and ice quick and easy.
One of the things that makes this ice box stand out is that it comes with a cooler basket and a chopping board.
This esky is spacious and lightweight. It is a good choice for people looking for a large cooler for family adventures.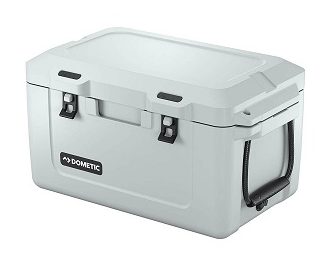 Size: 69 x 38 x 41cm
Weight: 11.6kg
Warranty: 7 years
Pros: Strong construction, good quality seal, thick foam insulation, option for accessories such as rod holder
Cons: Heavy for capacity
The Patrol ice boxes from Dometic are high performance and great for regular use. The durability and heavy-duty design makes this a great esky for camping.
One of the main selling points of this model is the very thick PU insulated walls and the deep freeze lid seal. With the excellent insulation and the tight seal, cold air is kept in and hot air is kept out to ensure users get the best ice retention results.
For those who plan to take this esky fishing or just want to bring it up to the next level there is an accessory dock which can be used for a rod holder, bottle opener or cup holder. The accessories are sold separately but it's good to know about this compatibility.
Other features on the Dometic Patrol esky include the strong handle, large drain plug and rubber feet. The two rubber latches can be opened one handed and the high quality seals make sure food and drinks stay cold even on hot days.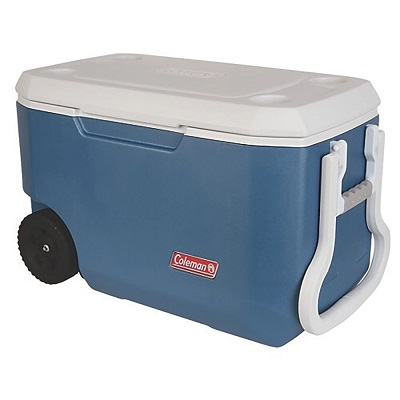 Size: 76 x 41 x 37cm
Weight: 6.8kg
Warranty: 1 year
Pros: Lightweight, easily portable, 5 day ice retention, feature-rich
Cons: Limited warranty
The second wheeled cooler on our list is the Coleman Extreme. This wheeled esky is ideal for longer trips as it has a large 60L capacity, weighs only 6.8kg and can be moved around with ease.
Compared to many of the other ice boxes we have reviewed the Coleman Extreme model is large, lightweight, and offers more features.
This ice box offers extra insulation in the walls to provide longer ice retention, has an insualted hinged lid with cup holders built in and the box can be used as a seat too.
Unlike the Engel Cooler Drybox and the Yeti Roadie 24, the Extreme Wheeled Cooler has a drain so excess water can be removed without needing to flip the cooler upside down.
Ice Box / Esky Comparison Table
Ice Box Buying Guide
Use this buying guide to help you find an esky that ticks all of the boxes.
Size & Capacity
The first consideration is the size and capacity of the esky. If you are going out for a day at the beach then you may just need a small esky for cold beer and snacks but if you are heading on a camping trip you are going to need a larger ice box with more space.
Consider the size and shape of the esky too, some are taller so they are able to hold accommodate upright bottles.
The capacity is provided in litres. To give you an idea of size, a 40-50L esky tends to be the most popular choice for camping trips.
Weight & Portability
In addition to the capacity of the esky, you'll also want to take into consideration the weight.
A lightweight esky is easier to move around while a heavier esky may be able to offer better insulation qualities.
If the esky is heavier, look for other features that can help to improve its overall portability such as the handles and wheels.
When choosing an esky, remember that the weight listed is the empty weight and it is going to weigh a fair bit more once it has food, drink, and ice inside.
Durability
The seal is one of the most important parts of an esky as it stops the cooler box from losing cold air.
Most ice boxes are made from plastic which is durable and handles the bumps of general travel well. Some models have reinforced corners to help avoid damage during transport.
Insulation and Ice Retention
Many esky manufacturers list the ice retention time which is how long it takes before the ice melts. This gives a good indication of the insulation quality and will also help you choose an esky that is suitable for your next camping trip.
One thing to keep in mind when looking at the ice retention time is that this is how long the ice will last in perfect conditions. There's a good chance that the ice won't stay solid for quite as long in the Australian heat so only use it as a rough guide and comparison tool.
The seals, wall thickness and refrigeration grade foam used will all impact the overall insulation and ice retention time.
Generally, an esky with a longer ice retention time is going to cost more so if you are going on a short trip choosing a lower ice retention time may be worthwhile.
RELATED: The Best Camping Fridge
Key Features
Handle – a good esky needs a quality, non-slip handle that is ergonomic and easy to use. Smaller coolers may feature a strap but these are no use on larger cool boxes. Larger boxes need to have 1-2 sturdy carry handles.
Latches – latches hold the lid in place and are needed to keep the lid on tight. Some ice boxes have latches that can be unhooked with one hand making them easier to open and close.
Wheels – moving a huge esky around is a lot easier when it has wheels. Even small ice boxes can be heavy when they are full. Wheels are great for moving a full esky between the car and picnic spot. Only a few models have wheels so keep this in mind if this is something you think you'll benefit from.
Drain Plug -this is a simple but important feature that helps you keep the esky clean. A plug allows you to easily drain out water that has collected at the bottom of the box.
Compatible With Dry Ice – if you are going to be using dry ice, make sure the esky you choose is dry ice compatible. Even a tough esky can be damaged by dry ice so it's worth checking its compatibility before your next camping trip.
Accessories – additional accessories include a built in bottle opener, optional removable food tray and ice packs. Some eskys also offers space for a rod holder or cup holders.
Seat – a lot of esky models are weight bearing meaning they can be used as an extra seat. This is very handy when out camping and fishing.
Tie down points – good tie down points are particularly important if you're going to be using the esky on a boat or transporting it on a truck.
Ice Box FAQ
What brand of esky is best?
The top esky brands include Dometic, Yeti, Engel and Coleman. These brands are tried and tested and known for being reliable, well-insulated and ideal for camping trips.
What esky keeps ice the longest?
The EvaKool Infinity can keep items cold for up to 15 days while the Dometic Cool Ice and the Techni Ice Signature both keep ice for up to 10 days.
What is a good size esky?
The best size for you will depend on the trip you are going on. 40-50 litres tends to be a popular size for camping trips.
How long does ice last in a Dometic esky?
Ice will last 4 days+ in a Dometic esky, ice can last up to 10 days depending on use and outside temperature.
Does Yeti make a cooler with wheels?
Yes, the YETI Tundra Haul has wheels.
Are Evakool ice boxes made in Australia?
Yes, Evakool ice boxes are made in Queensland.
Who owns Evakool?
Evakool is an Australian brand owned by Allan Smith.
How big is a 26 Litre esky?
A 26L esky can hold approximately 18 cans and 11kg of ice depending on the model.
How many Litres is a 6 pack esky?
A 6 pack esky is around 6 litres.
Featured Image: Yeti