When it comes to evening meals watching the sun go down, playing cards with friends or family, or cooking on the BBQ, a sturdy camping table can help make your time outside more enjoyable.
However, camping tables come in all shapes, sizes, and prices, and it can be tricky to know which one is best for your needs.
In this guide, we list our picks for the best camping tables currently on the market in Australia, followed by some tips to keep in mind when choosing.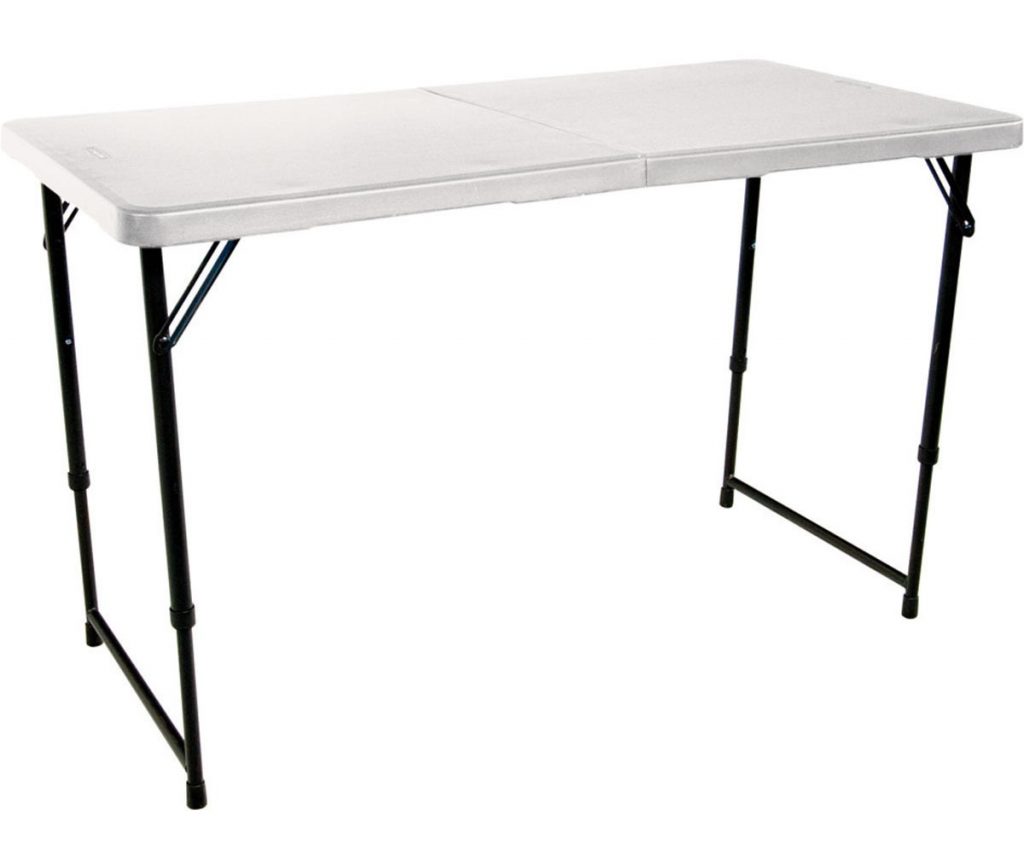 This Lifetime table is our top pick for most Australian campers because it is durable, easy to use, adjustable, and affordable.
With three different heights of 61cm, 74cm, and 91cm, this table can be adjusted to whatever height is comfortable for you or your family.
This is an important consideration for campers who want to use it as a BBQ table or those with young children.
Additionally, this Lifetime folding table features an easy-to-clean surface to help you stay tidy and organised outside. Its compact folding design and carry handle make it easy to transport and store.
Our main concern: it's a bit heavy for a table its size, which can be difficult for some campers.
That being said, it's the strongest table in our review with a distributed weight rating of an impressive 340kg.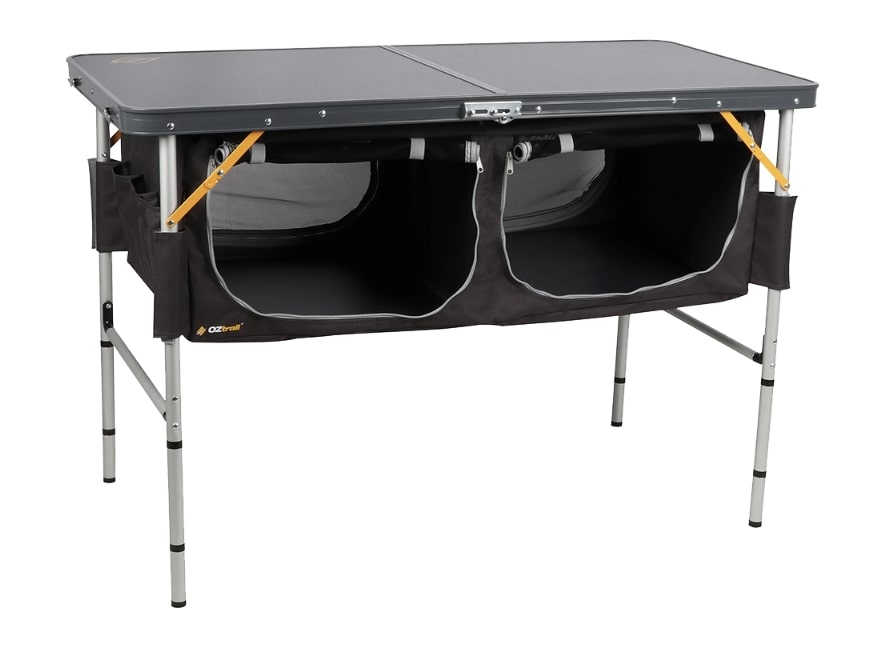 OZtrail's Folding Table is a great option for campers who are looking for a reasonably-priced camping table with great features and lots of storage.
It's made with a 22mm aluminium tube frame, which makes it sturdy enough to support up to 30 kilograms of weight. The table top is MDF melamine finish, which gives it a nice smooth surface that can be easily cleaned.
The table also has two adjustable height positions and folds up easily for transport. It comes with handy side storage pockets as well as double fabric pantries with MDF shelves.
The OZtrail Folding Table has many positive attributes: it's reasonably affordable; it's built to last; and it comes with a 1-year manufacturer's warranty.
The one downside some users might find is that the table is on the small side—if you're looking for something bigger, you might want to consider something else.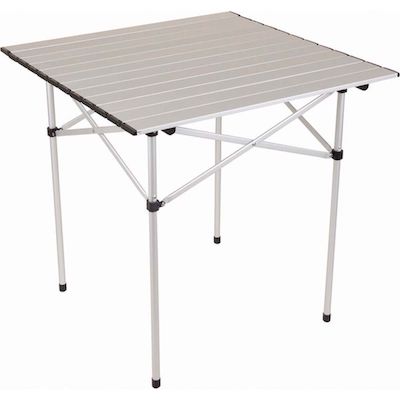 Unlike most camping tables, this one doesn't fold, it rolls, making transportation and storage simple and convenient.
Simple, sophisticated, and compact, this is a great option for solo campers, couples, and anyone who struggles with transporting large items.
For families, this could be used as a second table, but it's a bit small to be the main dining option.
Our biggest concern with the table is its low capacity weight (30kg), which is a consideration for campers who are hard on their gear.
In summary, this table is perfect for campers who value ease of transport and storage over extreme durability.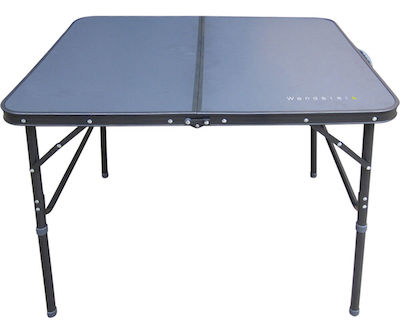 One of the lightest and most budget-friendly tables in our review, the Wanderer Steel Folding Table is a great choice for campers looking for a mix of features and value.
At only 3.3kg and with an easy-to-use carry handle, campers will find transporting this table to be a breeze.
Its super simple folding design makes set-up easy, so you can get right to enjoying your new campsite.  
Space-conscious campers should note that while it's a relatively small table, the table surface itself doesn't fold, so the Wanderer isn't terribly compact.
Regardless, it's a great all-around table, perfect for budget-conscious campers.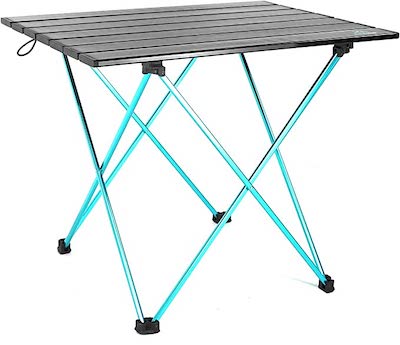 The FE Active Camping Table is an affordable lightweight camping table that's easy to set up and pack down.
The table folds down to be very compact, so it won't take up too much space in your vehicle.
It has a strong aluminium base that makes it sturdy enough to use as a camping BBQ table, and it's also water resistant so you don't need to worry about spills and you can leave it outside overnight.
The main downside of this table is that it isn't quite as sturdy as other options out there. Also, many users will want a larger table – this one is more suited as a side table or for couples who like to pack light.
If you're looking for something that's bigger and more durable, consider one of the other products on our list.
Camping table buying guide
Here are a few things you ought to keep in mind when choosing a camping table:
Surface area
If you're a large family or a big group of friends, you'll want a table to seat you all. On the other hand, solo travellers and couples might not need the extra space.
Think about whether you also want space for a cooker, water container and other items on the table.
When looking for a camping table, the amount of surface area you need should be a guiding factor for your purchase.
Storage size
When you're out camping, you don't want too much gear that's large and bulky.
Many camping tables boast intelligent compact designs that make transport and storage a breeze.
On the other hand, some will require a bit more ingenuity to pack into the back of the car for the weekend.
If you need a kit that's easy to transport and store, you'll want to keep compactness in mind and look for a table that rolls or fold into a small size and comes with its own carry bag.
Weight
Having gear that's excessively heavy can be a struggle for some campers who have difficulty moving large objects.
While some camping tables are fairly light, others can be surprisingly heavy, so it's an important consideration.
Price
If you're like us, you'd rather spend more money on adventures than on outdoor furniture.
So, for some campers, a camping table that empties your wallet might not be the best option.
We've therefore compiled a variety of different tables to meet all budgets. Expect to pay around $50 – $100 for low-end options and $100+ for larger and more durable tables.
Camping Table FAQ
Do you need a camping table?
A camping table is a great addition to your camping set-up. It's perfect for meals, games and other activities while you're enjoying the great outdoors. They also provide a place to store things like your lantern, BBQ, water container and more.
What are camping tables made of?
Camping tables are made from a variety of different materials, including steel, aluminium, and plastic. Each material offers its own pros and cons but these tables are generally lightweight but strong and durable enough to withstand the elements. They can also be easily folded away when not in use, which makes them easy to transport.
How much weight can folding tables hold?
Folding camping tables are designed to hold anywhere from 30kg to 300kg or more. The exact weight capacity of a table depends on its size, materials, and design. Folding tables used in commercial environments like restaurants can hold 500kg+.