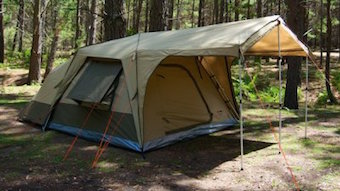 Six person tents offer a great combination of size and portability as they weigh less and are therefore more portable than their 8 and 10 person companions.
As 6 person tents are generally smaller than most family tents, a sturdy design and good ventilation are important to ensure a comfortable sleep.
There are many of six-person tents currently available on the Australian market - below we take a look at those we consider to be the best of these.
It is important to remember when purchasing a tent classified as 6 person they are generally only suitable to sleep 2-3 adults comfortably.
Top 6 Person Tent Choice:
Oztent RV5 Canvas Touring Tent Review:
The Oztent RV5 Canvas Touring Tent is our pick of the best 6 person tent on the Australian Market. It's 30 second setup time as well as high-quality materials makes this tent perfect for those wanting a tent suitable for all Australian weather conditions.
The Oztent RV5 has also been awarded multiple awards in Australia and internationally.
Runner Up 6 Person Tent Choice:
Coleman Instant 6 Person Tent Review:
The Coleman Instant range is very well respected in the Australian tent market, and the Coleman Instant 6P is no different.
This high-quality tent combined with its innovative instant up set up design makes this perfect for those who want to set in a hurry. 
The Instant Up tent is packed with the latest tent technology, including a fully seam sealed fly, patented welded floors, inverted seams, and a waterproof rating of 1500mm.
Blackwolf Mojave HV6 Dome Tent Review:
The Blackwolf Majave HV6 is a traditional dome style tent priced at around $500 AUD that is perfect for families or larger groups of adults. This tent is great value for money as it has a fantastic range of features and storage that are normally reserved for the more expensive tents on the market. 
The only downsides of this tent are that the large front opening can catch the wind if positioned directly into the prevailing conditions and the front door opens inwards, which can result in water resting on the top of the tent falling inside when the front door is opened. 
Darche AT-6 Air-Volution Tent Review:
The Darche Air-Volution AT-6 is high quality and a sturdy tent that is perfect for families who are looking for extended camping trips. 
This tent does not have traditional poles but uses air poles that are inflated with a provided pump. This allows the tent become very spacious as the dimensions are not limited by the strength of the poles like most other tents. 
Early versions of this model of tent (pre-2015) reportedly had some issues with the air poles de-forming, however we understand this has since been rectified.