Pop-up tents are perfect for festivals, kids, and summer camping.
Key advantages over the traditional dome-style tent include size and weight, affordability, and of course speed and ease of set-up.
Quality has been an issue with pop-up tents in the past, with poles breaking and material tearing.
However, as they have become more and more popular over the past few years, the quality has improved significantly and now there really are some great options out there.
There are, however, still many poor-quality pop-up tents on the market, so it's worth doing some research before making your selection.
Below, we round up our picks for the best pop up tents currently on the market in Australia.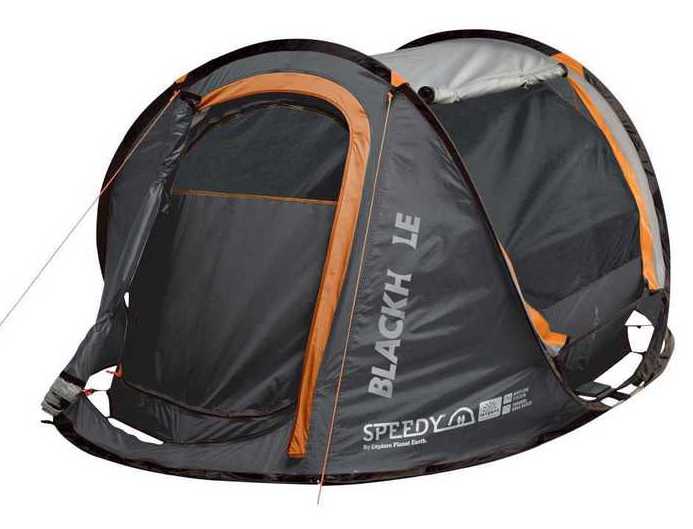 Our number one pick for Australia's best pop up tents is the Explore Planet Earth Speedy Pop Up Tent. 
It provides the perfect combination of quality, weatherproofing, and features. We think it's easily the best pop up tent available in Australia. 
The downside? These tents aren't the cheapest and may be more than people are willing to spend on a pop-up tent.
We also like that EPE stands by this product with a 3-year warranty, providing peace of mind in case anything does go wrong.
Set-up:
EPE claim the title of the world's fastest tent and we find it hard to argue with that.
Like most pop up tents, the Speedy comes folded up in a circular shape, packed inside a handy carry case.
The user simply needs to remove the tent from the case, and it pops up instantly.
Secure the four corners with the pegs provided and you are done.
The video below outlines the setup process:
Weatherproofing:
Unlike many pop up tents, EPE cuts no corners here on quality, and if cared for properly the Speedy should provide you with many years of camping enjoyment.
The floor is made from durable Nylon boasting a 2000mm waterproof rating, while the outer is Rip-Stop Polyester with an impressive 3000mm waterproof rating and fully taped seams.
Waterproofing should not be an issue here, even in moderate rain. The inner is a breathable Rip-Stop Polyester.
A new feature on the Blackhole release of Speedy tents is the blackout technology. This material reduces the amount of light that enters the tent, keeping it cooler in hot weather and warmer in cool weather.
Features:
Features in the Speedy include reflective guide ropes, accessory pockets, and fire retardant materials.
A No-See-Um mesh provides ventilation, protection from bugs, and privacy, while side windows contribute to ventilation also.
However, the stand-out feature for us is the Aside Intents Lighting System.
Speedy comes with integrated LED lights that work with a USB battery adapter or power bank providing the perfect level of lighting for finding your way around the tent in the dark.
This is a really clever addition from EPE and one of the things that makes Speedy stand out above its competition.
Size:
3 person
2.40m x 2.05m x 1.0m (recommended for 2 people)
View at Tentworld
4 person
2.40m x 2.40m x 1.15m (recommended for 2-3 people)
View at Tentworld
Weight:
3.0 – 4.1kg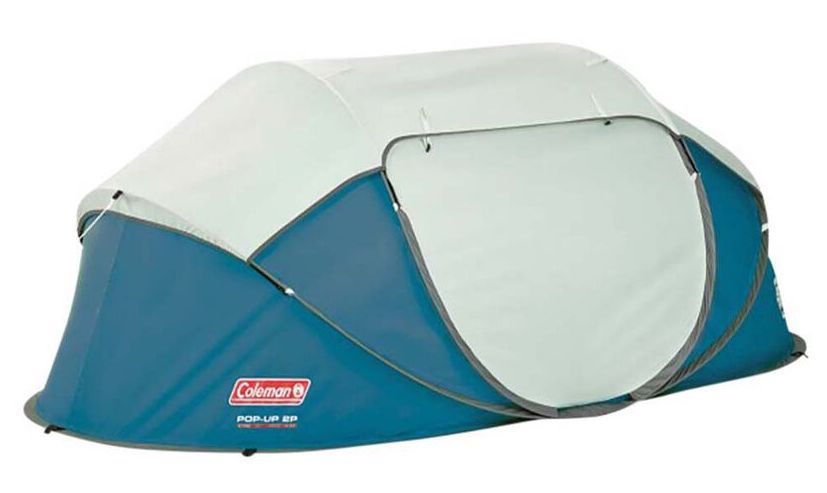 Tried and true, the Coleman pop up tents have served thousands of families and festival goers over the years. A reliable, affordable option, the Coleman pop up is made with quality materials and a well thought design.
It's a great looking tent and we have no hesitation in recommending it for Australian summer camping. One of the best pop up tents on the market.
Set-up:
Coleman have made the set-up for their pop up tent as easy as possible. Simply remove from the carry bag and the pre-assembled poles mean the tent pops into shape instantly.
The only other step required is securing it down with tent pegs and fastening down the guy ropes if you expect wind or rain.
It packs up just as fast meaning you get more time to enjoy your adventure and less time packing up.
Weatherproofing:
The fly on this tent is made from waterproof 68D polyester while the floor is 185T polyester. It's fully seam sealed which means you should stay dry in even in very wet conditions.
One advantage the Coleman pop up has over our number one pick is that it has the option of guy ropes, which provide additional stability in high wind.
Features:
The fly on the Coleman pop up can be set up in a variety of positions, allowing you to prioritise protection or ventilation depending on the conditions.
There are two internal storage pockets to assist with organisation, along with a handy carry bag to keep it all together once packed away.
Size:
2 Person – L228 x W137 x H89cm (recommended for 1 person)
4 person – L325 x W198 x H102cm (recommended for 2-3 people)
Weight:
2.6 – 3.4kg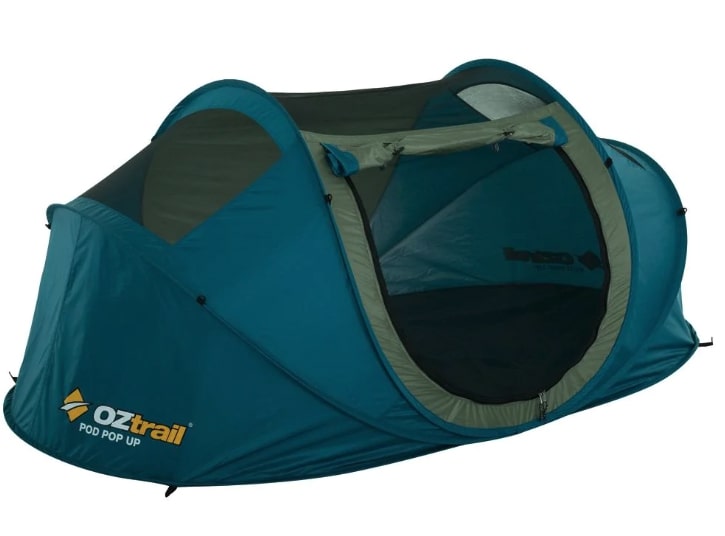 The OZtrail Pop Up Pod Tent is a great pop up tent from a trusted brand.
It's lightweight, high quality, and affordable, making it perfect for camping in the great outdoors.
It's also covered by OZtrail's 12-month manufacturer's warranty.
Set-up:
This tent can be set up in just seconds. All you need to do is remove it from the carry bag and it will pop into shape.
Packing down is almost as simple: just fold up the tent, place it in the carry bag, and you're done.
Weatherproofing:
We like that The 1000mm waterhead rated materials keep you dry in light rain and a removable cap cover provides additional protection.
While this doesn't compare to the 3000mm waterproof rating and fully taped seams found on the Speedy Pop Up Tent, we like that Oztrail provide this measurement and it shows they haven't just used the cheapest materials possible.
Mesh vents on the roof panel help with airflow to reduce condensation and regulate internal temperatures.
Features:
Our favourite feature of this tent is the mesh roof which allows for stargazing on clear nights.
It also comes with guy points for extra stability in windy conditions.
Size:
You'll have plenty of room inside for two people to sleep comfortably or even store gear.
The sleeping area measures 210cm (L) x 102cm (W) while the packed dimensions are 71cm x 71cm x 4cm.
Weight:
At 2.1kg, this is the lightest pop up tent in our review.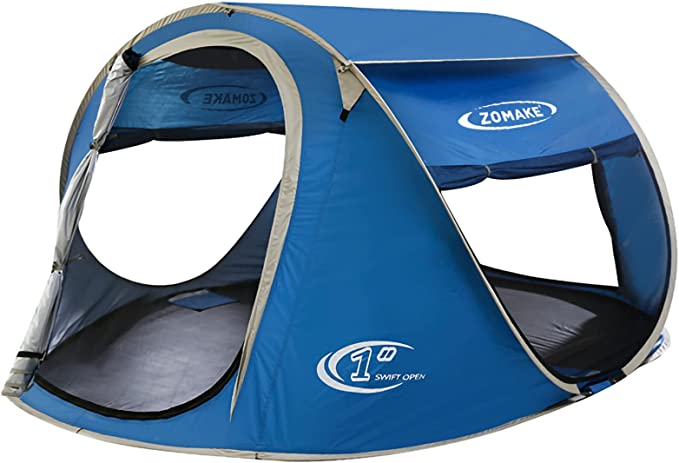 For backyard camping or beach days, this affordable pop-up tent is a good option.
Set-up:
The Zomake Pop Up Tent sets up automatically. You just throw it up and let it do its thing.
As with most pop-up tents, packing down can be a bit more difficult, but users generally get the hang of this after a few goes.
Weatherproofing:
The brand says that it's water resistant—but we wouldn't trust it in heavy rain.
Like most tents, it features a PE floor that should do a decent job of keeping out moisture.
Features:
This tent features 2 windows, 2 doors, and mesh screens for all openings to allow ventilation but prevent insects from entering.
It also has durable fibreglass poles and stakes for staking the tent to the ground when it's windy.
Size:
Comfortable for two people, it measures 240cm x 180cm x 99cm (LxWxH), which is big enough to fit a queen-size mattress inside
Weight:
At just 2.3 kg, this pop-up tent is one of the lightest we've reviewed so far.
Pop-Up Tent FAQ
What is the most waterproof pop up tent?
Pop up tents generally aren't recommended for wet conditions. However, many can survive in light rain. The most waterproof tent in our review is the Speedy Pop Up Tent (view at Tentworld). It has a durable Nylon floor with a 2000mm waterproof rating, and the outer is Rip-Stop Polyester with an impressive 3000mm waterproof rating and fully taped seams.
Is OZtrail better than Coleman?
OZtrail and Coleman are both trusted brands and produce a wide range of affordable camping gear. OZtrail tents tend to be slightly cheaper than Coleman tents, while Coleman tend to lead the way with innovation.