The tent you choose for your family or group of friends can make or break a camping trip.
You want to be sure that you give everyone the best experience possible by purchasing a tent that is sturdy and waterproof, spacious enough for your group, and easy to set up and take down, all while staying within your budget.
In this post, we list our top picks for 4-person tents followed by a guide on what to look out for when choosing.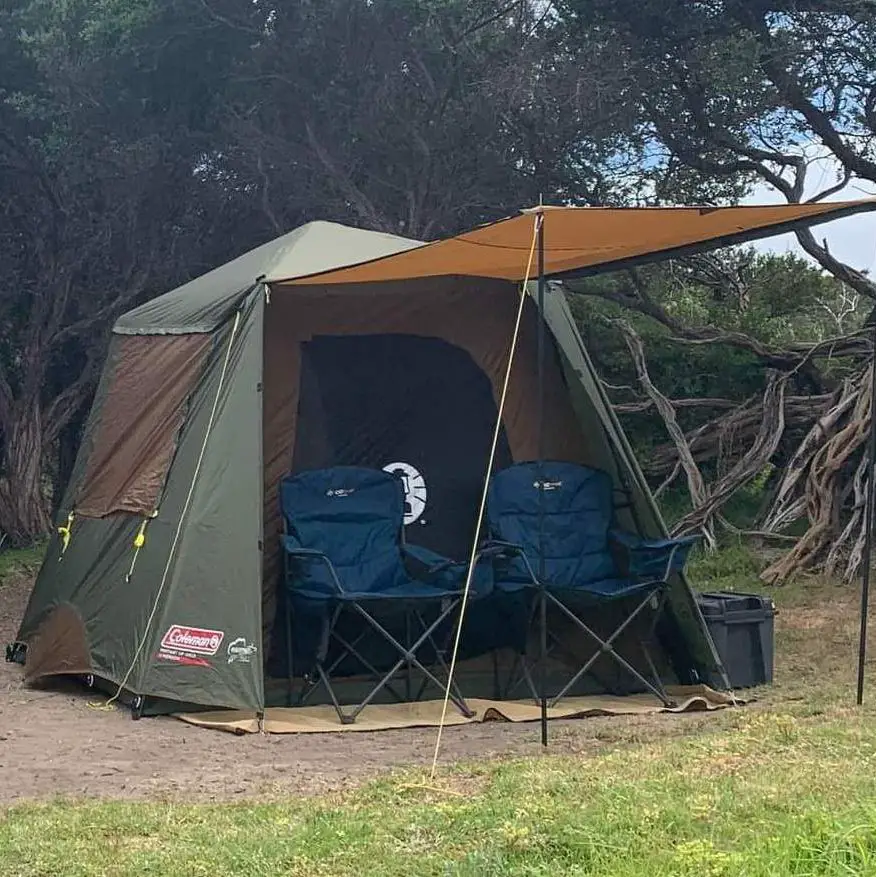 Internal size: 2.4m x 2.4m
Weight: 14kg
Pros: Very good waterproofing, tall enough to stand up inside, durable materials, fast setup, value for money
Cons: Rain can pool on the awning, bigger and heavier than other options
We've been using this tent for over a year now and it's comfortably the best tent of this size we've ever tested.
It's very easy to set up and is spacious inside with enough room for an adult to stand. It's built from durable and high-quality materials and we've never had any issues with weatherproofing, aside from the tendency for rain to pool on the awning.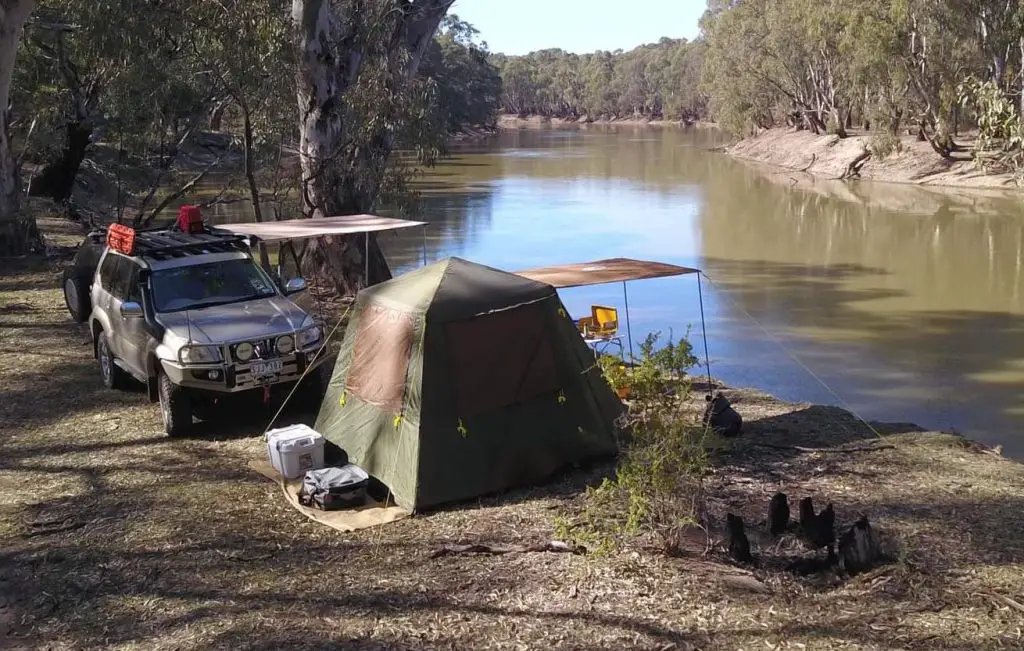 The main drawbacks of the Coleman Gold Series tents are their size and weight. The instant up frame mechanism means the tent is quite bulky and takes up more space than other 4p tents.
View the Coleman Instant Up 4P Gold at Tentworld.
Internal size: 2.15m x 2.35m
Weight: 3.9kg
Pros: Lightweight, waterproof, spacious, large vestibule for storage
Cons: Slower set-up than instant tents, less durable materials
The Naturehike Opalus tent is the perfect choice for anyone who wants a four-person tent that's easy to transport, whether on a hiking trip or in a small car.
It features a 40D rip-stop silicone-coated nylon fly with an impressive 4000mm waterproof rating. Its poles are made from lightweight but strong aluminium alloy.
The inner mesh prevents mosquitos from entering the tent while the two doors make it easy to access all areas of the tent, even with a group of four.
The packed weight is 3.9kg and it comes with a 12-month warranty.
Internal size: 2.4m x 2.4m
Weight: 23kg
Pros: Fast set up, high-quality canvas, 100% waterproof
Cons: Very heavy, large when packed away
Touring tents are popular because of their quick set-up time and solid, durable construction.
Oztent's RV series features an award-winning design that can be seen in campsites across the country. These tents are popular thanks to their innovative design that can be set up in 30 seconds, along with their high-quality durable canvas construction.
The size and design of the RV4 makes it a great option for a couple or a small family.
Compared to the Coleman Instant Gold, the RV4 feels slightly less spacious inside because the back wall slopes down to the ground.
RELATED: Oztent RV5 Review
Internal size: 2.3m x 2.3m
Weight: 16.8kg
Pros: Material blocks light and heat, good waterproofing, tall enough to stand up inside, durable materials, fast setup
Cons: Rain can pool on the awning, heavy, slightly smaller than other options
This four-person tent has Coleman's unique darkroom technology that blocks out the sun (and heat) allowing you to get a great night's sleep on your next camping adventure.
As well as its unique darkroom technology, this tent features a quality canvas fly and heavy-duty PVC base to ensure you keep dry in the wettest of conditions.
Aside from the darkroom material, this tent is almost identical to the Coleman Instant Up 4P Gold, although is slightly smaller and a few kilograms heavier.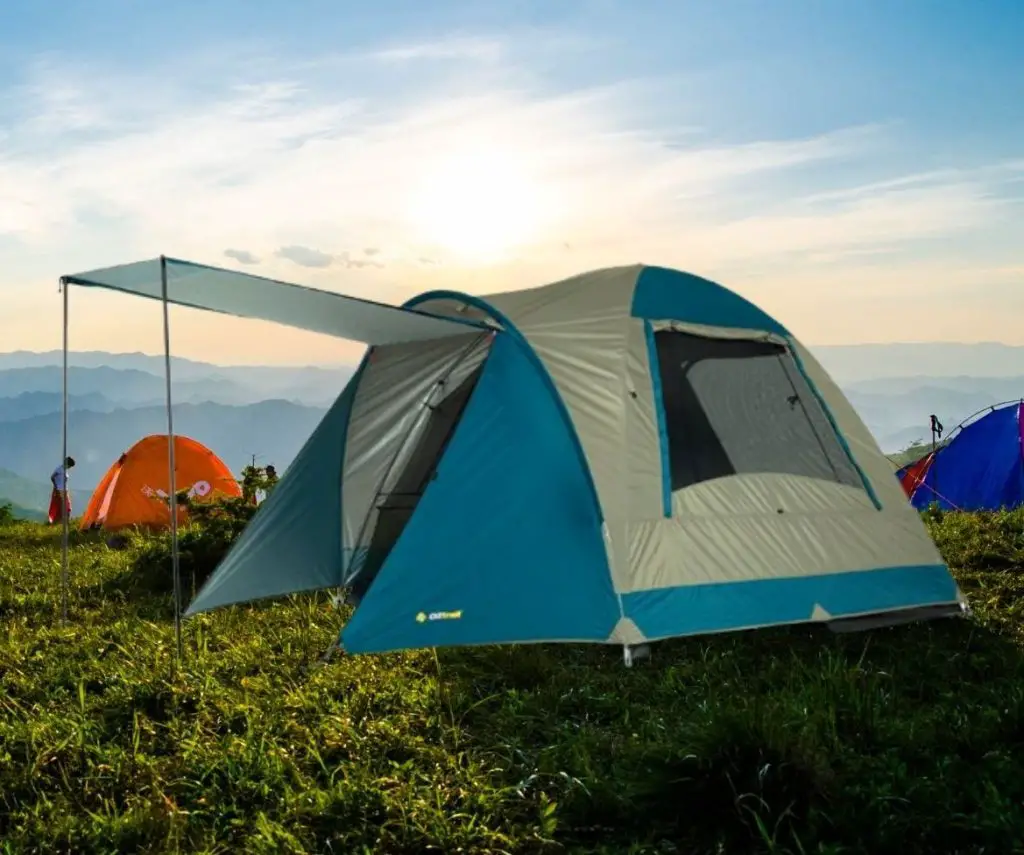 Internal size: 2.4m x 2.2m
Weight: 5.6kg
Pros: Lightweight, affordable, standing room
Cons: Less heavy-duty materials
The OZtrail Tasman 4-person tent is a budget tent for those looking for an entry-level model from a respectable brand. This tent retails for less than $200 and can comfortably sleep 2 people or 3-4 at a push.
Aside from the price, the key advantages of this tent compared to its competitors are its small pack size and weight.
While this is a great option for general summer camping, we wouldn't recommend the OZtrail Tasman for very wet or stormy conditions.
How big is a 4-person tent?
It's important to remember that a tent's rated capacity and its comfortable capacity are not the same.
The rated capacity is based on adults sleeping side by side on skinny hiking-style mattresses.
While in some instances this is perfectly fine, such as on a hiking trip, in most camping environments people usually want a bit more space.
Personally, we like to use a 4-6 person tent as a couple and a minimum 6-person tent for anything more than 2 people.
Types of tent
Dome Tent
Dome tents have flexible poles that cross over the centre of the tent to create a dome shape. They are sturdy, reliable and handle wind well, although they become less stable as the size increases.
Dome tents are often available for a reasonable price, although the overall cost will depend on the tent's size and features.
Instant Tents
An instant tent is one that uses a unique folding frame that opens up during the set-up process. They usually don't have any individual poles, which makes setting up the tent much faster.
The Coleman Instant Up and Oztrail Fast Frame tents are two excellent instant camping tents that can be pitched in just a couple of minutes.
While the Oztrail RV tents are considered touring tents, the Coleman instant up tents are targetted more at the general camping market. Both are high-quality, reliable, and well-made.
Key features
Doors
When choosing a camping tent, remember that climbing over each other to get in and out of the tent is going to be annoying very quickly
If you do intend to use your tent with four people, consider tents with at least two doors.
Ventilation
Ventilation is important for any tent. Without it, the tent can become stuffy and even wet with condensation.
Windows and mesh panels can all help with ventilation. Look for a tent with a dual-layer door that can be left just as the mesh layer in summer.
Height
The height of the tent will let you know if you can stand up and walk around inside it.
While not essential on a kids' tent or for hiking trips, this can be an important consideration for adults who want to spend time in the tent.
FAQ
How big of a tent do I need for a family of 4?
For general camping, an 8 – 10 person tent is best for a family of 4. This will provide enough space for beds and bags so the whole family can enjoy the experience without feeling like they are tripping over one another.