Cooking a good meal when hiking or camping can be a challenge but a high-quality camping stove will make it a lot easier. There are lots of camping stoves available and they vary greatly in terms of size, features, and capabilities.
Different camping stoves suit different situations so we have assessed and compared the best camping stove models on the market so you can find the best one for your needs.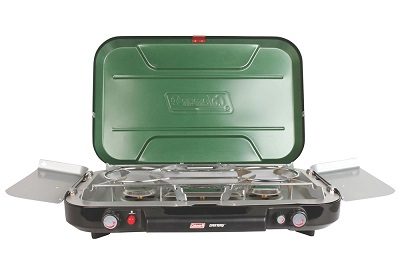 Size: 66 x 47 x 15.2cm
Weight: 8.2kg
No. of Burners: 3
Pros: Excellent value, spacious, independently controlled burners, push button ignition, fast set up
Cons: Heavy, large size
The Coleman EvenTemp 3 Burner Stove is a large and reliable camping stove that is ideal for car camping adventures. This is the only 3 burner stove on our list, at 8.2kg it is the heaviest listed but it also offers the most cooking space.
The 66 x 47 x 15.2cm cooking area is large enough to accommodate three 8″ pans or two 12″ pans. The EvenTemp stove also comes with a griddle and grease cup.
The EvenTemp is a powerful stove offering an output of 28000 BTU. Each of the burners can be independently controlled and the gas stove uses PerfectHeat Technology to provide a steady heat output. Some users have said they've found it a bit fiddly to get the gas on its lowest setting.
This portable gas stove uses a push button ignition so there's no need for matches and the stove starts first try. There's also wind blocking panels that help to protect the burners from the elements. When the weather is calm, these panels can be used as side tables.
Overall this is a user-friendly, powerful and easy to clean camp stove that's great for family trips when there is a large group to feed. The downside is the weight, at 8.3kg this isn't the ideal portable camping stove for lightweight needs such as backpacking.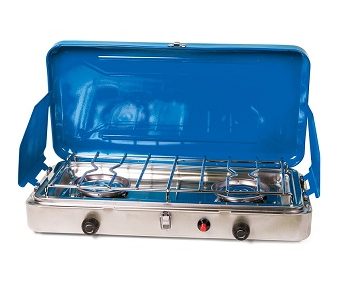 Size: 63 x 36 x 11.5cm
Weight: 5kg
No. of Burners: 2
Pros: Value for money, good temperature control, piezo ignition, 3 year warranty
Cons: Heavy
A great all-rounder option is the Companion Stove. This 2 burner camping stove offers everything you need with plenty of cooking space and high performance features.
The stove is 63 x 36 x 11.5cm so offers a larger cooking area than the other 2 burner stoves on our list. This is the most powerful camping stove on our list with an impressive total burner output of 50,000 BTU, that's 25,000 BTU per burner. In addition to this, the stove has a reasonable gas consumption of 524gm/hr making it a good portable stove for a range of cooking tasks.
One of the best features of this camping stove is the temperature control. Both burners have independent control dials and there is built in wind protection so the temperature doesn't fluctuate and the flame doesn't go out while in use.
Unlike the Coleman EvenTemp above, this camping stove uses a piezo ignition which is good quality, convenient and very low maintenance. This gas stove offers excellent value for money. It also comes with a 3 year warranty indicating how durable and reliable it is.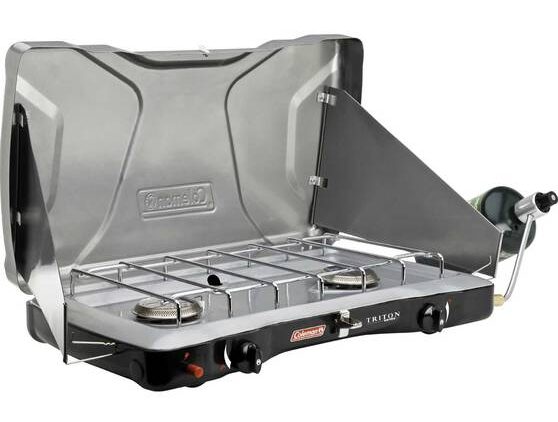 Size: 58 x 35 x 14cm
Weight: 4.5kg
No. of Burners: 2
Pros: Good size, wind guard, lightweight, push start
Cons: Not the best for lower temperatures
Another great option from Coleman is the Triton Instastart. This is an efficient, high-performance camp stove. As this is the Instastart version that means it comes with a push button ignition rather than a manual one so campers can get the gas stove up and running in no time.
Each burner offers 11,000 BTU output which is hot enough for all cooking types. The gas camping stove is easy to adjust for mid-high temperatures but users have found that getting a steady low heat takes a bit of practice as the dials are quite sensitive.
Both burners have their own adjustment dial so you can have more control over the temperature and can cook two different types of food at the same time. The PerfectHeat and PerfectFlow features help to ensure the stove is efficient and consistent.
Compared to other stoves listed, this is a good middle-ground option that is relatively lightweight while still offering a good heat output.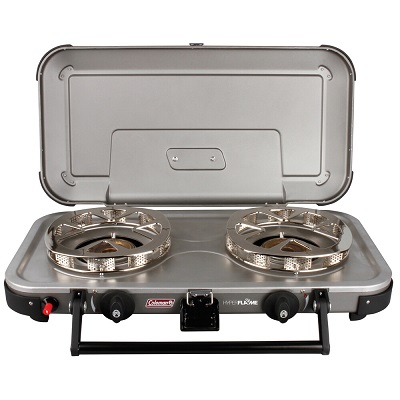 Size: 62 x 36 x 13.5cm
Weight: 7.1kg
No. of Burners: 2
Pros: Great BTU output, good wind protection
Cons: Heavy, high price
The Coleman Hyperflame FyreKnight two burner camping stove is perfect for the more serious cooks. Its unique technology allows it to provide maximum heat as quickly as possible and Coleman claims it will boil water twice as fast as a normal cooker with an output of 12,000 BTU's per hob (a total of 24,000 BTU's). 
The Fyreknight Hyperflame boasts a new burner design and features WindBlock pot support that is fantastic for opening up the cooking space to accommodate larger pots. The cooker can fit two 30cm pots side by side and both the burners are independent and fully adjustable.
Unlike the other Coleman models on this list, the Fyreknight Hyperflame uses a piezo ignition which is a more reliable, convenient and long-lasting system.
One of the main downsides of this cooker is its weight as it comes in at a total of 7.1 kg making it a heavy piece of kit. The Fyreknight is also pricey compared to the others on our list but for the size, durability and high quality it's a solid choice for those who enjoy cooking.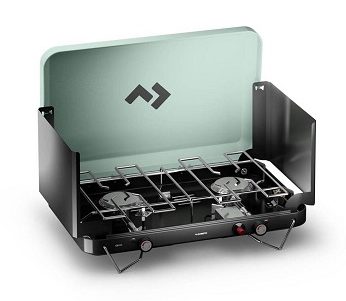 Size: 50 x 35 x 12cm
Weight: 4.7kg
No. of Burners: 2
Pros: Lightweight, compact, convenient, good value
Cons: Lower output than other similar models
The Dometic portable gas stove is one of the lightest models on our list. It weighs just 4.7kg and has a compact design measuring 50 x 35 x 12cm. This makes it highly portable and is a great choice for couples.
The two burners offer a total output of 2000 BTU, this is lower than the other stoves but still gets hot enough for making and heating meals efficiently.
For added convenience, this two burner stove uses a piezo ignition system and has integrated wind protection that also doubles as a lid when the stove isn't in use. This helps to keep the burners protected so the flame doesn't go out while you are preparing dinner.
Although low cost, the pressed steel construction makes this gas camping stove durable and it comes with a 1 year warranty (not as much coverage as theColeman or Companion stoves reviewed above).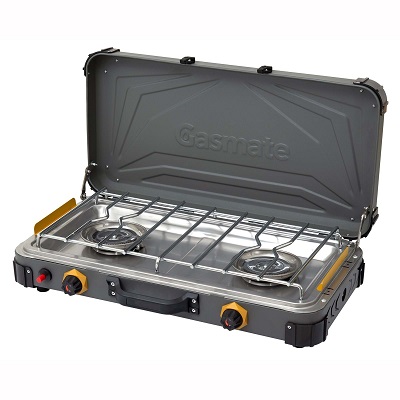 Size: 60 x 33.5 x 13.5cm
Weight: 6kg
No. of Burners: 2
Pros: Powerful, durable, adjustment controls, piezo ignition
Cons: Short warranty
The updated Gasmate Turbo 2 Burner BBQ Stove is excellent for rugged camping trips. Thanks to the twin turbo high performance burners it offers an impressive total output of 50,000 BTU, one of the highest outputs on our list.
This camping stove is designed to be durable with a solid steel construction and a heavy duty chrome-plated cooking trivet.
One of the key updates on the newest version of the stove is the design. The colour is no longer a bright yellow, instead it is a more stylish grey with yellow detailing – something that better suits the style of other camping equipment.
We like that both burners have their own adjustment controls and can be ignited using the piezo ignition system, this makes heating two items at once easier. The Turbo also offers a useful briefcase style design for easy portability when not in use.
We'd have liked to of seen a longer warranty for this stove but the 1 year coverage is better than nothing.
RELATED: The Best Camping BBQs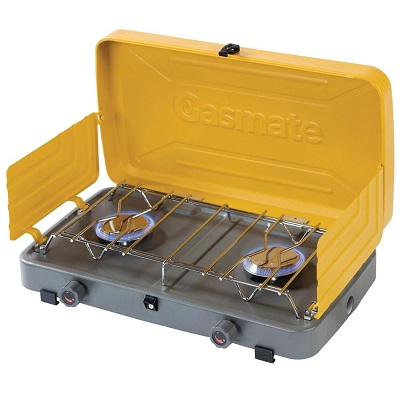 Size: 47 x 28 x 9.5cm
Weight: 3.25kg
No. of Burners: 2
Pros: Compact, lightweight, powerful, low cost
Cons: Not as durable as other options
The Gasmate Compact 2 burner stove is ideal for occasional camping trips and small camp cooking requirements. It is the smallest, lightest and cheapest gas stove on our list.
Unlike the other 2 burner stoves listed, this one requires manual lighting so users need to have matches or a lighter on hand to get this fired up and ready for use.
The burner output is 10,426 BTU per burner giving a total of 21,000 BTU.
Although low cost and lightweight, the Gasmate Compact is made with powder coated steel so is still strong enough to withstand the wear and tear of camping. The 1 year warranty is good but users shouldn't expect this camping stove to offer the same level of quality as the Coleman stoves.
This is a compact stove that looks retro with its bright yellow cover and keeps things simple with just the basic features. Its key features include wind protection panels and a handy clip that keeps the lid closed during transport.
Camping Stove Comparison Table
Camping Stove Buying Guide
Preparing food when camping can be tricky but a good quality stove can take away most of the challenges. There are a few important factors to consider when choosing the best camping stove for your adventures. The size, burners, and gas output are just a few of the many factors that will impact the overall user experience. Use this buying guide to help make sure your new stove ticks all of the boxes and meets your expectations.
Compatibility
When buying a 2-burner gas camping stove you want to ensure that it is compatible with your gas bottle as most use a 3/8" gas connector. Some stoves come with all of the relevant equipment included in the pack such as a connector and gas hose. You may also be able to purchase the burner gas as part of the camping stove pack too but it all depends on the make and model you choose. Always check what comes in the box.
Most camping stoves sell for between $50 and $250 AUD depending on the brand, size and features. These larger gas cookers are generally considered safer than the portable butane stove cookers that have seen some products banned in various states across Australia due to safety concerns.
Portability and Weight
One of the most important things about camping stoves is how portable it is. Most of the time there is a lot of camping gear that needs to be packed into bags or into the car so campers don't want a bulky stove that is going to take up too much space.
This is particularly important for those hiking and camping and isn't as much of a consideration for car camping adventures. To give you an idea of the weight of a portable stove, the ones we reviewed above weighed between 3.25- 8.2kg.
Most of these stoves also pack away in a briefcase-style to keep them as compact as possible. Some also come with a carry bag which is a handy extra. Single burner stoves are best for solo adventures and hiking as they are low weight and may even be small enough to pack into a backpack.
Number of Burners
The amount of burners you need depends on how many people you will be cooking for. 2 burner camping stoves are common but there are also larger 3 burner stoves available too.
A single burner stove can be great for backpacking trips but for car camping trips where space isn't as much of an issue we recommend at least a 2 burner even if you'll only be cooking the basics.
The stove has to have enough room for the pots and pans you will be using. A two burner or three burner stove makes cooking larger meals a lot more manageable. It is worth checking the measurements of the cooking area as the built-in windshields can sometimes restrict the space. Some stoves use removable windshields to help counteract this issue.
British Thermal Units (BTUs)
The BTU is the measurement that determines how hot the stove can get. When looking at the BTUs keep in mind that the higher the number, the hotter the stove can get and the faster the water will boil or food will cook.
Camping stoves tend to have BTUs of between 8,000 – 25,000. The stove with a BTU of 25,000 is going to perform considerably better than the lower ratings.
When looking at the BTUs make sure you check whether the unit being shown is for the total output or per burner.
Temperature Adjustment
When cooking, it's important to be able to adjust the strength of the flame. If you are going to be doing more than boiling water with your stove, make sure there is a flame adjustment dial for each burner.
Wind Protection
Windy conditions can cause havoc with camping stoves which is why most of them now have wind protection panels. These are often foldable or removable so you can move them out of the way and have more space for your pots and pans if the weather is calm.
The wind protection simply shelters the flame from the wind so it doesn't keep blowing out. Some stoves offer wind protection as an extra accessory but the best camping stove models have them already built-in. Protecting the flame from the wind makes the stove more user-friendly and helps to improve fuel efficiency.
Easy to Clean
The stove needs to be easy to clean and durable. A drip tray is a useful feature as this catches the grease and food particles so you can quickly and easily clean it out after cooking.
A removable grate and a durable, quick-wipe or non-stick cooking surface are simple features that make cleaning up a lot easier too. Many high-quality 2 burner stoves have powder-coated stainless steel surfaces that can simply be wiped clean.
Fuel Type
It is most common for modern camping stoves to use LPG gas bottles or the little green propane bottles. A propane stove is the best option for most circumstances as propane fuel is efficient, lightweight and well suited to camping.
It is much less common to see portable butane stoves these days as the butane fuel is now considered a safety risk so is not recommended. Some stoves use a butane and propane mix which is labelled as butane or n-butane while others use isobutane or i-butane which is also mixed with propane.
We recommend stoves powered by propane fuel, and if space is an issue choose a stove that is compatible with the small propane bottles rather than the large LPG burner gas canisters.
It's also worth checking the fuel type of the stove as well as the compatibility of the connectors to ensure you have everything you need to get the stove up and running when camping. Sometimes separate connectors need to be purchased to connect the gas/ fuel with the stove.
Ignition Style
Push button and piezo ignitions are much more common than manual ignitions now. Manual systems are still seen on lower-cost models but it does mean matches or a lighter will be needed to start it.
Camping Stove FAQ
Is 10000 BTU good for a camp stove?
10000 BTU is the minimum BTU rating we'd recommend for a camping stove and is good enough for most basic camping cooking needs.
Can Coleman camp stoves be used indoors?
No, Coleman camp stoves should not be used indoors. Using stoves designed for outdoor use inside can be dangerous.