Outdoor lighting has come a long way in the past few years, mostly due to the advancements in both batteries and LED technology.
This means that you now have a range of really great battery-powered alternatives in addition to the traditional fuel-powered lanterns that many of us grew up with.
Below we list our picks for the top camping lights currently on the market in Australia.
After that, we lay out the key considerations you need to make when choosing the best camping light option to suit your needs.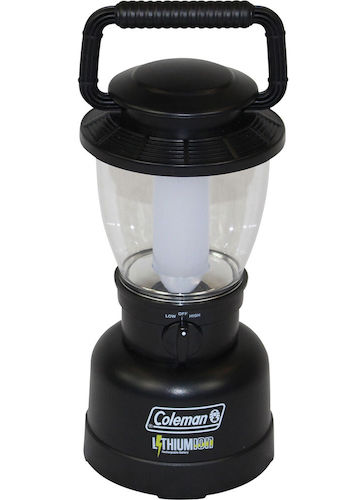 The Coleman Rechargeable LED Lantern has earned its place as a firm favourite amongst Aussie campers.
It has a built-in lithium ion rechargeable battery that can be charged via USB or the included 240V charger. The charge indicator turns green when fully charged. Also, a USB charging port lets you charge your mobile devices from the lantern.
The lantern's base includes a convenient charger storage compartment so you can keep everything in one place during transport. There's also a large bail handle on top for easy carrying and hanging from trees or tent poles.
Two modes let you choose between high brightness for maximum visibility and low brightness for ambient lighting around camp.
The high setting delivers 300 lumens, while the low setting provides 100 lumens of light at a beam distance of 12 m on high and 6 m on low.
You can expect up to 5 hours of continuous use on high and 20 hours on low before needing to recharge the battery again.
The Coleman Rechargeable LED Lantern is IPX4 water-resistant, impact-resistant, and stays cool while running so is safe to use around kids and pets.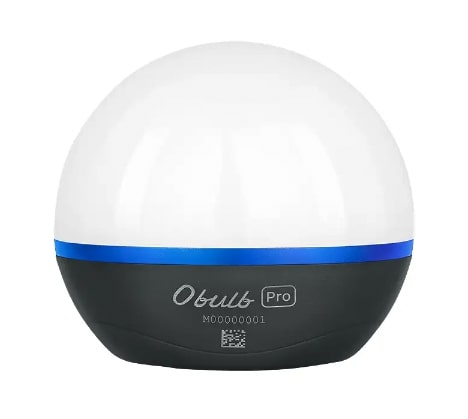 The Obulb Pro is a great choice for campers looking for a durable, long-lasting light with plenty of options.
We've been testing this light for several months and have been impressed with its high build quality and ease of use.
But our favourite feature about this light is its durability. The Obulb Pro is IPX7 waterproof, which means it can be submerged in water up to one metre deep for 30 minutes.
It also has 1.5-metre impact resistance, good for those times when you accidentally drop it while setting up camp.
The built-in battery has a capacity of 1,650 mAh, which allows it to last up to 84 hours on its lowest brightness setting.
This light comes with seven modes: warm white, red/green/blue light, red flash, fade between 7 colours and cycle between 7 colours.
The built-in magnetic charging cable connects directly to any USB port and can fully charge the light in about three hours.
The Olight Obulb Pro is more expensive than other options but its long battery life, ease of use, and durability make it an excellent choice for camping trips.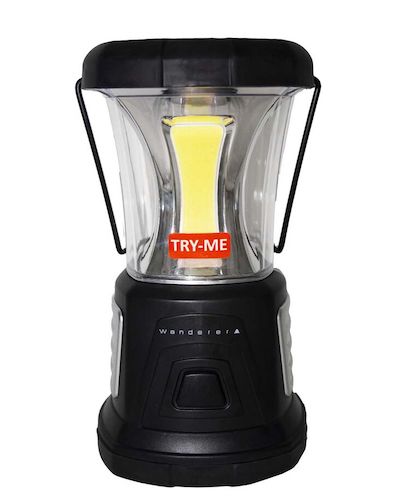 The Wanderer Moonbeam is a high-quality and durable camping lantern that you can use for all of your lighting needs.
This battery-powered lantern features an adjustable light that allows you to choose between six different modes: High, Medium, Low and Nightlight, Red flash and Strobe.
The Moonbeam is USB chargeable and can also be used as a powerbank to charge devices like your phone or tablet while you're out in the wilderness.
It comes with 3 x rechargeable batteries with 1500mAh capacity so you won't have to worry about running out of power during your trip.
The strong handle makes it easy to carry around wherever you need it, while the hook on base allows you to hang it upside down if needed.
The 360 degrees of light make sure that you always have enough light no matter how dark it gets outside.
Lights are a must-have for any camper, and the ZCOINS Camping Lights are an affordable option that includes all of the features you need.
These handy little lights feature a built-in USB rechargeable 1800mAh battery, so you can be sure they'll be ready to go after a long day of adventuring.
The four modes mean you'll never have trouble finding the perfect level of brightness for your needs.
But they don't just make great camping lights—they can also be used as an emergency power bank. These lights can provide a 40% charge for your cell phone in an emergency.
The lights are equipped with a small and strong hook, making them easy to hang anywhere you want some extra light. The built-in magnetic base means they can be attached to metallic surfaces like tent poles.
These camping lights are made from durable ABS plastic material that's lightweight but very strong. And with an IP65 IP rating, they're also waterproof, so you can leave them outside in the rain overnight while you sleep.
Camping Light Buying Guide
There are several key factors to consider when choosing the most suitable lighting set-up for your next camping adventure:
Light output
The output from a light source is recorded in Lumens. A minimum level for pottering around camp would be 80-120, and these levels are also perfect for inside your tent. 
But if you want to light up even a small outdoor area, you should be looking for at least 200.
For a larger outdoor area, something around 300 – 400 is ideal.
Camping lanterns generally come in the range of 100 – 400 Lumens but as you can see in the reviews, gas and fuel lanterns often have a light output of up to 1000.
Related: Check out our guide to camping torches.
Power source
Are you going to be off the grid for days? Does your vehicle have a charging outlet?
These are key considerations when choosing your source of camp light.
Weight
The weight of camping lanterns varies dramatically.
Whether you are 4WD touring or hiking through the Australian Alps will make a big difference in what the best lighting option is to suit your needs.
Safety
Will there be children or pets around your campsite? Fuel-burning lanterns produce a lot of heat and can result in serious injuries.
The advancement of LED lighting provides a great alternative if safety is a concern.