The Coleman brand is always close by when discussing affordable camping and outdoor equipment.
They're known for producing high-quality products at a reasonable price, which means their tents are some of the best in Australia for families on a budget.
However, there are many different options available from Coleman, and it can be hard to determine which one is best suited for you.
To help you in your search, below we review what we consider to be the best Coleman tents currently available in Australia.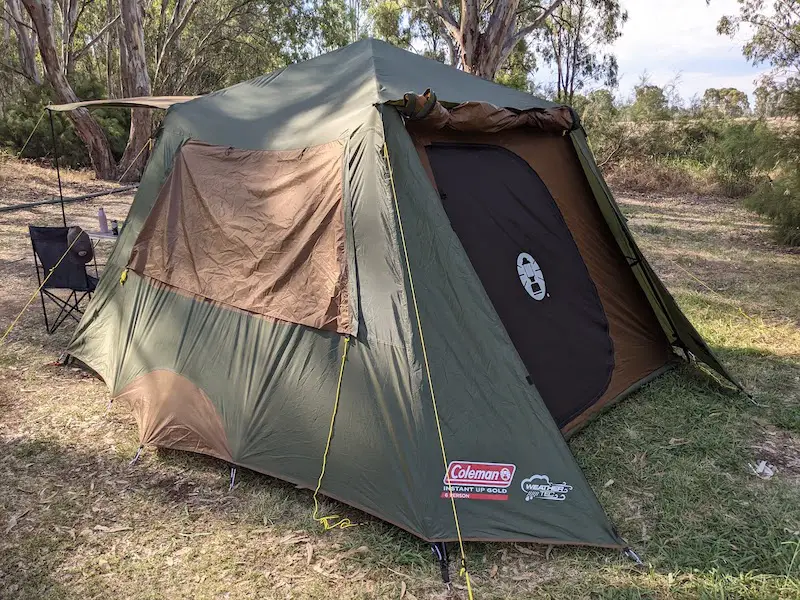 Pros: Very good waterproofing, spacious, durable materials, fast setup, value for money
Cons: Rain can pool on the awning, bigger and heavier than other options
We've been testing the Coleman Instant Up 6P Gold for over a year and it's our top rated 6-person tent.
While we had hesitations about the instant up frame (regarding both the assembly and how it would hold up in strong winds), we've been pleasantly surprised.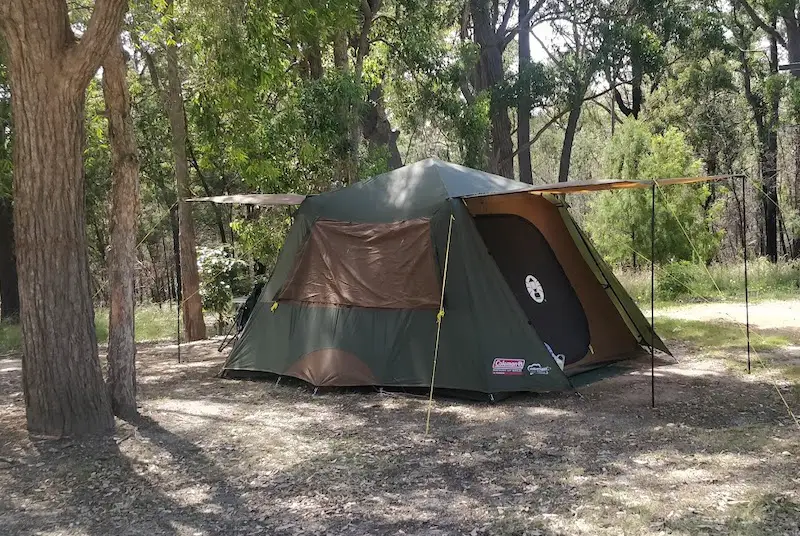 For a tent of this size, it goes up very quickly and is very easy to set up thanks to the instant up hub design.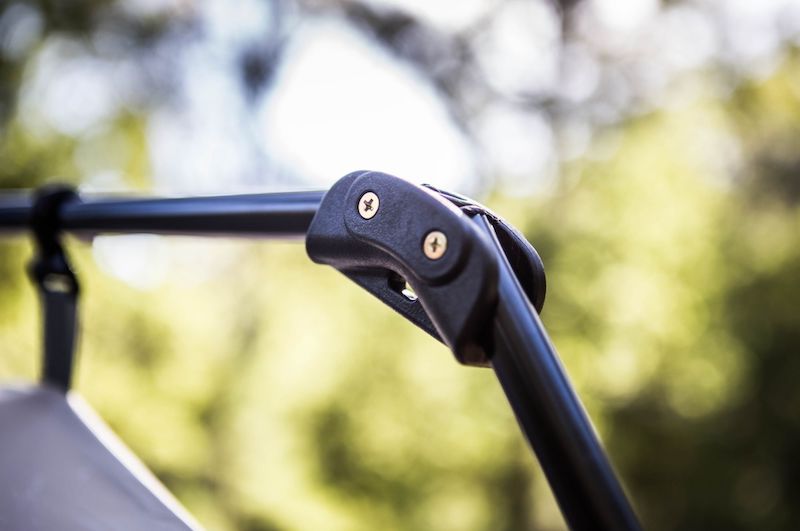 The internal space measures 3.4m by 2.7. This translates to a sleeping capacity of up to 6 adults and a comfort rating of up to 4 adults. It is spacious inside with enough room for an adult to stand.
However, for general camping trips, we wouldn't advise cramming more than 4 people into this tent.
We've generally used it with 2 people and it feels like a good amount of space, with room for a double mattress along with bags, food and other camping gear.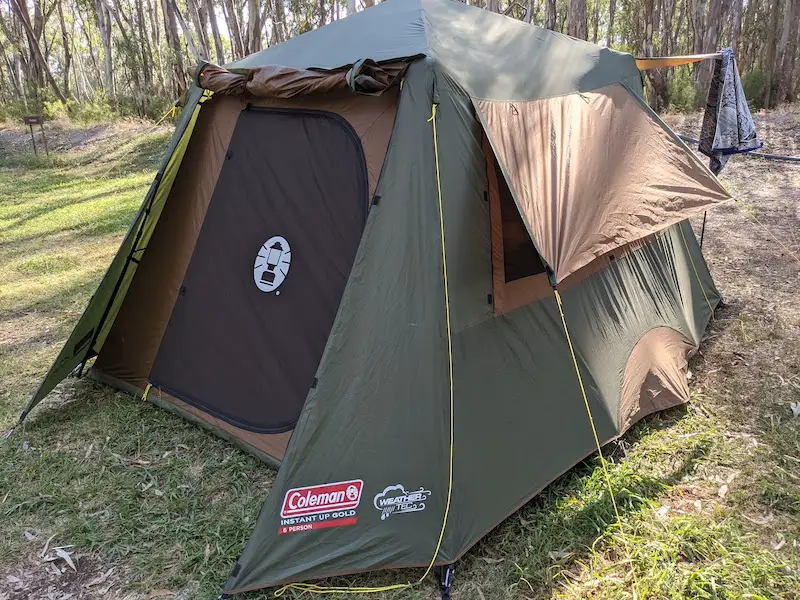 It's constructed from durable and high-quality materials and we've never had any issues with weatherproofing.
We've also had this tent set up in very strong winds. Because of the vertical walls (which make for a spacious interior), the tent does very much catch big gusts. But we've experienced no damage or anything that caused concern.
As with other Coleman instant-up tents that we've tested, we've experienced issues with rain pooling on the awning if left up overnight. This isn't a deal-breaker, but it would be great to see a fix for this in a future model.
Another downside of this tent is the size and weight when packed up. It's perfectly manageable, but compared to a thin nylon dome tent with fibreglass poles, it is much bulkier and heavier.
View the Coleman Instant Up 6P Gold at Tentworld.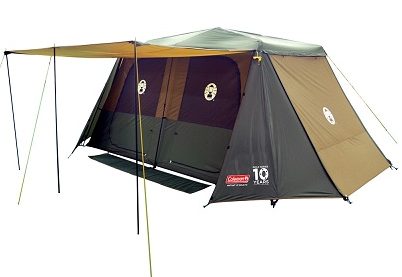 Full Capacity: 10 people
Recommended Capacity: 4-5 people
Weight: 30kg
Waterproofing: 3000mm
Pros: Excellent waterproofing, high-quality, easy access to each area, fast setup, value for money
Cons: Potential for rain to pool on awning, can catch the wind easily, room divider is a potential trip hazard
The Coleman Instant Up is one of the most popular family tents in Australia and it's easy to see why. The biggest selling point of this tent is how quick and easy it is to pitch.
The Coleman Instant pole design means this large tent can be put up in just a few minutes, removing much of the stress and confusion that can come with camping (particularly for beginners).
The Coleman Gold Series Tent is considerably more heavy-duty than the Silver Series. This family tent uses 75/185D ripstop fabric and offers a waterproof rating of 3000mm which is double that of the Silver range.
3000mm is the highest waterproof rating offered by the tents we have reviewed (3 x higher than the Wanderer Nightfall tent) so the Coleman Instant Up ranks very well in that department.
One of the things we love about this family tent is how spacious it is. It is large enough for a queen-sized bed and a couple of single beds (or 2 queen-sized beds) with room to spare for your bags and kit.
The max head height is 200cm so you can stand up comfortably and there are 4 access points so everyone can come and go as they please without needing to trip over each other to reach the door.
The biggest downside to this tent is the weight. At 30kg it isn't the most portable tent and could do with 2 people carrying it from the car. If that's not an issue then the Coleman Instant Up 10P Gold is the best family tent for most camping trips of 4-5 people.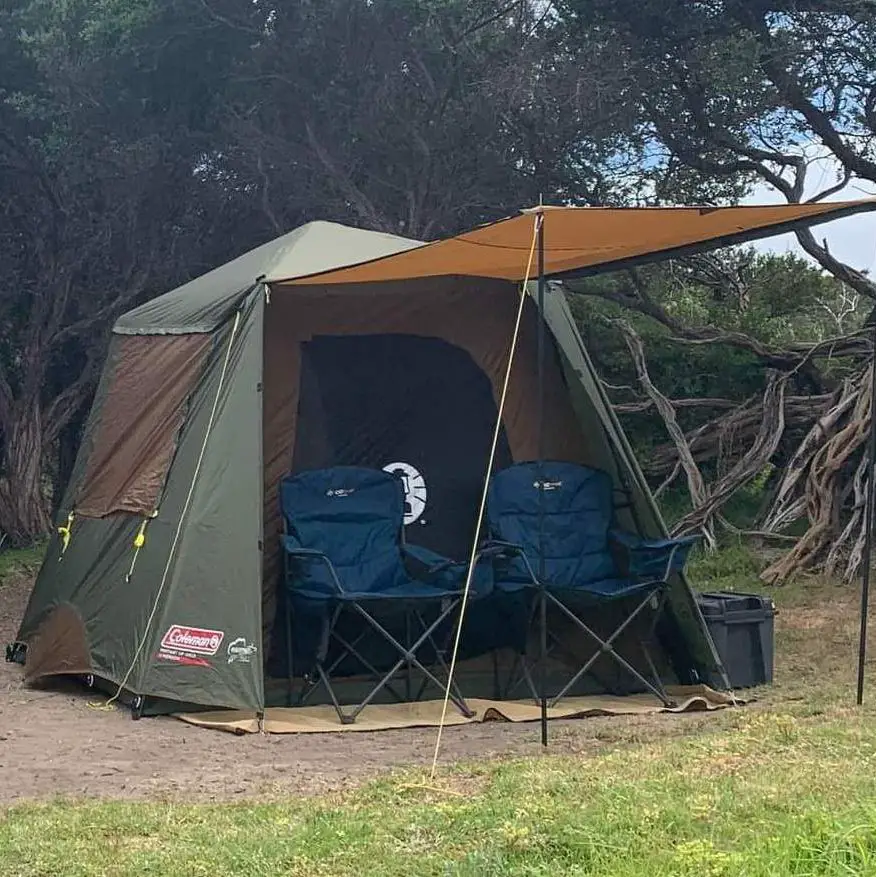 Pros: Very good waterproofing, tall enough to stand up inside, durable materials, fast setup, value for money
Cons: Rain can pool on the awning, bigger and heavier than other options
We've been using this tent for over a year now and it's comfortably the best tent of this size we've ever tested.
It's very easy to set up and is spacious inside with enough room for an adult to stand. It's built from durable and high-quality materials and we've never had any issues with weatherproofing, aside from the tendency for rain to pool on the awning.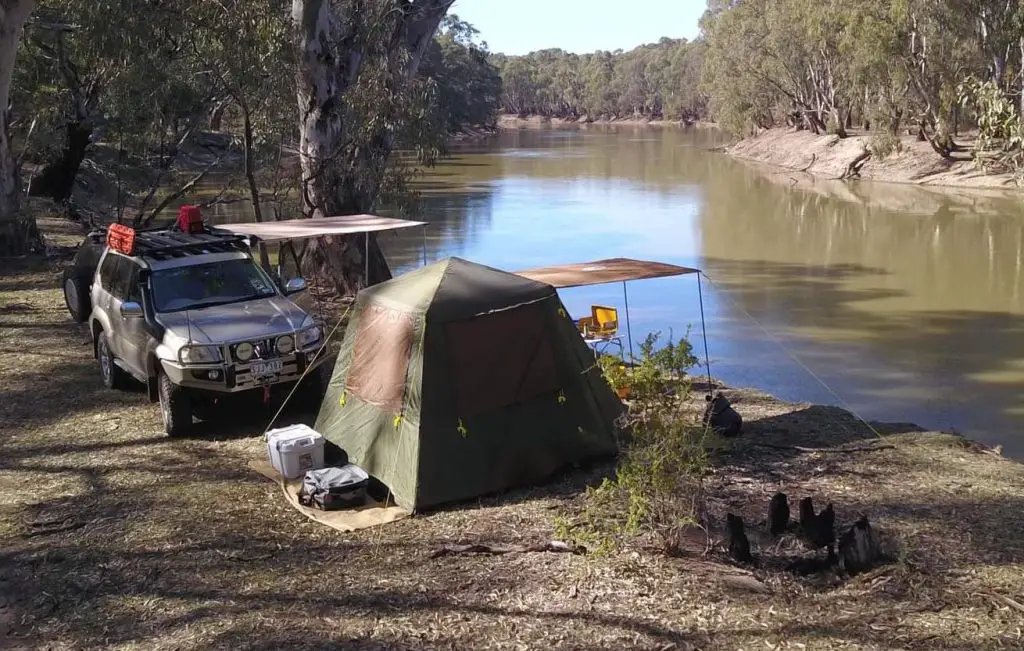 The main drawbacks of the Coleman Gold Series tents are their size and weight. This tent weighs 14kg which is quite heavy for a tent with internal measurements of 2.4m x 2.4m.
The instant up frame mechanism means the tent is quite bulky and takes up more space than other 4 person tents.
View the Coleman Instant Up 4P Gold at Tentworld.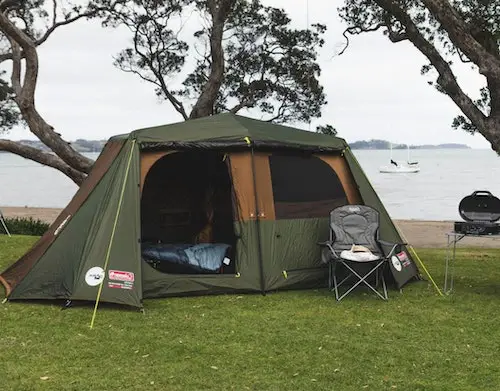 Pros: Fast and easy to set up, durable materials, darkroom technology, integrated lighting, reasonably priced
Cons: Central divider is not removable
The Coleman Northstar is the perfect tent for any family that loves camping holidays and spending time outdoors.
This 8 person tent comes with DarkRoom technology that filters out up to 95% of sunlight, reducing the temperature inside the tent to keep you cooler during the day and warmer at night.
The Instant Up frame design allows for fast, stress-free setup and the integrated LED lights and Battery Pack will make it easy for you to set up your tent without mucking around with torches or lanterns.
The tent also has plenty of ventilation thanks to lots of vents located at different heights.
The heavy-duty PE bucket flooring will keep out any ground moisture while a durable and waterproof Ripstop fly will ensure that your tent stays dry during any type of weather.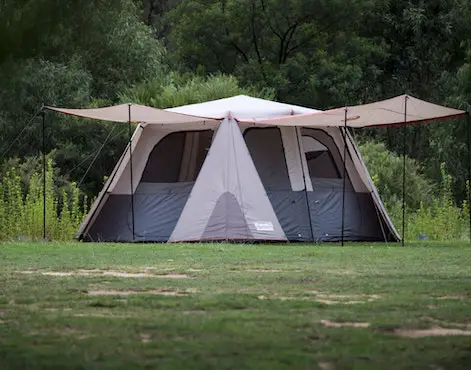 Pros: Quick set-up, great value for money
Cons: Potential for rain to pool on the awning
If you are in the market for a reliable and great-value family tent, the Coleman Instant Up 8P should be one of your top contenders.
It goes up in a couple of minutes and is packed with features where it matters.
The Instant Up Silver includes a fully seam-sealed waterproof fly, patented welded floors and inverted seams, and a waterproof rating of 1500mm.
It boasts a spacious interior that could comfortably fit 2 adults and 2 or 3 kids.
There is an issue with the awnings pooling water that means they should not be left up in heavy rain, but other than that we have struggled to find any faults.
If you think you need something slightly more heavy-duty, we recommend looking at the Coleman's Instant Up Gold range.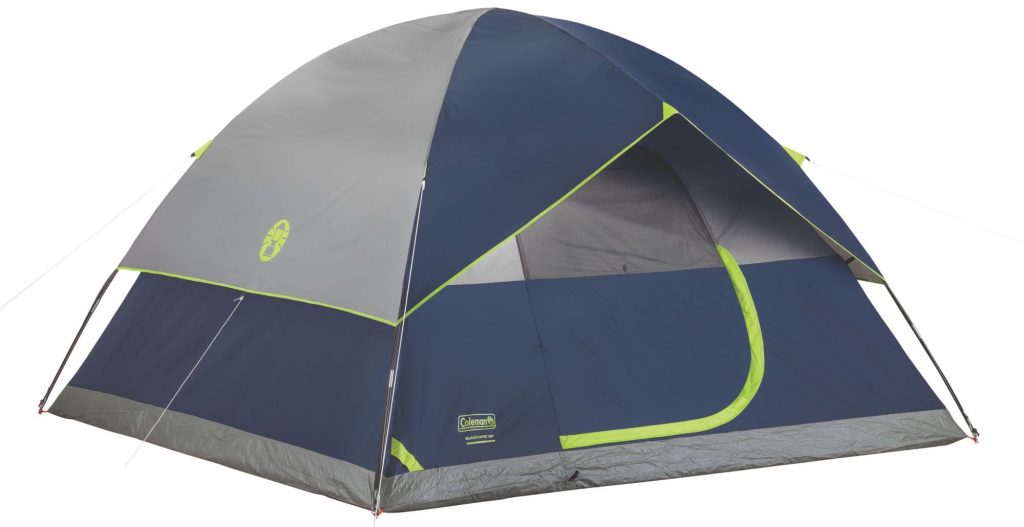 Capacity: 6 Person (recommended 2-3 adults)
Weight: 13.5 kg
Pros: Easy setup, great breathability, reliability in bad weather
Cons: Higher price point than other budget options, not suitable for winter conditions
The Coleman Sundome range has been a centrepiece of affordable camping in Australia for years and we don't see that changing anytime soon. This is our top pick for cheap tents in Australia.
Sure you can find cheaper options in the super budget range. But, the ease of setup, reliability in bad weather, and overall quality combine to make this one of the best value tents on the market, and our number one choice in the cheap tent category.
This is a traditional dome-style tent, however with only two poles for the main structure and one additional for the fly, it's a very simple and quick setup.
It should take around 5-10min for the structure and fly and the same again for the pegs and guy ropes.
The Coleman Sundome range, with its unique breathable ventilation panels and "half-flysheet" fly system, is designed for warmer conditions.
With its Polyester 68D outer and 11mm fibreglass poles, you should have absolutely no problems in heavy rain and wind.
The Coleman Sundome has a 1000D waterproof rating and a tub style, heat sealed, polyethene floor, which should keep you dry inside even in the worst conditions.
Who was Coleman?
W.C Coleman was a salesman selling typewriters in the late 1800s when he saw a lantern that used gasoline instead of kerosene.
Switching his sales to lanterns, while also marketing his own lantern called the Coleman Arc Lamp, Coleman went on to create a company that provided popular fold-up stoves during the war.
After the war, Coleman company products grew in popularity with the new boom of car travellers in the US.
Coleman has gone on to become a name that is synonymous with affordable quality camping and outdoor equipment.
FAQ
Is Coleman better than OZtrail?
Both brands produce high-quality and affordable camping products. OZtrail is generally a bit more affordable while Coleman often has more innovative products.
Is Coleman Australian?
Coleman is an American brand that was founded over 100 years ago. While Coleman is not Australian, nor are the products made in Australia, they can be purchased from many Australian retailers.