A popular family tent at a reasonable price point, the Northstar Darkroom is packed with features we love:
Instant up design allowing rapid pitching times,
Dark-room technology blocking 95% of light,
Generous internal space with 3 separate rooms and customisable set-up
This is an awesome 10 person tent pushing the boundaries in terms of features and user experience.
Drawbacks include potential complications with the Instant Up design and the relatively high price for a Coleman tent.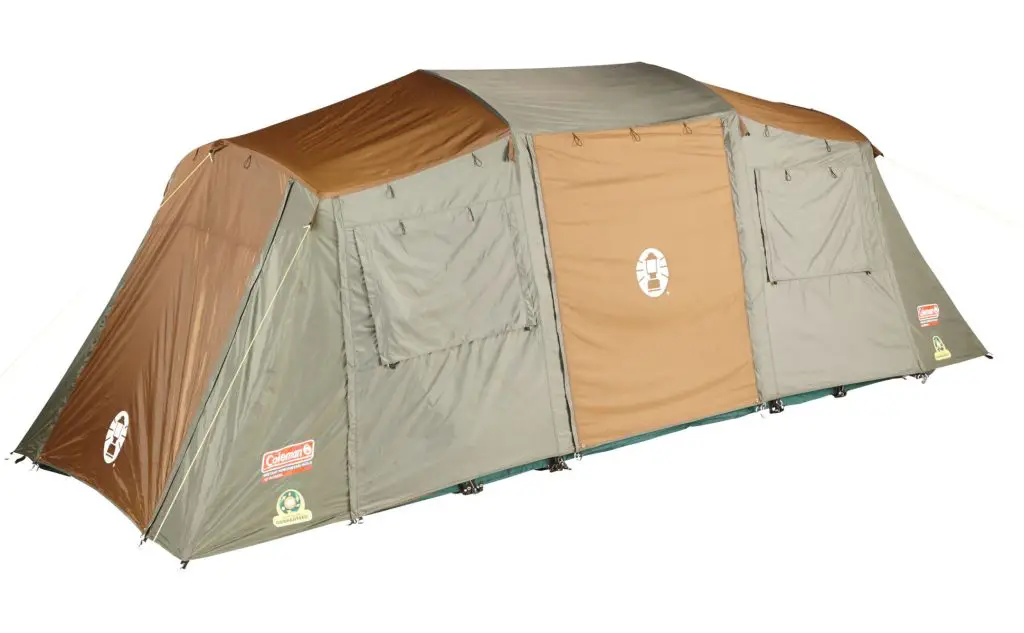 Pros: Very easy set-up, dark-room technology, good waterproofing
Cons: Heavy, expensive for Coleman brand
Weight: 33.5 kg
Waterproofing: 3000mm
Setup
Coleman applies their famous Instant Up hubbed pole design to this large family tent allowing for an incredible 3-minute set-up of the inner structure.
Following this, the fly and guy ropes may take another 10 minutes or so. Gone are the days of spending an hour on set-up!
The takedown is just as easy; with the Instant Up frame assisting in this process also.
As with all tents, especially ones this size, we recommend at least one practice run at home before hitting the road, to get a feel for the process, and to ensure everything is included and in working order.
Weatherproofing
With a 420D polyester/PVC floor and 3000mm Ripstop fly, you shouldn't have any trouble with waterproofing.
One word of caution, large family tents often don't fare well in high winds, so we recommend choosing a pitching spot with some natural shelter.
Ensure all guy ropes are extended and firmly staked, and if possible purchasing some more heavy-duty pegs to replace the somewhat flimsy ones provided by Coleman.
Size
The internal measurements of the Coleman Instant Northstar Darkroom 10p come in at a generous 6.0m (L) x 2.3m (W), providing more than enough space for a family of 5 or 6, and even some extras on top of that if needed.
Three separate rooms with internal zippered doors offer the options of full privacy or mesh only, providing several configuration options.
The Northstar weighs in at a hefty 30.5kg and has a packed size of 1.3m (L) x 0.3m (W x 0.3m (H).
Features
There are so many things to love about camping in Australia, but waking up in sauna-like conditions at 7am isn't one of them.
In the Northstar, Coleman apply their latest dark room technology, filtering out up to 95% of sunlight, and genuinely keeping it very dark and cool inside even when the sun is up.
This significantly reduces the temperature inside during the day (and keeps it warmer at night) – also great for holiday sleep-ins!
A circle ventilation system also contributes to temperature regulation, while ample storage pockets help with keeping track of personal belonging during your holiday.
As much as we love the Instant Up design, one potential drawback we see is the possibility for complication with the connected pole structure, relating to either malfunction or rigidity in high winds. Reported issues are uncommon but do occur.
Conclusion
A great family tent from Coleman, the only one utilising both their Instant Up and Dark Room technology.
If you're looking for a reliable family tent with experience-enhancing features that won't break the bank, it's hard to look past the Coleman Instant Northstar Darkroom 10p.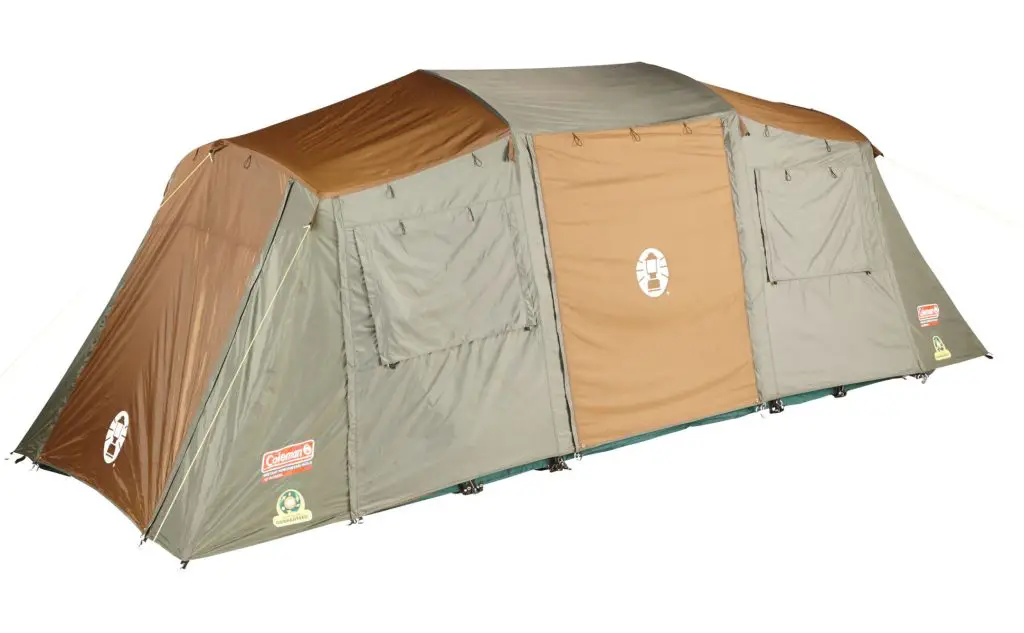 Pros: Very easy set-up, dark-room technology, good waterproofing
Cons: Heavy, expensive for Coleman brand
Weight: 33.5 kg
Waterproofing: 3000mm