The Outdoor Connection Brampton is a spacious family tent with impressive weatherproofing and an affordable price tag.
We're big fans of the versatility offered by the multiple awnings and the near-vertical side walls that provide additional internal space.
The Brampton presents an awesome mid-range option for families looking for that balance of affordability and quality, making it one of our top picks in this group.
See how this tent ranks against other family tents in our family tent comparison.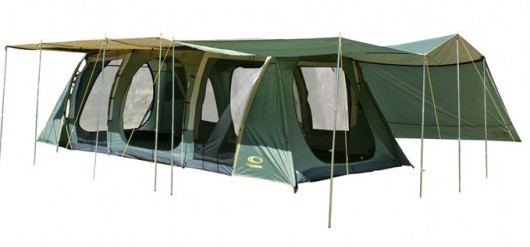 Full Capacity: 10 people
Recommended Capacity: 4 -5 people
Weight: 31kg
Waterproofing: 2000mm
Pros: Easy set up, good value for money, spacious, weather resistant
Cons: Heavy
Setup
The Brampton is not a small tent so does take a bit of work to get up, but for a tent this size it's definitely not difficult, with a traditional dome tent style set-up.
As usual, we recommend one or two trial runs at home before taking it out on the road.
If you are looking for a more modern, instant-style setup, we recommend looking at the Coleman Instant Up Gold.
Weatherproofing
One of the first things you will notice is that this tent is made from quality materials.
Outdoor Connection guarantees the 2000mm waterproofing and in terms of structural stability in high winds, for its size, it is as sturdy as they come.
Size
At 6.0 (L) x 2.8 (W) x 2.1 (H), this is the largest tent we review and even from the photos you can really see how spacious the Brampton tent is.
The vertical walls are a massive plus here, making the indoor area much more versatile and spacious.
This 10 person tent has three internal rooms, allowing various living configurations and providing the option of privacy as required.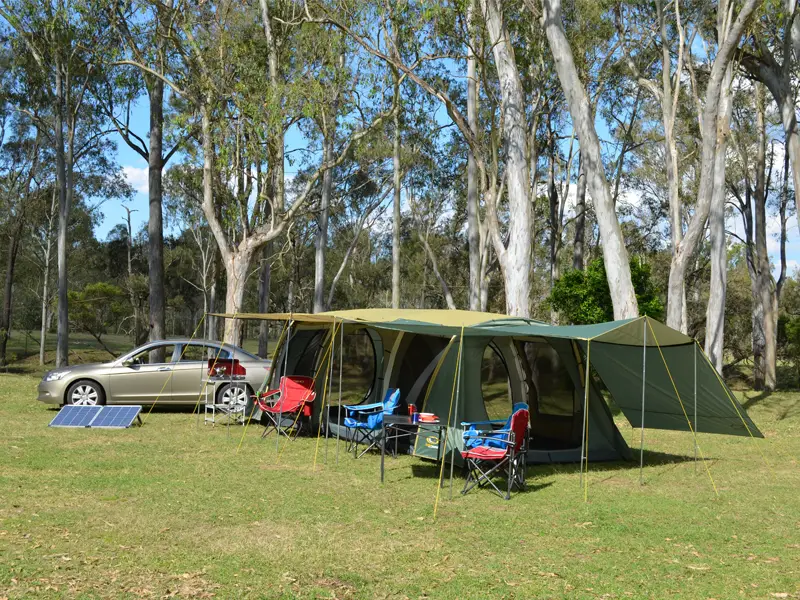 Features
The Brampton comes with all the features you would expect from a quality family tent, including, no-see-um mesh to keep out bugs, internal pocket storage, and power cord access.
We also love the super large windows which are great for ventilation, lockable doors, and a large range of from and side awnings with adjustable poles that can be utilised at your pleasure.
Conclusion
The Brampton provides reliability in bad weather, which when combined with impressive internal space and an easy set-up make it a really great mid-range option.
We highly recommend this great tent from Outdoor Connection.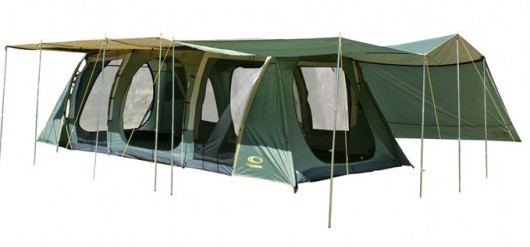 Full Capacity: 10 people
Recommended Capacity: 4 -5 people
Weight: 31kg
Waterproofing: 2000mm
Pros: Easy set up, good value for money, spacious, weather resistant
Cons: Heavy