The Darche Panorama 2 is a high-quality rooftop tent perfect for those who want to make an investment in their camping and 4WDing experience.
It has great ventilation, additional space provided by an annex, and the super high build quality you would expect from Darche.
Overall an awesome tent with a great-looking design.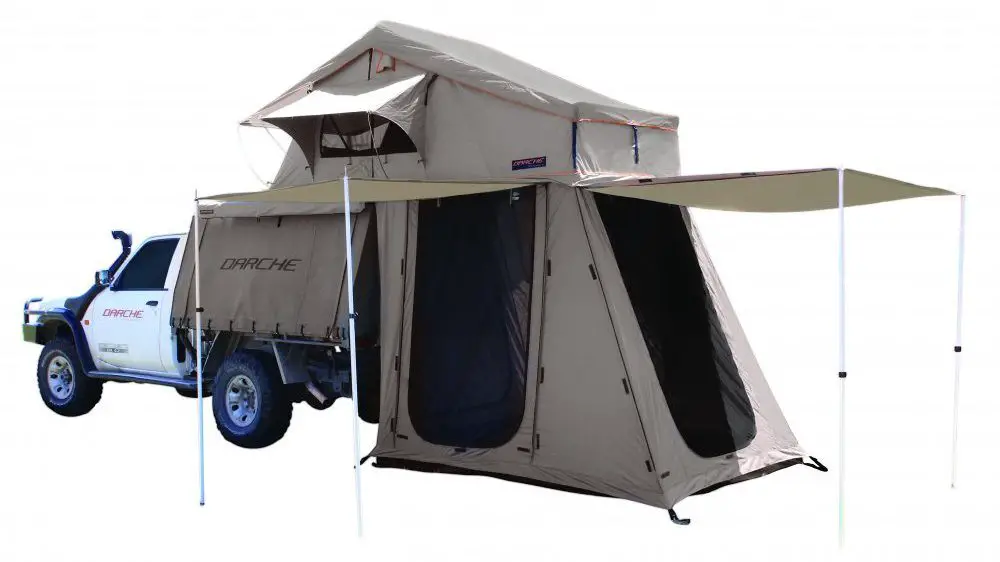 Capacity: 2 Person
Weight: 61 kg
Pros: High quality, great warranty
Cons: Some owners find it difficult to repack
View the Darche Panorama 2 at Tentworld
See how this tent ranks against other roof top tents in our Rooftop tent comparison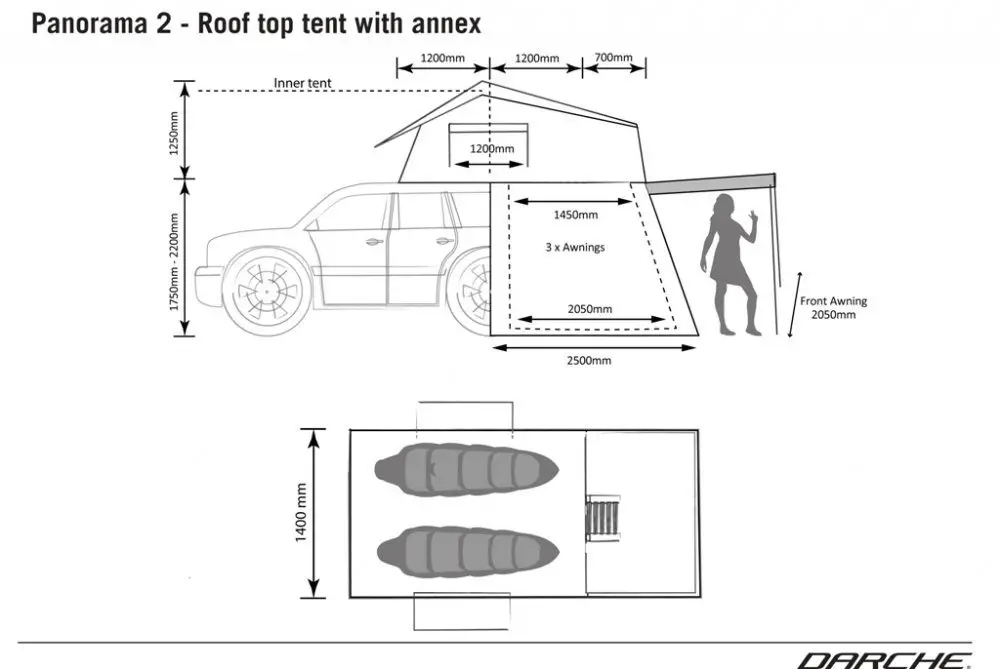 Setup
The Darche Panorama 2 Rooftop Tent with Annex has a simple set-up procedure and can be erected by one person. 
The 5 minute set-up simply involves releasing a couple of straps and using the telescoping ladder as a lever to pull the tent down. Guide ropes are utilised to secure it in place. 
While setting it up is an easy process, some owners have reported that it can sometimes be difficult to repack due to the low-profile design.
The upside of the low profile is the improved aerodynamics when on the move.
Weatherproofing
The Panorama 2 rooftop tent has a 340 GSM Poly Cotton Ripstop canvas which is not only very strong but suitable for even the wettest of conditions.
The Annex and travel cover are also made to stand up to the elements with a 550gsm PVC zip-off bucket floor on the annex and 600gsm PVC tonneau cover.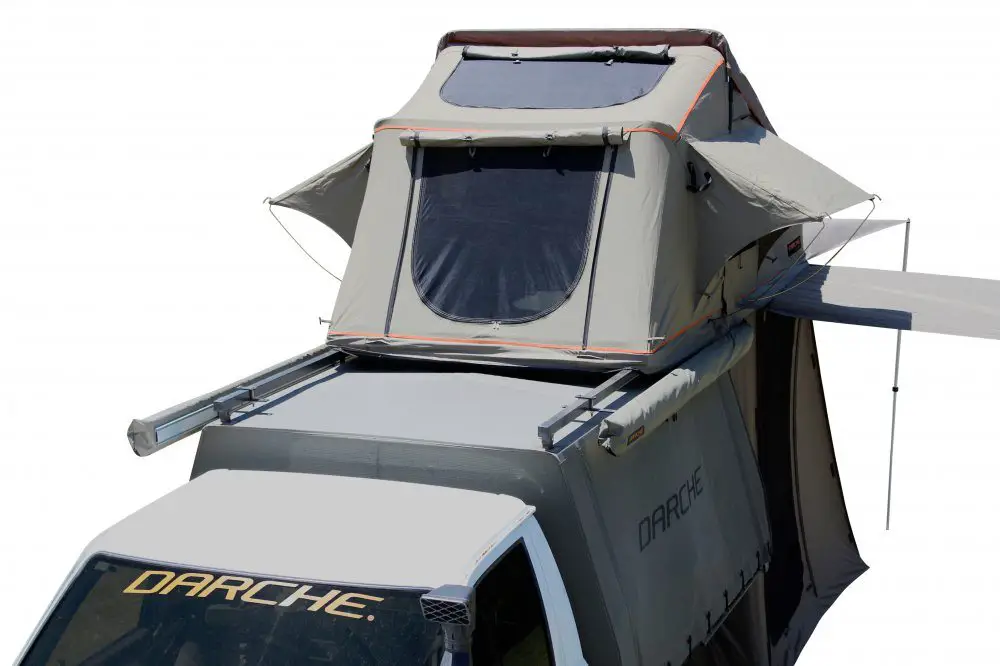 Like all good rooftop tents, the Darche Panorama 2 has plenty of ventilation through a combination of the 2 windows on each side.
The main entrance features a unique panoramic sunroof with a fly-proof mesh – perfect for those hot nights.
Size
The Darche roof top tent has dimensions of 2400mm long, 1400mm wide and 1250mm high when set up. This rooftop tent has the lowest height of the major rooftop brands available in Australia.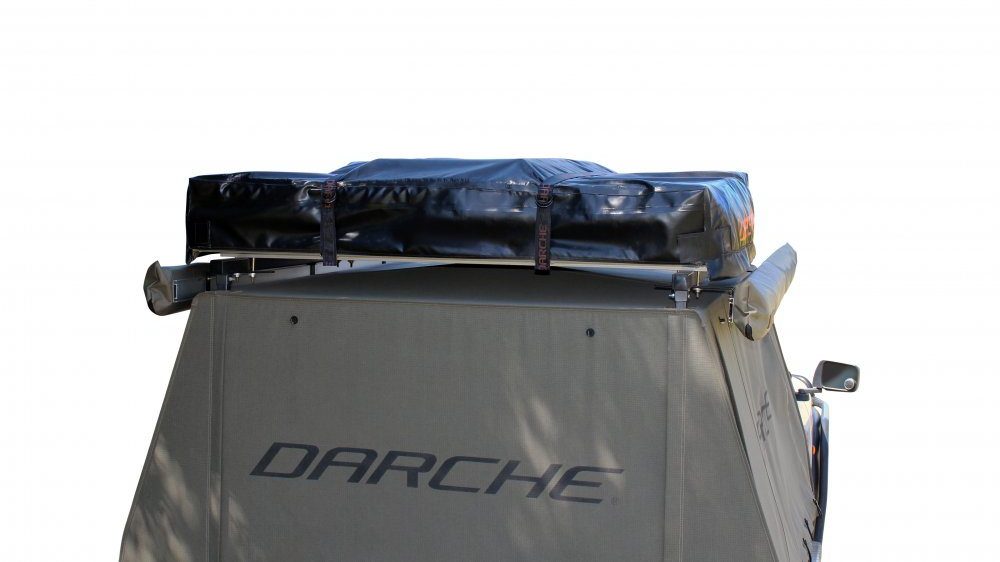 The Annex has dimensions of 2500mm long and 2000mm wide that profiles additional shelter and storage.
When packed up, the Panaroma 2 has one of the lowest profiles available for a rooftop tent, just 250mm above the roof rack. This is a great feature for those who are trying to minimise drag while driving and wanting additional clearance when 4wding.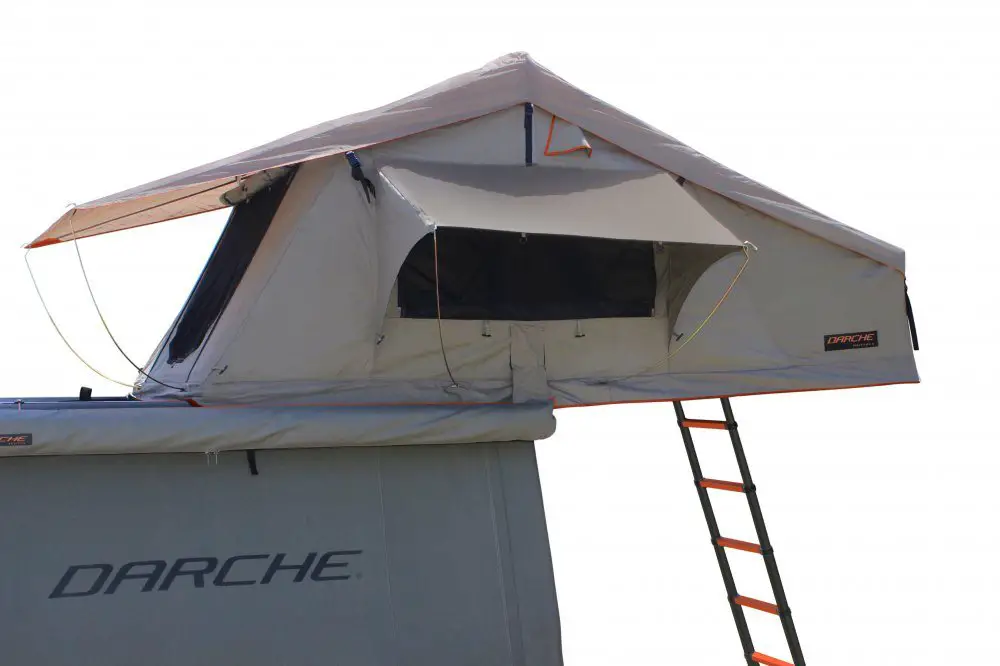 Features
The Darche Panorama 2 rooftop tent has a number of features that make it stand out from its competitors:
Telescopic alloy ladder that is perfect for vehicles with a suspension lift.
The sky view roof allows you to have a view of the stars from inside the tent while providing additional ventilation.
For added durability, this rooftop tent has an aluminium base plate as opposed to a plastic one seen on most other brands.
The Annex entrance covers can also be held up by poles that provide additional cover from the elements and will complement an awning.
The mattress inside the rooftop tent is 50mm thick. If you think this might be on the thin side Darche does offer a replacement 65mm mattress which will provide a higher level of comfort.
Alternatively, you could replace it with a self-inflating mattress.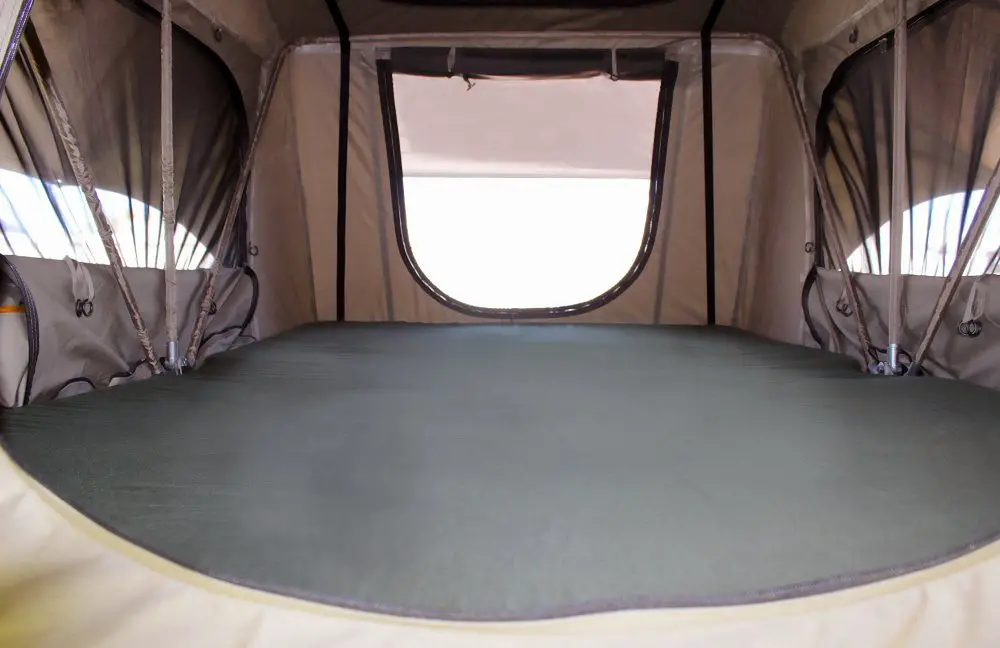 Conclusion
The Darche Panoramic 2 rooftop tent is a high-quality premium tent. It has a number of unique features that make it stand out from its competitors including its panoramic rooftop, low-profile fold-down design and telescopic ladder.
We recommend this rooftop tent for seasoned campers who are looking for a quality option for longer trips.