Rooftop tents are perfect for those who are heading off around Australia on extended 4WD trips. They are easy to set up, offer superior weatherproofing, and keep campers off the ground away from various animals and insects.
As rooftop tents are an investment it's important to choose one that is going to suit your specific camping requirements. To help you in your search we have rounded up the best rooftop tents on the Australian market and assessed them against key criteria including material quality and durability, weight, and features.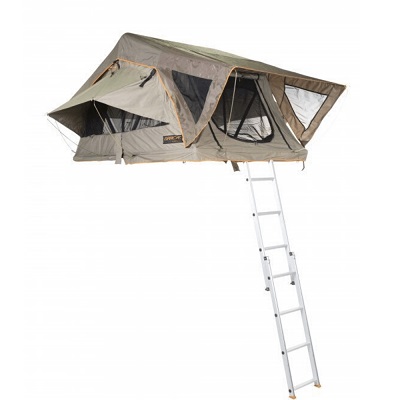 Size: 240cm x 140cm x 125cm
Weight: 49.3kg
Material: 260gsp ripstop poly-cotton blend canvas, 25mm aluminium frame
Capacity: 2 People
Pros: Lightweight, durable, lots of ventilation, sky window for stargazing
Cons: 2.1m ladder is shorter than most competitors
For most people, we think the Darche Intrepidor 1400 is the best rooftop tent currently available. It is versatile, lightweight, and high-quality. It is quick to set up and offers enough space for up to 2 people and their gear.
The latest version of the Intrepidor 1400 comes with a sky window for star gazing and an insulated compressed alloy baseboard floor. These upgrades have been added to improve the comfort of campers using the tent.
The additional window means the tent has five openings in total (including the two doors) so it's easy to keep cool when sleeping during hot weather.
Compared to other rooftop tents, the Intrepidor is lightweight at only 49.3kg. Although lightweight, it is made from 260gsm canvas and has a 1500 PU waterproof rating so is of excellent quality and suitable for use in most weather conditions.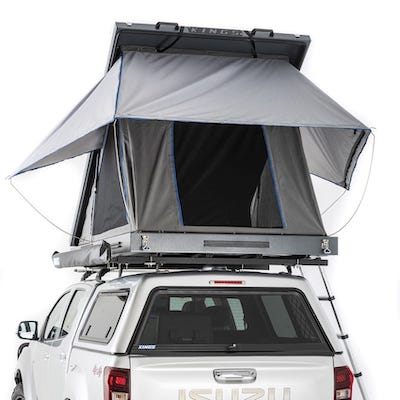 Size: 235.5cm x 147.6cm x 170cm
Weight: 93.5kg
Material: 320gsm ripstop canvas, aluminium alloy
Capacity: 2 people
Pros: Spacious, wrap-around awning, excellent ventilation
Cons: Bulky, not best for heavy rain
This is the updated version of the Kings Grand Tourer. It is a hardshell rooftop tent that offers premium features at an affordable price.
This roof top tent has enough space for 2 people and comes with a thick 75mm mattress. It is one of the best options to choose for space and convenience, and with a height of 170cm, this tent offers the most headroom of all the models listed.
It also takes less than 2 minutes to set up with the help of the gas struts. For added convenience and ease of use, the tent can be packed away with bedding still inside.
Some of the improvements on this version include the aluminium support pole that helps to reduce the load on the gas struts and the thick seals that help to prevent leaks when the tent is packed away. These upgrades are vital for the comfort, safety, and longevity of this roof top tent.
The Grand Tourer MKII is by far the heaviest rooftop tent on our list at 93.5kg. It's important to check the weight limit of your roof and roof racks as this tent is already heavy without taking into account the weight of two adults sleeping inside.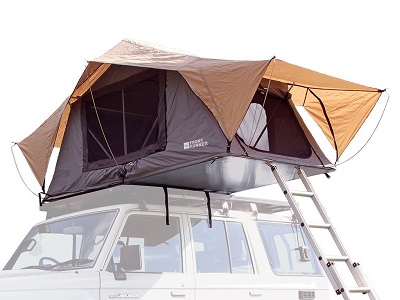 Size: 333cm x 229cm x 133cm
Weight: 43kg
Material: 260g ripstop polyester cotton blend fabric, aluminium frame
Capacity: 2-3 people
Pros: Lightweight, low profile, spacious, affordable
Cons: Ladder is short (2m) and doesn't have adjustment options, not as durable as other options
The Front Runner Roof Top Tent is the lightest option on our list. It weighs just 43kg making it a great choice for smaller vehicles and those looking for a tent with a low profile design. This rooftop tent puts less strain on the car and doesn't cause as much drag as heavier models.
Although lightweight, this tent is one of the largest we've reviewed and offers enough space for up to 3 people. This size & weight combo is partially due to the tent fabric used not being as thick or durable as other options meaning the tent is not the best for use in harsh conditions. Although there is plenty of ventilation to keep cool during hot nights.
Similar to the Darche Intrepidor, this RTT also has a skylight so the stars or sun can be enjoyed while camping.
The Front Runner RTT comes with a 2m ladder, which is slightly shorter than most and it only has 2 predrilled holes which means there are no adjustment options unless you drill additional holes yourself.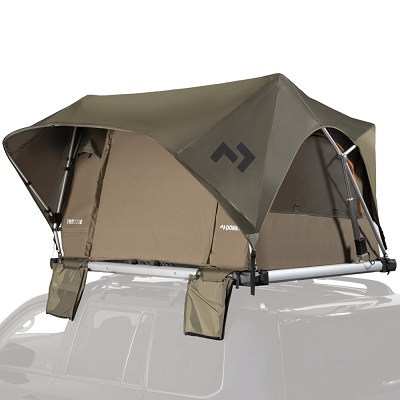 Size: 200cm x 120cm x 110cm
Weight: 56kg
Material: Dual-layer fabric, PVC, aluminium alloy frame
Capacity: 2 people
Pros: Powered set up, durable, good in all weather
Cons: Smaller than other options, requires 12V battery
The Dometic 12V Rooftop 4WD Tent is a unique option that is remote-powered making it easy to set up. One person can set this tent up in less than a minute and it can be packed away just as swiftly.
The remote control has up, down, and stop buttons so campers can simply remove the tent cover, plug the power cable in and press the up button to set it up for the night. This is great for anyone who doesn't want to have to fiddle around with poles and set the tent up themselves each time.
Once up, the tent offers 200cm x 120cm x 110cm of space. This is the smallest size of the tents on our list but is still large enough for up to 2 people. This size would be a comfortable choice for one person with plenty of space for their camping gear.
At 56kg, the Dometic 12V tent is on the lighter end of the scale so is suitable for use with most vehicle types. Unlike some lightweight rooftop tents, this model remains durable as the excess weight has been shed by using a high-quality aluminium alloy frame.
The quality dual-layered fabric offers insulation and protection against all weathers and we particularly like the additional features such as the two boot bags on the outside of the entrance.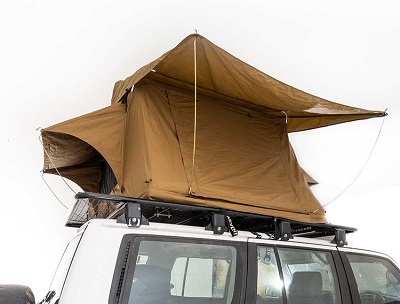 Size: 310cm x 130cm x 134cm
Weight: 57kg
Material: 320gsm ripstop canvas
Capacity: 2 people
Pros: Easy setup, quality materials, good ventilation
Cons: Zippers get caught and break easily
The Adventure Kings Roof Top Tent is a top entry-level option that is ideal for people looking for a low-cost soft shell tent for occasional trips.
The value for money is fantastic with this model. Inside the tent, there is plenty of space (310cm x 130cm x 134cm) and a comfortable 75mm mattress. This is one of the larger tents on our list and the mattress is also one of the thickest options offered.
This tent uses high-quality 320gsm canvas that offers excellent durability and weather resistance. It is best to season the canvas before use to ensure it is as waterproof as possible before the first night of sleeping under the stars.
One of the features we like is the awnings. There are awnings for the side windows and one for the entrance. These awnings help campers make the most of the space and side windows. The window awnings are easy to set up and protect the windows from rain.
Having the cover over the entrance way and ladder helps to keep the inside of the tent dry, comfortable, and protected from the sun too.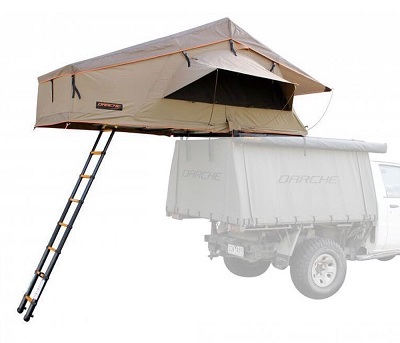 Size: 240cm x 140cm x 125cm
Weight: 56.5kg
Material: 260gsm ripstop canvas
Capacity: 2 people
Pros: Reliable, versatile, stargazing window, lightweight
Cons: Annex and awning sold separately
Similar to the Intrepidor, the Darche Hi-View is a durable, high-quality, and versatile option, although it is a slightly heavier model and comes with a taller telescoping ladder to suit any car or 4WD vehicle.
The Hi-View offers an entry canopy that provides cover over the ladder area giving sheltered access to the tent. This adds extra weather protection and makes camp life a bit easier.
At 56.5kg the weight of the Hi-View is around the middle of the tents reviewed here. It offers an impressive number of features considering the weight and makes this a great choice for smaller vehicles and those with lower-weight-rated rooftop/ roof rack setups.
One of the great features seen on the Hi-View is the ventilation. There are large windows on every panel, built-in air vents and there is also a big stargazing window too. These each help to make the rooftop tent comfortable whatever the weather conditions.
The 3-year warranty offered on the Hi-View and the Intrepidor are the longest warranty periods on our list, giving a good indication of the models durability and longevity.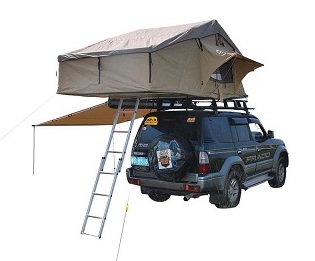 Size: 320cm x 142cm x 130cm
Weight: 77kg
Material: Ripstop polyester cotton
Capacity: 2 people
Pros: Low cost, spacious, fast to set up
Cons: Heavy, not as durable as other options
The XTM Rooftop Tent is an affordable option that is well suited to those looking for their first RTT. It is a comfortable and spacious tent that is great for weekend trips and summer nights.
The XTM offers all of the key features you'd expect and even has a thick 75mm mattress as standard.
Although this rooftop tent is durable with an aluminium frame and stainless steel hinges, the thickness of the poly-cotton ripstop material used is not specified so it's hard to know how it will handle different weather conditions. Although the tent is water resistant and has a waterhead rating of 2000mm.
The size of the XTM is impressive with internal measurements of 320cm x 142cm x 130cm, however, this comes at a very heavy weight of 77kg. This is the second heaviest rooftop tent on our list and the heaviest soft shell rooftop tent. This high weight means the XTM isn't a suitable choice for installation on smaller vehicles and those with a lower weight limit.
Rooftop Tent Comparison Table
| | | | | | | | | | | |
| --- | --- | --- | --- | --- | --- | --- | --- | --- | --- | --- |
| Rooftop Tent | Our Verdict | Capacity | Size | Height | Weight | Material | Frame Material | Mattress | Ladder | Warranty |
| Darche Intrepidor 1400 | Best All-Rounder | 2 People | 240cm x 140cm | 125cm | 49.3kg | 260gsm ripstop polycotton canvas | 25mm Aluminium | 65mm | 2.1m | 3 years |
| Adventure Kings Grand Tourer KMII | Best Hardshell | 2 People | 235.5cm x 147.6cm | 170cm | 93.5kg | 320gsm canvas | Powder-coated Aluminium | 75mm | 2.4m | 2 years |
| Front Runner | Lightest RTT | 3 People | 333cm x 229cm | 133cm | 43kg | 260g ripstop polycotton fabric | Aluminium | 60mm | 2m | 2 years |
| Dometic 12V | Hands-Free Set Up | 2 People | 200cm x 120cm | 110cm | 56kg | PVC | Aluminium Alloy | 50mm | Not listed | 1 year |
| Adventure Kings Rooftop Tent | Best Value | 2 People | 310cm x 130cm | 134cm | 57kg | 320gsm ripstop canvas | Not listed | 75mm | 2m | 1 year |
| Darche Hi-View 1400 | Versatile Option | 2 People | 240cm x 140cm | 125cm | 56.5kg | 260gsm ripstop canvas | 25mm Aluminium | 65mm | 2.3m | 3 years |
| XTM | Low Cost Option | 2 People | 320cm x 142cm | 130cm | 77kg | Ripstop polycotton | Aluminium | 75mm | 2m | Not listed |
Rooftop Tent Buying Guide
Finding a rooftop tent that is suited to the type of adventures you are planning is essential. The best rooftop tents can handle anything you throw at them. However, these come with a high price tag so figuring out the features that are most important to you can help reduce the cost while ensuring a great camping experience. Use this buying guide to help determine what features are essential for your RTT setup.
Hardshell Vs Softshell
Hardshell – A hardshell roof top tent is one that comes in a hard case which also serves as the frame and roof of the tent. These tents are sturdy, fast to set up, and a well-protected option for wind and rain.
Hardshell tents are opened almost instantly by simply unclipping a couple of latches. They are a great choice for people who are moving around a lot which is why they are a popular choice for off-roading and overlanding trips.
Hardshell rooftop tents are more expensive than softshell options, they are also sleeker and more aerodynamic.
Softshell – Softshell tents are more common and this is the type that opens out with poles and fabric when you pull the ladder down. The set up of a softshell tent generally takes slightly longer than a hardshell one.
The benefit of a softshell rooftop tent is there are more size options and many softshell tents have an annex attached which provides extra sheltered space below the tent. This extra space is useful for keeping gear or for simply getting ready for the day ahead.
Size
When choosing a rooftop tent for your adventures, consider how many people there are in your party.
Most rooftop tents are two person so offer enough sleeping space for 1-2 people with spare room for gear.
There are also several options for accommodating 3+ people too if you need a larger tent to accommodate a child, pet, or extra gear.
Don't forget to look at the dimensions of the tent and take into account the internal height too if you want to have enough room to sit up comfortably.
Transit Size
The size of the rooftop tent when it is packed away (also known as the transit size) should not be overlooked. This is particularly important for smaller vehicles as the additional weight and height on the car will impact the noise, fuel consumption, and handling when driving.
A high tent may also impact your ability to drive into height-restricted car parks or under bridges etc.
Comfort
One of the important factors when it comes to comfort is the mattress. It is standard for a roof top tent to have a high density foam mattress integrated into the floor.
The thickness of the foam mattress varies depending on the model but campers can usually expect a mattress of between 50mm – 75mm.
The mattress should come with a removable cover for easy cleaning. Many campers choose to upgrade to a higher-quality memory foam or self-inflating mattress so if you plan to do this make sure you consider the size as many rooftop rents use custom mattress sizes that suit the floor size of the tent.
If the rooftop tent is going to be used for an extended period of time then it is worth considering buying a higher-quality mattress that is going to offer more comfort and support.
Durability
A tent goes through a lot so it's vital the one you choose is durable and long-lasting. Look for tents made from quality ripstop polyester cotton canvas or similar for maximum durability.
Thicker fabrics (higher gsm) are more durable and keep an eye out for other features such as double stitching and sealed seams.
The storm cover (or tent fly) also needs to be high quality and easy to set up. Any zippers need to be heavy-duty and any metal components such as the hinges should be made with a strong material such as stainless steel.
Weatherproofing
The weather protection is going to be better in a hardshell rooftop tent but there are many high-quality softshell options that offer enough protection for all conditions.
The RTT should use thick, water-resistant material and have a waterproof fly.
Window awnings can be helpful for protecting windows while allowing adequate airflow and extra insulation in the floor is a good feature for added comfort.
One quick and easy way to check the weatherproofing of a roof top tent is by looking at whether it is rated as 3 season or 4 season:
3-Season: 3-season rated tents are best for spring, summer, and autumn. They aren't designed for winter camping so are less insulated and durable than 4 season tents. If you are only planning summer trips and trips in fair weather, a 3 season rooftop tent will be ideal.
4-Season: 4-season tents are designed for use in winter. They can handle extreme cold and storms. These tents are durable, reliable and are the ones to choose if you'll be heading out in winter. Although they are called 4-season, they aren't the best option for summer as they can get too hot due to the thick material and insulation.
Ventilation
For any tent to be comfortable it needs to have plenty of ventilation options. This includes windows with mesh panels and solid covers as well as dedicated air vents that keep fresh air flowing even when it's chilly and raining outside and all the other panels are closed.
Ease of Use
The best rooftop tents usually come with all the hardware needed to install the tent onto a roof rack or roof rails. This can be a fiddly job but the manufacturer's installation instructions and an additional pair of hands will help make the installation easier.
One of the great things about a rooftop tent is how quickly it can be set up once it is installed on the vehicle. Rooftop tents offer convenience and an efficient way of camping but it is important to also consider how easy they are to remove from the vehicle.
As these tents are so large and heavy, it is often not practical to have them on the roof all the time. However, removing them is sometimes equally as impractical. Keep in mind that moving these tents around is not a one person job as they are so large and heavy.
Weight
When choosing a rooftop tent you need to know the weight limit of the roof racks and the vehicle. As the weight of a roof top tent can be anywhere from 40kg – 95kg+ it is a factor that cannot be overlooked.
In addition to the weight of the tent, the model chosen also needs to be compatible with the roof rack on the vehicle.
Annex
An annex or awning is a great way to benefit from additional space that can be used for storage, as a space to cook and eat, or simply a spot for relaxing.
An annex extends from the tent and provides a protected, enclosed area underneath. Many rooftop tents offer an annex as an optional extra and a few premium models offer an annex room as standard.
An annex is slightly different from an awning which is essentially an extension of the roof to provide a larger shaded/ overhead protected area.
Rooftop Tent FAQ
Are roof top tents comfortable?
Yes, the best rooftop tents offer a safe, convenient, and comfortable place to spend the night. They are fast to set up, offer more luxury than a standard tent and keep you off the ground.
How much weight can you put on roof racks?
The weight limit of a roof rack is usually around 75kg. However, some roof rack models can't handle as much weight while others can support more. It all depends on the individual roof rack being used. The vehicle roof will also have a weight limit so this should also be taken into consideration.
How heavy is the Kings roof top tent?
The Adventure Kings soft shell rooftop tent weighs 57kg while the hardshell model is a lot heavier at 93.5kg.
How long does it take to set up a Kings roof top tent?
After a few practices, the Kings soft shell rooftop tent takes around 10 minutes to set up and slightly longer to put away. The hardshell model takes just 2 minutes to set up.