Finding a rooftop tent that can handle the harsh Australian conditions is essential for a successful and comfortable trip. There are lots of tents to choose from but as these tents are a big investment they are something you want to be able to buy with confidence. 
Darche has a strong reputation for producing high-quality camping gear, and the Darche Intrepidor 1400 is often described as one of the best rooftop tents available.
In this review, we take a closer look to see what makes the Darche Intrepidor rooftop tent stand out and find out if it lives up to expectations.
RELATED: Best Rooftop Tents
Who is the Darche Intrepidor 1400 for?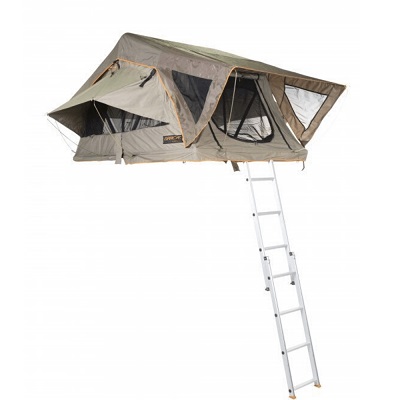 Size: 240cm x 140cm x 125cm
Weight: 49.3kg
Material: 260gsp ripstop poly-cotton blend canvas, 25mm aluminium frame
Capacity: 2 People
Pros: Lightweight, durable, lots of ventilation, sky window for stargazing
Cons: 2.1m ladder is shorter than most competitors
The Darche Intrepidor is a lightweight rooftop tent best suited to couples or solo travellers. It's not the cheapest option, but is well built and comes with a 3 year warranty so is a good option for those wanting to invest in a tent that will stand the test of time.
Getting Started with the Darche Intrepidor 1400
Once the Intrepidor 1400 has been unboxed, you will see it comes with a ladder, mattress, mounting kit, window poles, pegs, guy ropes and instructions.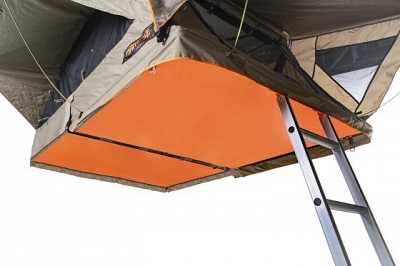 The first thing to do is attach the ladder brackets, ladder, and mounting channels using the included nuts, bolts, and washers.
Then, with the help of a couple of extra people the tent can be lifted onto the roof. The mounting plates are compatible with most flat roof racks or roof rails. 
After the initial set up is complete, getting the tent up and ready for use is effortless. Simply undo the webbing straps, unzip the cover and remove it. Then, pull the ladder out and put the frame rods into their positions.
Peg down the guy ropes, insert the window tension poles and the tent is ready to use.  
Features and Benefits
Size & Weight
The Intrepidor 2 offers enough space for up to 2 people with plenty of room for gear. The interior measures 240cm x 140cm x 125cm which gives enough room to sit comfortably. 
When folded the tent measures 121.5cm x 143.5cm x 32cm and weighs 49.3kg so it is one of the smallest and lightest models on the market. This is beneficial for fuel economy and reducing drag when driving. 
Weatherproofing
The Darche Intrepidor is great for all weather conditions. It is a 3-4 season tent made from 260gsm polycotton canvas. This canvas is commonly used for tents and has a 1500 PU waterproof rating so you can rely on it during wet weather. 
The tent's transit cover is a laminated 600gsm PVC that has been treated so it can handle harsh UV light without cracking. This is vital for keeping the tent protected when not in use. 
Materials
This rooftop tent is sleek and lightweight. The frame is made with 25mm aluminium pipes with stainless steel hinges.
A recent upgrade means the tent now comes with a coated heavy duty compressed alloy baseboard. This baseboard provides extra insulation to improve overall comfort when in the tent. 
Ventilation 
One of the upgraded features of the Intrepidor 2 is the stargazing window. This is a welcome addition that gives users a direct view of the sky giving a feeling of open air camping during clear nights.
This window also provides additional air circulation which helps to keep the temperature comfortable at night. 
The 4 openings of this tent make it well ventilated and easy to keep cool during hot nights. The openings can also be covered during rain and colder weather to help keep heat in but this isn't the best choice of tent for extreme snow/ cold. 
What do users say about the Darche Intrepidor 1400?
The Darche Intrepidor 1400 looks great on paper but how does it actually perform? Most users find this to be a reliable rooftop tent that offers a comfortable place to rest and the opportunity to enjoy fantastic views from the warmth of a sleeping bag. 
There are a few minor areas of improvement that could be made in terms of the cover zipper and ladder but overall the Intrepidor 1400 is a comfortable and well-designed RTT.
Positives
Great in all weather conditions – the Intrepidor 1400 has proven itself in a wide range of conditions including heavy wind and rains. Users enjoy a comfortable and stable night sleep whatever the weather. 
Easy installation and set up – most users find that this rooftop tent is quick and easy to install and use.
Star gazing window – one of the most loved features of this tent is the star gazing window that allows you see the stars from the comfort of your bed.
Negatives
Cover zipper gets caught easily – some users find that the zipper of the cover gets caught on the material of the tent relatively easily which can be frustrating and hard to fix.
Ladder can be fiddly – securing the ladder pins can be a bit finicky at times. This means the pins may not engage on the first try and the ladder needs to be moved around a bit to get them into position. The ladder is also only 2.1m which is shorter than most rooftop tent models. 
Is The Intrepidor 1400 Right For You?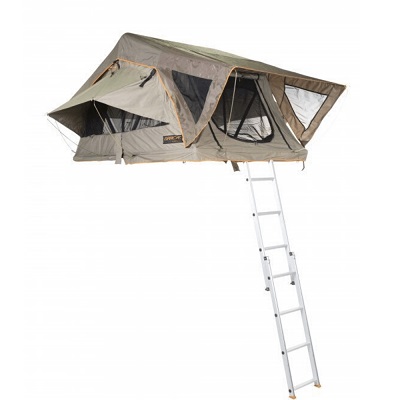 Size: 240cm x 140cm x 125cm
Weight: 49.3kg
Material: 260gsp ripstop poly-cotton blend canvas, 25mm aluminium frame
Capacity: 2 People
Pros: Lightweight, durable, lots of ventilation, sky window for stargazing
Cons: 2.1m ladder is shorter than most competitors
While there are a number of excellent rooftop tents available, the Intrepidor 1400 is a versatile, lightweight option that is fantastic for solo campers and couples wanting to sleep under the stars with ease and comfort. It's one of our top picks on the Australian market.
This is an affordable option and the latest Intrepidor 1400 has seen a few upgrades to improve users' overall experience.
Conclusion
The Darche Intrepidor 1400 is an affordable, user-friendly and versatile rooftop tent that is best for solo adventures or camping with a partner. It's a comfortable, safe tent that offers lots of ventilation and a stargazing window for enjoying the best views from the comfort of your sleeping bag.