Rooftop tents are one of the best ways to enjoy Australia, but it's vital to choose one that can keep up with your adventures.
One rooftop tent that has earned a reputation as a reliable all-rounder to suit most situations is the Darche Hi-View 1400.
This in-depth review takes a closer look at the features and quality of the Hi-View 1400 to help you determine if this is the best rooftop tent for your travels.
Who is the Darche Hi-View 1400 Roof Top Tent for?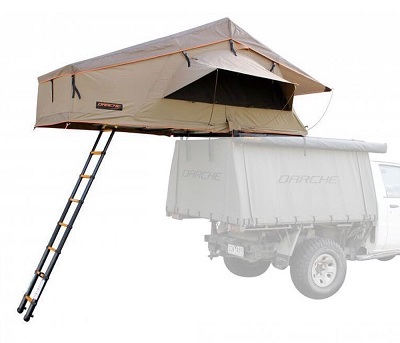 Size: 240cm x 140cm x 125cm
Weight: 56.5kg
Material: 260gsm ripstop canvas
Capacity: 2 people
Pros: Reliable, versatile, stargazing window, lightweight
Cons: Annex and awning sold separately
The Darche Hi-View 1400 is a great option for couples or solo campers looking for a luxurious and comfortable rooftop tent for weekends away and longer trips. The light weight and small transit size of the Hi-View makes it a good choice for use in lower or more narrow vehicles.
Note that the Hi-View RTT also comes in a range of sizes which are great for larger groups or families.
Getting Started with the Darche Hi-View 1400 Roof Top Tent
Setting up the Darche Hi-View is straightforward. It comes with a telescopic ladder, PVC cover, mounting brackets, and poles for the window awnings and entrance way.
When the ladder is pulled down, the tent lifts and the entrance way poles need to be positioned to support the roof.
The telescopic ladder can be folded away and strapped into place when not in use.
The awning poles can be positioned on the window awnings to hold the canvas up allowing airflow while protecting the window mesh from rain. 
For added convenience when it comes to packing up, the tent offers enough space that bedding can be left inside. 
Features and Benefits
Size & Weight
The Darche Hi-View offers an interior space of 240cm x 140cm and a height of 125cm. This is enough space for 2 people and offers enough head space to sit up comfortably without feeling cramped. 
Overall this rooftop tent weighs 56.5kg so it is lightweight while still offering a lot of features and space. 
Set Up 
The Hi-View has a softshell design and uses stainless steel hinges that work together to make setting up and packing down the tent easy. 
Weatherproofing 
The Hi-View has been designed with Australia's landscape in mind. It offers a lot of ventilation without reducing the storm and sun protection offered.
The 260gsm ripstop polycotton canvas is a lighter weight than other Darche rooftop tents such as the Darche Panorama, meaning it is not as heavy duty but is still completely waterproof. The seams have also been sealed to ensure the tent interior remains dry.
The Hi-View also comes with a 210D fly for additional protection against the weather. This fly can be put on and taken off easily thanks to the release buckles on the side. The buckles are a great addition as it takes away some of the fuss and time spent putting the cover on and off.
The windows all have storm flaps that can be accessed from inside the tent. The tent also has an insulated baseboard to help keep users cozy as soon as they climb in. When in transit, the heavy-duty PVC cover protects the rooftop tent. 
Ventilation 
One of the highlights of the Hi-View is all of the ventilation options. This rooftop tent offers full length windows, large side windows, a big zippered sky window and built-in air vents. All of these windows have fine mesh to protect from bugs and storm covers for when they are needed. 
The big windows are also protected by awnings so fresh air can circulate without rain coming into the sleeping area. The sky window is fantastic for stargazing. 
Durability 
The Hi-View offers heavy duty construction including reinforced stitching on stress points and self repairing zip coils. The RTT is designed for time in tough terrains so is strong and reliable. 
The hinges are stainless steel to avoid wear and tear and the frame is aluminium. The Hi-View also comes with a 3 year warranty, one of the longest warranties offered with rooftop tents.
Storage 
This rooftop tent has storage pockets on the sides to help keep valuables safe. 
There's also enough room to leave your sleeping bag stashed inside during pack up so setting up at the next spot is even quicker and the bed is already made. 
Telescopic Ladder
One of the features that stands out on the Hi-View is the telescopic ladder. This is great for adjustability options and is able to fit higher vehicles without an issue. The ladder can also be folded away when not in use. 
Entry canopy
Another unique feature is the entry canopy. This additional canopy space covers the ladder giving users sheltered access to the tent. 
What do users say about the Darche Hi-View 1400?
The Hi-View 1400 has received a lot of positive reviews from users, and there seems to be very few negatives experienced with this rooftop tent. 
The highlights for users include the fast set up and pack down, the sheltered access that makes camp life a little bit easier and the high-quality of the materials and build of the tent. 
The points of improvement are small things that could add a little bit of luxury such as a thicker mattress. 
Positives
Quick and easy set up 
Sheltered access 
Excellent quality 
Negatives 
Mattress is firm – at 65mm the mattress is pretty standard for roof top tents. For added comfort, a mattress topper is a good idea. 
Is the Darche Hi-View 1400 Right For You?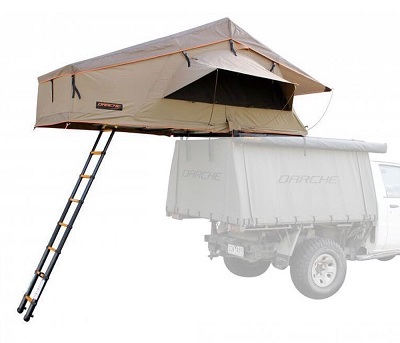 Size: 240cm x 140cm x 125cm
Weight: 56.5kg
Material: 260gsm ripstop canvas
Capacity: 2 people
Pros: Reliable, versatile, stargazing window, lightweight
Cons: Annex and awning sold separately
The Darche Hi-View is a reliable rooftop tent that offers excellent ventilation, comfort and premium features including an entrance canopy.
This is a good choice for couples looking for a versatile and lightweight tent that can suit a wide range of vehicles.
For those looking for additional space there is an annex and awning available but these are sold separately.
Conclusion
The Darche Hi-View is a feature-rich tent that remains light enough for use on smaller vehicles. The 1400 is a great size for 2 people and is designed to withstand all weather conditions.