Awnings are a useful and cheap accessory to any car or 4wd as they provide both shade from the sun and shelter from the rain and wind. When thinking about buying an awning you need to consider the size, weight, material and importantly how it will be attached to your vehicle. We have reviewed and ranked the top 5 awning brands currently on sale in the Australian market.
Once you have decided on your awning, there are a number of accessories you can purchase to further provide shelter including windbreaks, mosquito nets, walls and even full tent attachments. Some awning attachment are only compatible with the same brand as the awning. More recently we are starting to see awnings such as FoxWing awning that offers increased protection from the elements from its unique design.
When installing the awning - it's also important to consider what side of the car is best to install it. Most people prefer to install it on the passenger side of their vehicle so I can be extended while parked on the side of the road and allowing seamless access to the rear of the 4wd when the back door is open.
Best 4WD Awnings Australia 2020:
ARB Awning
Ironman Awning
Pros:
Great variety of sizes
ARB is well known across Australia for their high-quality camping gear and 4wd accessories. The ARB awnings come in three sizes: 2.0m (W) x 2.5 (L), 2.5m (W) x 2.5 (L) and 1.25m (W) x 2.1 (L) and use heavy duty expandable poles to hold up the extended awning cover.

The ARB awning has the highest GSM rating with a 300 GSM Ripstop UV protected and waterproof canvas as well as anodised poles for improved protection by the beach.
The ARB awning is one of the more expensive awnings on the market.
ARB has a number of awning accessories available including windbreaks, awning rooms and mosquito nets that are necessary for the remote outback regions of Australia.

The combination of superior features and quality construction make this our top pick for awnings in Australia.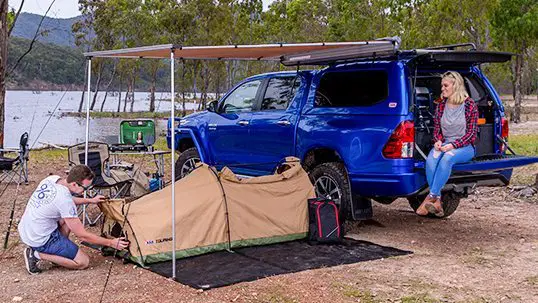 Adventure Kings Awning Review
Adventure Kings make the best value awnings on the Australian market.
They have most of the features of the more expensive brands but at a fraction of the cost and come in three sizes: 2.0m (W) x 2.5 (L), 2.5m (W) x 2.5 (L) and 2.5m (W) x 3 (L).
Key features of the Adventure Kings Awning include 280 GSM Ripstop polyester canvas, adjustable telescopic poles making this suitable for a range of vehicles and terrains.
The Adventure Kings awnings are not as high quality in terms of build compared to the more expensive competitors, but the low price and vast array of additional attachments makes this a great investment. 
These awnings also come with mounting brackets suitable for various roof racks, however, you may need also purchase an awning mount specific to your model of roof rack or tray.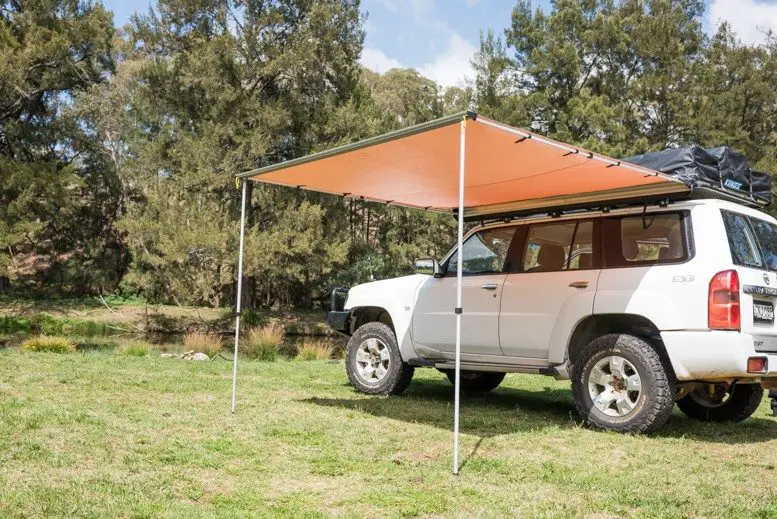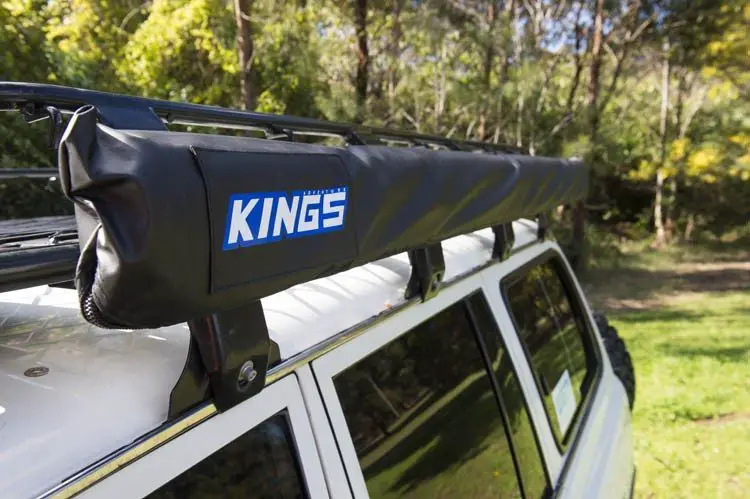 Ironman awnings only come in 2 sizes of 2.0m (W) x 2.5 (L) and 2.5m (W) x 2.5 (L) and are similar in features to that of the ARB and Adventure Kings awnings. 
Like the Adventure Kings awning, it has a 280 GSM Ripstop canvas and telescopic adjustable legs.
One of the key differentiating features of the Ironman awning is the built-in LED light strip with dimmer included with the awning. This feature is great for those who need additional lighting at their campsite.
There are a number of additional accessories such as the awning tent/enclosure and mosquito net to complete your campsite as well.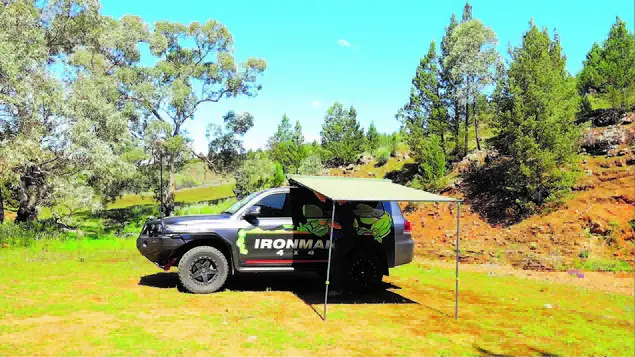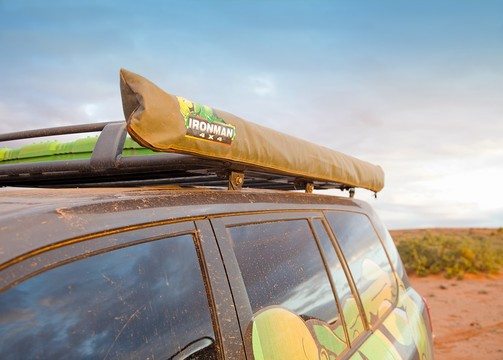 Roo Systems Eezi Awn Awning Review
Roo Systems offer high-quality top end awnings in a number of sizes and are priced at the top end of the market.
All Roo System awnings extend 2.1m out and they come in multiple sizes including 1.5m, 2.2m, 2.5m and a unique 3m awning system. These awnings have a heavyweight 420 gram ripstop canvas meaning they will hold up in the most extreme weather conditions.
Recently Roo Systems have also developed awning walls.
Howling Moon Awning Review
Howling moon has been producing quality camping equipment for the last 20 years and offers 4 of the traditional awning style products. Howling moon awnings cost similar to the ARB product line. Like their competitors, Howling moon also can provide optional mosquito nets and walls to add additional protection during adverse conditions.