Rooftop tents are a convenient and increasingly popular way to spend time in the outdoors but there's no denying they are an expensive investment.
Many first time buyers are on the lookout for a more affordable option that will suit occasional trips. The XTM Rooftop Tent has been designed to balance cost with build quality so is definitely worth considering if you're on a budget.
In this in-depth review, we take a look at the size, features and quality of the XTM Rooftop Tent to help you decide if this is the best option for your needs.  
Who is the XTM Rooftop Tent for?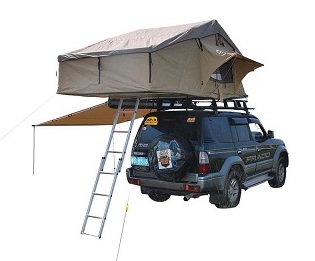 Size: 320cm x 142cm x 130cm
Weight: 77kg
Material: Ripstop polyester cotton
Capacity: 2 people
Pros: Low cost, spacious, fast to set up
Cons: Heavy, not as durable as other options
The XTM Rooftop Tent is designed to be a sturdy and spacious option for those on a budget or looking for their first rooftop tent.
Also, keep in mind that this affordable RTT is heavy so it is best for larger 4WD vehicles.
Getting Started with the XTM Rooftop Tent
Unlike the previous XTM Rooftop Tent, this model is set up manually rather than automatically using a remote. The manual set up is quick and easy, taking less than 5 minutes to complete. 
There's not much difference between this set up and other rooftop tents. First, the cover can be unzipped and put to one side, then the ladder can be extended and finally the tent rods need to be positioned to keep the canopy held up. 
Features and Benefits
Size & Weight 
The XTM rooftop tent is one of the more spacious 2 person tents available with an interior size of 320cm x 142cm and a height of 130cm. The large space is longer and narrower compared to most other RTTs which can create a more awkward space to truly utilise. 
The large overall size means the tent weighs a considerable 77kg. This is one of the heavier 2 person rooftop tents on the market.
Getting the tent on top of the vehicle will take 2-3 people to manage so it is not a particularly convenient option for people who want to remove the tent in between each trip. 
With a packed size of 125cm x 148cm and a height of 32cm this is quite sleek for transit but the extra weight means there will still be an impact on fuel consumption and potentially on vehicle handling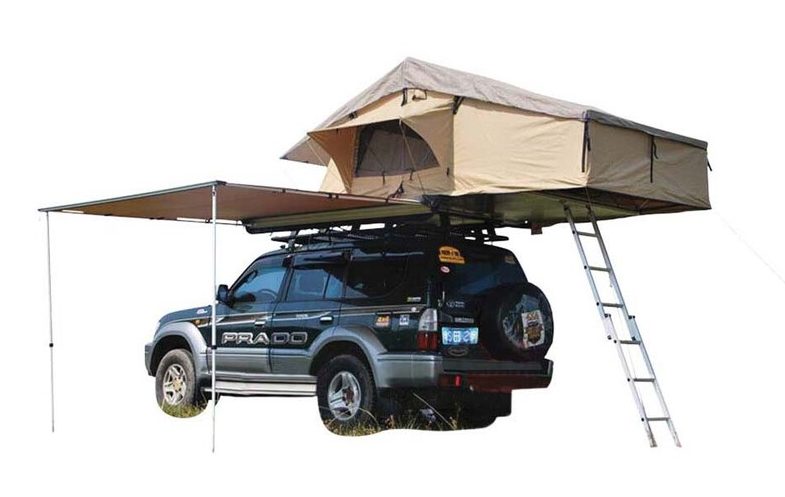 Weatherproofing 
The tent is made from rip-stop poly cotton, but XTM does not give the density or weight details of this material. This makes it difficult to know how it will stand up against various weather conditions. 
However, the tent does have a waterhead rating of 2000mm which is an indication of how well it holds up in wet conditions.
Ventilation
The ventilation on this RTT will keep campers cool and comfortable during hot weather.
The XTM has 2 large side windows in addition to the large doors and also has extra vents to help keep air flowing through the interior.
The windows all have super fine mesh to protect against insects while allowing air to flow freely. 
Durability 
The tent has an aluminium frame, an aluminium telescopic ladder and stainless steel hinges. These materials are durable but it is important to note again that the XTM is far heavier than tents of a similar size. 
Durability was one of the issues that caused the hardshell automatic XTM rooftop tent to be recalled. The issue was with the nylon straps that were prone to ripping or undoing when in strong wind or harsh terrain.
This latest model has been designed with durability in mind and includes a zippered PVC cover for travel. 
Mattress
One of the more premium features of this low cost tent is the mattress. The 75mm high density foam mattress is one of thicker sizes offered with rooftop tents.
This thickness means the mattress is soft and comfortable as it is, without the need for an extra mattress topper.
Storage 
The XTM tent is quite long and narrow which can mean there is limited extra space for bags and other gear.
To help make the most of the space the tent has zip up storage pockets that are great for keeping valuable gear close and organized.   
What do users say about the XTM Rooftop Tent?
Reviews for the XTM tent have been mixed with some users happy with the affordability, spacious interior and quick set up of the tent while others are disappointed with the overall durability of the model.
The XTM is also very heavy compared to similar tents which can be problematic if you want to remove it from the vehicle after each trip. 
Positives
Negatives 
Leaks experienced during rain  
Heavy
Is the XTM Rooftop Tent Right For You?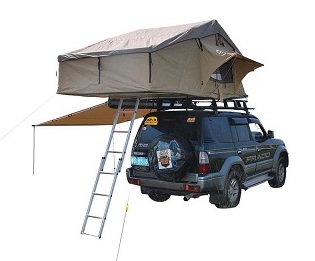 Size: 320cm x 142cm x 130cm
Weight: 77kg
Material: Ripstop polyester cotton
Capacity: 2 people
Pros: Low cost, spacious, fast to set up
Cons: Heavy, not as durable as other options
The XTM Rooftop tent is a good first tent for those on a budget. It is more spacious and comfier than the previous XTM RTT but has a more hands-on setup.
There are limited technical details available for this rooftop tent but it remains a good entry level option.
Conclusion
The XTM Rooftop Tent is an affordable option ideal for adventurers on a tight budget. This is a comfortable tent but it isn't the most durable so is best for summer trips.
View our guide to the Best Rooftop Tents.
FAQ
Are roof top tents comfortable? 
Good quality roof top tents offer a convenient, comfortable and protected place to sleep. It's important to choose a reliable brand and model to avoid leaks, condensation build up and poor build quality. 
How much weight can you put on roof racks? 
The weight limit depends on the make and model of the roof rack. Many of the popular roof racks have a maximum weight limit of 75kg. In addition to the limit of the roof racks, it is also necessary to factor in the weight limit of the vehicle roof.