The quality of the tent can make or break a camping trip. A good tent makes camping more enjoyable and more comfortable. It's important to look for a tent that is made by a reliable brand, is easy to pitch, weatherproof, and spacious enough for beds as well as bags.
In this review, we take a look at a new model of tent that features clever design and touches of luxury. Read on to decide whether the Dometic Daydream 6 Air is the right choice for your family.
RELATED: The Best Family Tents
Who is the Dometic Daydream 6 for?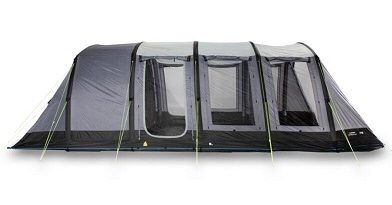 Full Capacity: 6 people
Recommended Capacity: 2-4 people
Weight: 35.35kg
Pros: Large living area, airframe technology, fitted carpet, great ventilation
Cons: Heavy, expensive, small sleeping space
The Daydream 6 Air Inflatable Camping Tent blends convenience and comfort and is well suited to 2-4 campers. The no-pole set up, fitted fleece carpet and spacious design help to make this a comfortable base for family trips.
While still heavy, for an air tent it is fairly lightweight. At 35kg, it weighs 20kg less than the Zempire Airforce air tent, making it a more portable option.
Getting Started with the Dometic Daydream 6 Air Tent
The Daydream 6 kit comes with the outer tent, inner tent, groundsheet, footprint, carpet, hand pump, peg bag and a carry bag.
Pitching this tent is quick and easy, once you lay the tent out and peg each corner you simply use the hand pump to inflate each airpole individually. This is all done from outside the tent and the poles will spring up as they are inflated. 
Features and Benefits
Inflatable Frame
The Daydream 6 Air uses Airframe technology with multi-point inflation. This is in contrast to some other air tent models which offer single point inflation.
The good thing about multi-point inflation is that if there is pressure or impact or damage to one of the airpoles it won't impact the others.
Inflating the poles individually makes it easy to set the tent up and take down the tent. The poles are designed to be large in diameter as this creates a stronger frame and maximises the space inside the tent. 
Ventilation
The large windows, high and low ventilation points and added gussets help to keep air circulating inside this tent.
Each of these features help users to keep the interior temperature of the tent comfortable and the inner tent of the bedroom uses dark materials to help block out the sun to improve sleep. 
Touches of Luxury
One of the features that makes the Daydream 6 Air stand out from others in the Dometic range is the fitted fleece carpet. This carpet offers next-level comfort that is rarely experienced in a tent. The carpet adds a feeling of luxury to the tent and also helps to protect the tent floor but it does mean you'll probably need to remove your shoes to avoid it becoming muddy. In this case, the covered entrance way offers a good place for removing dirty shoes before continuing onto the carpeted area.  
Space
In total, the Daydream 6 Air offers 700cm x 380cm of space. This includes the entranceway and makes this one of the larger tents we have reviewed. Although most of this space is used in the living areas with each of the 3 bedroom areas measuring 220cm x 120cm. The bedroom inner tent can be removed to create a larger space if needed for added versatility. 
The headroom inside the main area of the tent is 195cm, so users can walk through the tent rooms comfortably.
Lighter Than Alternative Air Tents 
You may think the lack of poles will reduce the weight of these tents but they are actually quite heavy. At 35.35kg the total weight of the Daydream 6 Air is a considerable 20kg lighter than the Zempire Airforce 1 V2.
While this is still heavier than other tent types it at least makes the air inflatable tent more manageable when it comes to portability and moving it around. It's best to have 2 people to carry this tent when it's packed away and working together to set it up and take it down will make the task easier too. 
Is the Dometic Daydream 6 Air Tent Right For You?
The Dometic Daydream 6 Air Tent is a comfortable, easy to pitch tent that is great for up to 4 people. The living space in this tent is one of its highlights, so if you want space to hang out, play games or simply store your kit this is a good tent to choose. 
This is an expensive tent and the sleeping space is limited compared to similar tents. However, it comes with a number of premium features and you can remove the inner bedroom tent to create one large space if preferred. The downside to removing the inner tent is there will be less control over the light and temperature. 
Pros: Large living area, airframe technology, carpet, great ventilation
Cons: Heavy, expensive, small sleeping space
Conclusion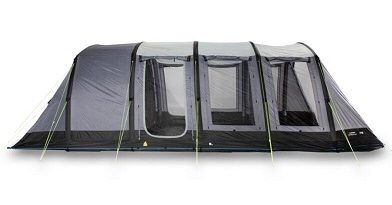 Overall, the Daydream 6 Air Tent is an excellent tent for a family of 4, offering the convenience of air-inflation with the comfort of premium features such as carpeted floors and multi-level ventilation. With no need for poles, the airframe technology is durable, quick to set up and creates a stable frame. 
FAQ
How big of a tent do I need for a family of 4?
A family of 4 should look at 8-10 person tents to enjoy a comfortable camping experience with enough room for your beds and bags.
What are the best tent brands in Australia?
Tried and tested tent brands in Australia include Oztent, Oztrail, Zempire and Coleman. 
What's the best family tent to buy?
The best tent for your family will depend on many factors including how many people will be camping, how long the trip will be and the time of year. Families should look at 6 person tents and larger from reliable tent brands to find one that is spacious enough for the whole family.  
Is a 6 person tent too big?
6 person tents are usually a good size for accommodating 2-4 adults comfortably. Different tents offer different sizes, room designs and features so be sure to check the specifications of the tent you are considering.