Finding a good family tent isn't as straightforward as it sounds. There are so many tents on the market but they aren't all as easy to pitch, durable and reliable as we'd like.
The Fast Frame Block Out promises a quick set-up, a light-blocking design, and an affordable price tag, but does it deliver?
In this review, we take a closer look at this popular tent from Oztrail to help you decide if it's the right choice for your family.
Who is the Oztrail Fast Frame Block Out Tent for?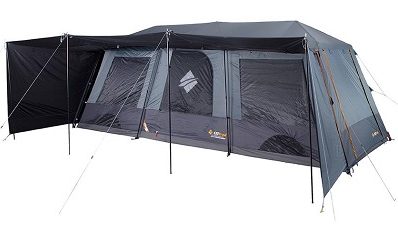 Full Capacity: 10 people
Recommended Capacity: 5-6 people
Weight: 33kg
Waterproofing: 3000mm
Pros: Block out canvas, quick to set up, removable room dividers, excellent waterproofing
Cons: Heavy, included set up instructions could be clearer
This is a large tent that is best suited to families of 5 or 6 people. The 3 room design is adaptable to suit the situation and offers privacy, while the BlockOut coating on the fly makes it easier to sleep by blocking out light and keeping the tent cool.
The Oztrail Fast Frame Block Out is a great choice for shorter trips as, similar to the Coleman Instant Up, it only takes a few minutes to pitch. 
The biggest benefits of this tent will be felt if you're camping in summer or your family likes to sleep in after sunrise.
Compared to the popular Coleman Instant Up Gold Series 10p, this tent has more internal space and awning options and has the added benefit of the blockout technology but is slightly heavier overall. 
Getting Started with the Oztrail Fast Frame Block Out Tent
This tent is designed to be quick and easy to set up. It comes with an inner tent, poles, pegs, fly, awning poles and a carry bag.
The carry bag is expandable and provides plenty of space for the tent so packing away isn't a hassle. The included instructions are quite limited but there are helpful videos online showing how to pitch these Fast Frame tents.
Once you have set up and packed down the tent a few times it is clear to see why so many campers rate this tent highly. 
Features and Benefits
Setup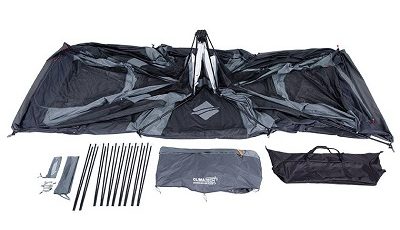 The Oztrail Fast Frame tents can be pitched in just a few minutes. The hub frame is not only a breeze to put up it also offers plenty of headroom and space for comfortable camping. The shape of the frame ensures you get as much headroom as possible (200cm) so adults can stand up in any room of the tent without a problem. 
Internal Dividers
The tent has a removable internal wall so you can adjust the tent layout to suit your trip, using the divider to make individual bedrooms or creating a large communal area instead. The 4 rooms can fit queen/double air beds/stretchers.
BlockOut Technology
One of the biggest advantages of this tent is the BlockOut coating. This is ideal for hot summers as it can help reduce heat as well as block light so you can get a good night sleep.
The manufacturer claims the BlockOut coating can block up to 95% of light and reduce heat inside the tent by 10 degrees. This feature can make a huge difference to your comfort and quality of sleep, particularly on hot days. 
Access
For easy access, this large tent has front, rear and side doors. There is also a full side awning that comes with removable wind breaks so you can increase shaded areas and the overall living space. 
Waterproofing
The 3000 waterproof rating is excellent. The tent also has a heavy duty PVC coated Polyoxford floor.
What do users say about the Oztrail Fast Frame?
Overall, users of this tent seem to have a positive camping experience. The majority of reviews are positive with just a few criticisms around the weight of the tent and the basic nature of the instructions. Most people have found this tent to be easy to put up and take down, spacious and sturdy. 
Positives
Sturdy – Although heavy, this tent is very sturdy and this is something many users noticed once they had it pitched.
Spacious – the size of the rooms combined with the 200cm roof height gives campers plenty of space when inside the tent.
Block Out – the block out helps to provide a comfortable sleep. 
Easy to put up – many users commented on how easy this tent is to put up. Although, some commented that it's a two person job to get the fly over the inner frame.
Packs away easily – another big positive for campers was that it doesn't take long to pack the tent away. This is made even faster as the storage bag is large enough to fit the tent without any trouble. 
Negatives
Heavy – this tent weighs a total of 33kg so it may require 2 people to carry it.
Instructions could be clearer – if you're new to putting up tents then you may find the instructions are lacking. 
Is the Oztrail 10 Person Fast Frame Block Out Tent Right For You?
If you're looking for a spacious tent that has a light blocking fly cover, 3 large rooms that you can easily stand up in and multiple awnings, the Oztrail 10 Person Fast Frame Block Out Tent is a fantastic choice.
The shape of this tent means it does catch the wind easier than dome shaped tents so be aware of this when checking the forecast and pitching up. It's also best to put this tent up a couple of times so you can be familiar with how the Fast Frame system works before your trip. 
Pros: Quick to set up, block out canvas, removable room dividers, 3000mm waterproofing
Cons: Heavy, manufacturer's instructions could be clearer
Conclusion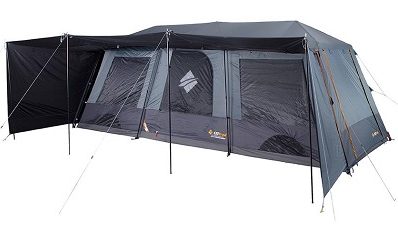 Full Capacity: 10 people
Recommended Capacity: 5-6 people
Weight: 33kg
Waterproofing: 3000mm
The Oztrail 10 Person Fast Frame Block Out Tent is a great choice for families of 5 or 6 thanks to its light blocking canvas, spacious rooms and fast set up time.
Compared to similar tents, the Oztrail allows you to keep your tent dark and cool so you can sleep comfortably during warm nights and instead of waking up at first light you can stay sleeping until you're ready to wake up.
This tent weighs 33kg so it's best to carry with 2 people and it definitely isn't a tent you'll want to carry very far. 
FAQ
How big of a tent do I need for a family of 4?
An 8 – 10 person tent is going to be best for a family of 4. This is spacious and offers room for beds as well as kit.
What are the best tent brands in Australia?
Australia's top tent brands include Coleman, Oztrail, Oztent and Zempire.