The Coleman Instant Darkroom tent is a high-quality 4-person tent built for a range of Australian weather conditions.
This tent features Coleman's unique darkroom technology that blocks out the sun (and heat) allowing you to get a great night's sleep on your next camping adventure.
As well as its unique darkroom technology, this tent features a high-quality ripstop polyester fly and heavy-duty PVC base to ensure you keep dry in the wettest of conditions.
Internal size: 2.3m x 2.3m
Weight: 16.8kg
Pros: Material blocks light and heat, good waterproofing, tall enough to stand up inside, durable materials, fast setup
Cons: Rain can pool on the awning, heavy, slightly smaller than other options
Aside from the darkroom material, this tent is almost identical to the Coleman Instant Up 4P Gold, although it is slightly smaller and a few kilograms heavier.
Setup:
The Coleman Instant Darkroom 4 person tent can be set up in around 5-10 minutes. It's possible to do with one person but much easier with two.
Each pole is attached to a central hub so they are pulled outwards and then lock into place. The inner tent material is already attached to the poles so there's no need to thread or velcro poles.
The outer fly is thrown over the top and attached using velcro attachments.
Weatherproofing:
Coleman Instant up Gold Vestibule DarkRoom tent is built to last and handle all weather conditions.
To protect you against wet ground, it has a Heavy Duty Polyoxford PVC flooring. The fly is made from strong and proven Ripstop polyester that will keep you dry in the wettest of conditions.
During the summer months, the windows on each side can be folded back to allow airflow through the tent.
Size:
With dimensions of 2.3m x 2.3m plus a 1.5m Vestibule, the Coleman Darkroom is a fairly standard-sized four-person tent.
There is still sufficient room for 2 adults in the tent but would be a squeeze with more than that.
One feature we really like about this tent is the headroom which allows adults to stand up inside.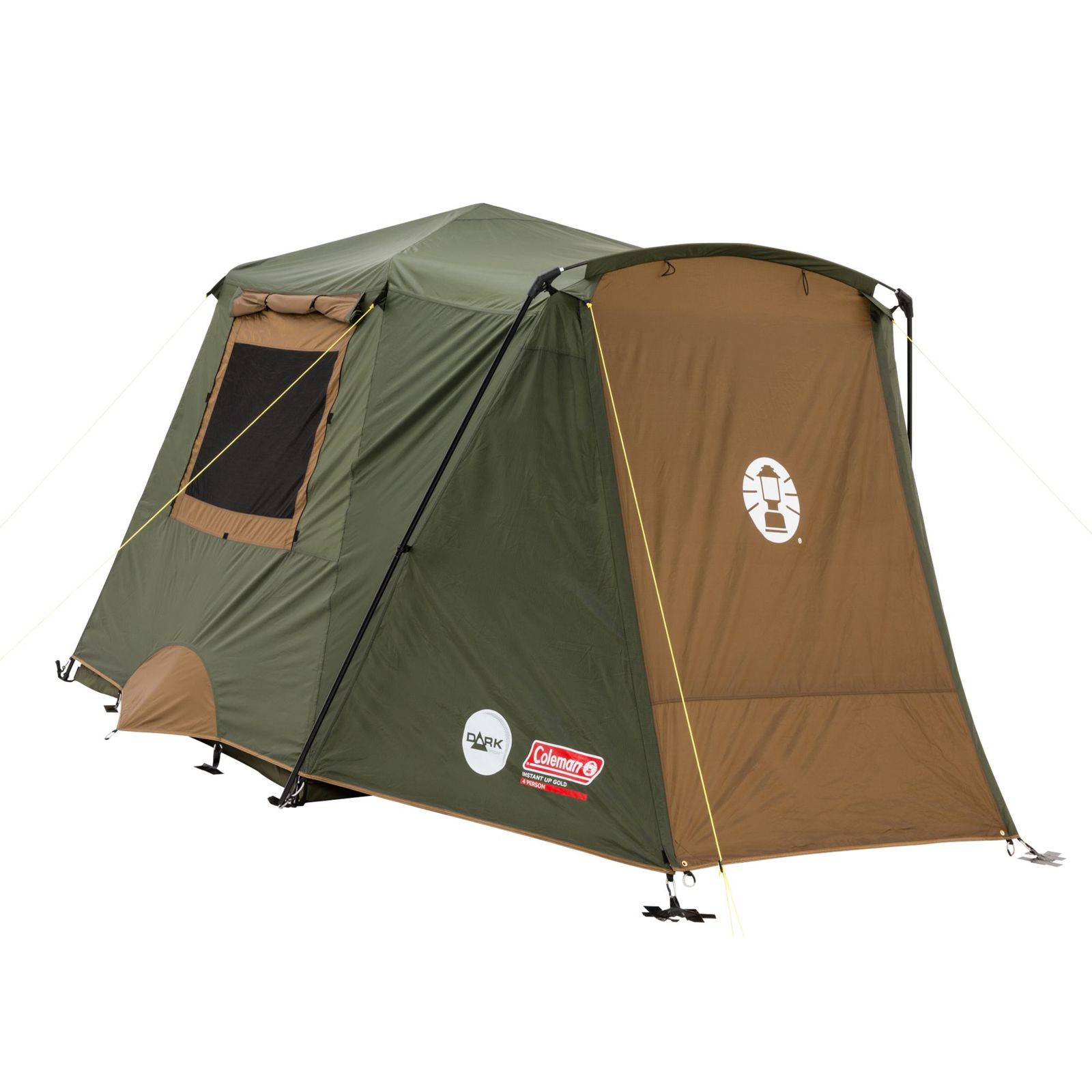 Features:
The unique feature of the Coleman Darkroom four-person tent is the blackout ripstop polyester that filters out 95% of the sunlight.
This unique feature means that you are not woken up at dawn by the light coming into the tent. This Dark Room Coating also does a great job of reflecting the sun to reduce the heat.
This tent also has a number of optional accessories to complete your camping set up including:
Side awnings that attach to the side of the tent
velcro to attach to the Coleman gazebo to the front of the tent.
The Coleman Darkroom 4 person instant up tent also has excellent ventilation from floor-level vents that allow air to easily move through the tent to avoid condensation.
---
Conclusion:
The unique darkroom technology of the Coleman Darkroom Instant up 4 person tent makes this on of our top picks a 4-person tent.
We like its easy and fast setup, high-quality materials, and great ventilation. 
Pros: Material blocks light and heat, good waterproofing, tall enough to stand up inside, durable materials, fast setup
Cons: Rain can pool on the awning, heavy, slightly smaller than other options