With so many tents on the market it is difficult to figure out which is best. Some tents leak when it rains, blow away in the wind and don't have anywhere for you to store your gear. The reality is a tent can make or break a camping trip.
In this Coleman WeatherMaster review, we take a closer look at key features such as the size, design, and weatherproofing, so you can decide if it's right for your family.
RELATED: Best Family Tent
Who is the Coleman WeatherMaster for?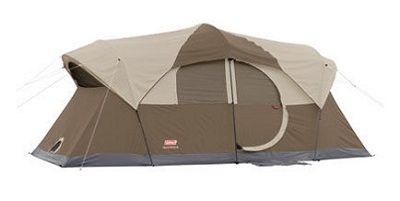 Full Capacity: 10 people
Recommended Capacity: 4-6 people
Weight: 14.06kg
Pros: Well-ventilated, roomy, great for up to 6 people, hinged door closes itself, mesh roof allows stargazing
Cons: Not good for wet weather/ storms, 2 person assembly recommended
The Coleman WeatherMaster 10 person tent is a fantastic choice for families and friend groups of 4-6 people enjoying longer camping trips in summer. The cabin-like design and large size makes this a fun and inexpensive tent that's great for groups. This tent is better suited to starry nights than stormy ones. 
Getting Started with the Coleman WeatherMaster Tent
The WeatherMaster is a large tent that is straightforward but time-consuming to pitch. It can be put up by one person but 2 people will be able to get the tent pitched in around 20 minutes.
The tent comes with everything you need including poles, stakes and a rainfly. The poles and sleeves use a colour code system to help you put the matching parts together. If you will be using the tent in light rain it is worth spraying it with waterproofing to help protect against leaks.
Features and Benefits
Size
This is a large tent that measures 518cm x 274cm with headroom of 203cm. There is lots of living space and adults will be able to stand up inside the tent without an issue. The size and layout of the tent makes it ideal for family groups of 4-6 people.
The WeatherMaster dome tent has enough space for 3 queen sized mattresses and this will leave a couple of feet of storage space. Although, 2 queen sized mattresses seems to be the sweet spot for a comfortable arrangement with plenty of space to move around and store kit.
Design
The WeatherMaster has a mesh roof so you can see the starry sky from the comfort of your tent. This is a great design if you want to enjoy the stars and sunrise as a family without needing to leave your sleeping bags. Don't worry, there is also a rainfly for covering the tent in light showers. 
Hinged Door
One of the great features of this tent is the design of the main door. The entrance door is hinged allowing for quick access. The hinged design is ideal for families with children as the door closes behind you on its own rather than needing to be closed and zipped each time. The other access door is zippered so don't expect them both to be hinged. 
Weatherproofing
This tent is designed to get the most out of summer nights. It is well ventilated to keep you cool and has a mesh roof for stargazing. Although the tent is called WeatherMaster, it's features means it is best for warm, dry nights.
It is designed for fair weather and cannot handle wind, rain or snow as well as other options. With that said, the tent does utilise the WeatherTec system with inverted seals and welded floors to help keep you dry. The frame has also been redesigned to help it withstand strong wind without being damaged.
Angled Windows 
This tent offers plenty of ventilation making it comfortable for summer nights. To help with air circulation, the windows are angled down so the windows can remain open during light rain. This allows extra circulation and ensures you can still let light into the tent when it's raining outside. 
What do users say about the Coleman WeatherMaster?
The WeatherMaster has received mostly positive reviews with many users commenting on how spacious and comfortable the tent is. Something quite a few people mentioned was that this tent isn't great in heavy rains but applying a layer of waterproofing can help with this. 
Positives 
User-friendly – the design of the tent makes it comfortable and easy to make the most of the space. 
Spacious – there is plenty of interior space and the tent roof is high so adults can stand up straight when inside.
Great door and windows – users appreciate the swinging door design and the ventilation offered by the windows. 
Negatives
Needs to be waterproofed – one of the downsides to this tent is that it doesn't handle heavy downpours well. Many users waterproofed the tent before use to help with this problem. 
Is the Coleman WeatherMaster Tent Right For You?
The WeatherMaster offers excellent value for money and is great for warm summer nights. It can easily fit 2 queen sized beds in with plenty of room to spare and there is enough ventilation to keep air circulating. This tent is best for summer camping as it's not designed for withstanding cold weather and won't help keep the heat in during chilly nights either.  
Pros: Well ventilated, roomy, great for up to 6 people, hinged door closes itself, mesh roof allows stargazing
Cons: Not good for wet weather or storms, 2 person assembly recommended
Conclusion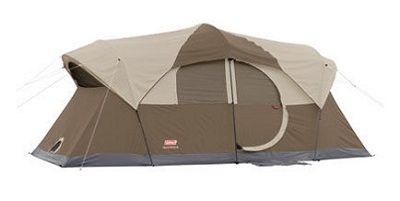 Full Capacity: 10 people
Recommended Capacity: 4-6 people
Weight: 14.06kg
The WeatherMaster Tent is one of the best choices for warm summer nights when you want to be closer to nature. It can fit a couple of queen size mattresses, you can stargaze from your sleeping bag and the hinged door lets your kids go in and out without the fuss of the zipper. But if you're expecting serious wind and rain, this may not be the best tent to choose.
FAQ
How big of a tent do I need for a family of 4?
8-10 person tents are great for families as they have room for beds and enough space to store your stuff without feeling cramped. 
What are the best tent brands in Australia?
Coleman, Oztrail, and Oztent are some of Australia's tried, tested and most reliable tent brands.