Finding a quality family tent can be a challenge. There are so many options on the market and a tent isn't the kind of thing you can buy based on trial and error. A poor quality tent can ruin a trip.
In this review, we take a look at the key features of the Wanderer Nightfall Dome Tent including the living space, tent material and pitch time. Use this review to help you determine if this is the best tent for your next family camping trip.
Who is the Wanderer Nightfall for?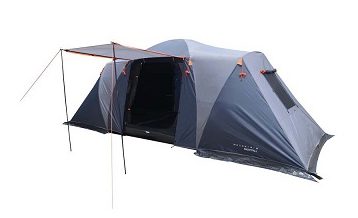 Full Capacity: 10 people
Recommended Capacity: 4 -5 people
Weight: 16.5kg
Waterproofing: 1000mm
Pros: Lightweight, black out rooms, zippered dividers, handles wind well
Cons: Not as much ventilation as other tents, tent pegs could be larger
The Wanderer Nightfall is an affordable dome tent that is great for occasional family camping trips. This tent offers enough room for a family of 4 and is almost half the weight of many of the 10 people tents we have reviewed including the Coleman Instant Up and the Oztrail Fast Frame.
This tent keeps its features simple but it does have a black out feature that can help make it easier to sleep.
Getting Started with the Wanderer Nightfall Dome Tent
This tent will take around 30 minutes to put up, it uses fibreglass poles and is straightforward to pitch. Depending on where you are going and the weather conditions, you may want to purchase heavy duty pegs as the pegs that come with the tent are quite small.
It's also worth noting that the middle room is better suited as a communal area rather than a place to sleep as it doesn't benefit from the black out coating the bedrooms have. 
Features and Benefits
Size 
This 10 person tent measures 610cm x 250cm so there is plenty of room but this space is split into 3 using zippered dividers. The two side rooms measure 180cm x 240cm and the centre room is 240cm x 240cm.
The highest point in the tent is 210cm but it is worth noting that this is in the centre space only and the two bedrooms have sloping walls so you won't be able to stand comfortably inside them. This is a contrast to the Oztrail Fast Frame tent where users can stand up in any room. 
Internal Dividers
As mentioned, the tent has 2 zippered dividers that separate the rooms and offer privacy. The 3 room design is helpful for keeping the tent organized and making sure everyone has their space. The bedrooms each have a mesh window to help with airflow but when the dividers are zipped up this window may not provide enough airflow on hot nights. 
Weatherproofing 
This tent has a 1000mm waterproof rating as well as a UPF50+ sun protection rating. Also, the shape of the tent ensures it can handle strong winds without a problem. In some ways this makes the Wanderer Nightfall a better choice against wind than the Coleman Instant Up or the Oztrail Fast Frame simply because their shape means they catch the wind easily. 
Black Out Coating 
One of the key features of this family tent is the black polyester used on the bedrooms to keep sunlight out.
This makes the bedrooms much easier to sleep in when it is still light outside and is fantastic for families with youngsters who may need to nap during the day or go to bed early.
Awning 
The kit comes with a front awning so you can increase your shade and entertaining area. 
What do users say about the Wanderer Nightfall tent?
Positives 
Good size for a family – many reviewers mentioned how well suited the tent was for families of 4.
Easy to assemble – the tent doesn't take long to set up or take down. Some users used the tent in multiple campsites across several days and didn't mind assembling and disassembling the tent for each site.
Handles wind and rain well – the shape and material of the tent mean it can handle wet and windy weather without allowing the elements to come inside. As long as the tent is pegged down well it shouldn't move much during stormy weather. 
Negatives
Can get hot – some users found that when the dividers are zipped up the bedrooms can get hot quickly due to limited ventilation. Leaving the dividers open helps increase airflow. 
Tent pegs are small – depending on where you are camping or the weather conditions, heavy duty tent pegs may be more suitable than the ones included in the bag.
Is the Wanderer Nightfall 10 Person Dome Tent Right For You?
The Wanderer Nightfall tent is a great choice for family camping trips. It is easy to carry, straightforward to put up and the zippered dividers offer privacy. This tent is spacious and is able to handle wind and rain well. The centre room offers lots of space and enough head height to stand up while the bedrooms are smaller and lower.
One of the key areas this tent could improve is the ventilation, when the zippers are closed it can get hot and stuffy quickly so users may decide to trade some privacy for overall comfort by leaving the room dividers open. 
Pros: Lightweight, black out rooms, zippered dividers, handles wind well
Cons: Not as much ventilation as other tents, tent pegs could be larger
Conclusion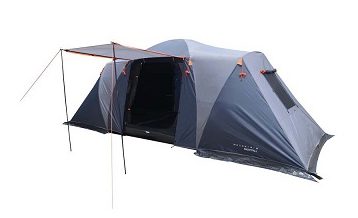 Full Capacity: 10 people
Recommended Capacity: 4 -5 people
Weight: 16.5kg
Waterproofing: 1000mm
The Wanderer Nightfall tent is well suited to a family of 4 that enjoy occasional camping trips throughout the year. The black out rooms make sleeping in summer easier and at 16.5kg the tent is easy to carry. This is not the most luxurious tent but it offers everything users need for a comfortable trip. 
FAQ
How big of a tent do I need for a family of 4?
An 8 – 10 person tent is recommended for a family of 4. These tents offer enough space for beds as well as gear and often have a couple of separate bedrooms too.