Touring tents are popular because of their quick set-up time and solid, durable construction. Oztent are the best known manufacturer of this type of tent in Australia and their award winning design can be seen in campsites across the country.
In this review, we take a closer look at the Oztent RV5 to help you decide if it's the best option for you. 
Who is the Oztent RV5 for?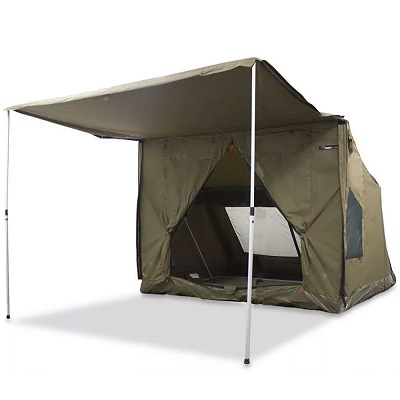 Full Capacity: 5 people
Recommended Capacity: 2–3 people
Weight: 24kg
Waterproofing: 100% waterproof canvas
Pros: Fast set up, high-quality canvas, 100% waterproof
Cons: Heavy, large when packed away
The size and design of the RV5 Canvas Touring Tent makes it best for a family of 3. It is particularly well suited to families who enjoy moving from place to place during their trip.
Oztent has a reputation for tents with fast set up times and the RV5 model doesn't disappoint. It can be put up in a few short minutes so you can get a comfortable night's sleep anywhere.  
Getting Started with the Oztent RV5 Canvas Touring Tent
This tent is quick to set up and can be pitched by just one person. The patented frame design allows for a fast setup and take-down.
The main thing to be aware of is the overall weight of this tent which is 24kg with packed dimensions of 200cm x 40cm so it is bulky and will likely need to be carried on a roof rack rather than inside the car.
Before you take the tent out on your first camping trip you will need to season the canvas, meaning you need to pitch the tent and wet it with a garden hose. Let the canvas dry completely and repeat the process twice before packing the tent away. 
The RV5 is the largest in the RV range and there are a number of additional accessories that you can buy separately such as a fly for extra weather protection or a side awning or caravan connector. The basic kit comes with the tent, frame and front awning. 
Features and Benefits
Size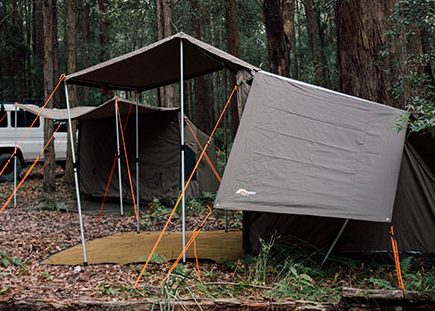 The RV5 is a comfortable size for up to 3 people. The 260cm x 260cm dimensions would be cozy for 3 people and gear so the 5 people maximum capacity would definitely be too many people to fit comfortably. The unique slanted design provides ample headroom with the highest section being 190cm. 
There is also a large awning that comes with the tent and if you wanted to make it into additional living space there are awning accessories and panels available to buy separately to do this. The included awning provides a good sheltered area.
Setup
Marketed as a 30 second tent, this tent uses an internal aluminium frame that makes it quick and easy to set up.
You simply lay the tent out, pull the two legs out and lift the internal frame up. Once the braces are clicked into place and the pegs are in position the tent is ready for use.This process will probably take a couple of minutes unless you're really familiar with the tent.
The RV5 can be set up by 1 person, although you may need 2 people to carry the storage bag into position. 
Ventilation
The tent has a large rear window, openings on both sides as well as a fine mesh front door so there is plenty of air circulation. 
Materials
The RV5 stands out thanks to its high quality construction and materials. It uses 100% waterproof 190G ripstop poly-cotton canvas, No-See-Um mesh and the flooring is made of heavy duty PVC. The frame is a patented design made from solid aluminium.
The tent also looks high quality, it uses army green canvas and just looks like it belongs in the Australian bush or outback. 
What do users say about the Oztent RV5?
The RV5 is a high-quality tent that users love. Although this tent has a higher price tag than many, its features and durability leave campers satisfied.
The biggest downside to this tent is how large it is when it is packed away. The 200cm storage bag often needs to be tied onto a roof rack rather than fitting into the boot or cab like most tents. 
Positives
Quick set up – the RV5 can be completely set up in just a few minutes. It can be set up by one person, unlike many larger tents. 
High-quality materials – this is a tent that is built to withstand the tough Australian conditions and it lives up to this with many users commenting on the excellent quality and durability of the materials. 
Great in all weather – users have found this tent to be hardy and reliable. Keeping dry on the inside in wet weather and standing firm in wind and stormy conditions. 
Negatives
Large when packed away – the RV5 is large, even when it is packed away, This means it will need to go onto a roof rack. Some users were concerned about the tent hitting tree branches or being stolen and would've preferred to have it inside the car but it's size simply doesn't make this an easy option. 
Heavy – the tent is heavy so moving it on and off a roof rack can be a challenge. It also needs 2 people to carry it to the camping spot.
Is the Oztent RV5 Right For You?
The Oztent RV5 is best suited to a family of 3 that loves to camp and tends to enjoy moving around.
The fast set up and take down times means it is no fuss to move between campsites although you'll probably need a roof rack to secure the stored tent as you travel.
This is an excellent quality option that is fully waterproof and has been made to withstand challenging conditions. Just don't forget to season the canvas when you first get it. 
Pros: Fast set up, high-quality canvas, 100% waterproof
Cons: Heavy, large when packed away
Conclusion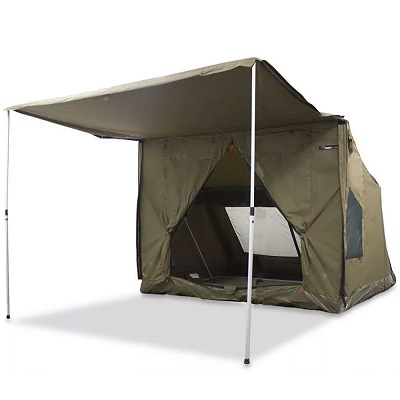 Full Capacity: 5 people
Recommended Capacity: 2–3 people
Weight: 24kg
Waterproofing: 100% waterproof canvas
The Oztent RV5 is a high-quality family tent that is best for up to 3 people. It has been designed in Australia for Australian conditions and is one of the most hardy and reliable tents available. Not only that, it is impressively fast to put up without sacrificing the quality. The tent is large and heavy so be prepared to attach the tent bag to your roof rack when travelling.