With a wide selection of swags on the market, it can be hard to figure out which is best. A good swag is easy to set up and provides a warm, dry, and comfortable place to sleep.
In this review, we take an in-depth look at the Darche Dusk To Dawn Dome Swag, to help you decide if it's the right one for you. 
Who is the Darche Dusk To Dawn Swag for?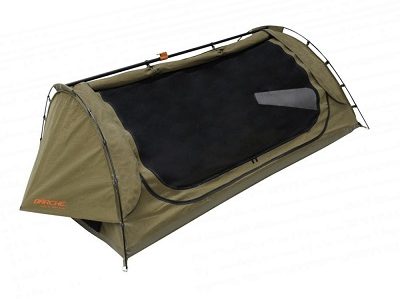 Material: 420gsm ripstop canvas
Size: 215cm x 140cm x 80cm
Weight: 15kg
Pros: High-quality, great for stargazing, spacious, cross ventilation, metal D-rings
Cons: Can be difficult to roll up alone, no boot bag
The Dusk To Dawn Swag is ideal for campers wanting uninterrupted views of the stars and a comfortable night at any time of year. The well-thought design of this swag makes it great for travelling fast and light, perfect for 4×4 touring. 
The Dusk To Dawn frequently ranks as one of Australia's favourite swags and the latest version has a few key improvements including a thicker 70mm mattress. 
Getting Started with Dusk To Dawn Dome Swag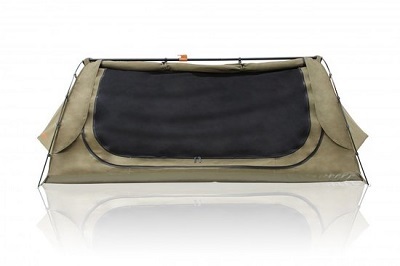 As expected, the Dusk To Dawn is quick and easy to set up. Its structure is fairly traditional with one extendable ridge pole and two end hooped poles. The swag comes with a high quality canvas carry bag that is spacious and is able to fit the swag when it is rolled up with bedding still inside. 
The thicker mattress does mean the Dusk To Dawn can be more difficult to roll up and it is most likely going to be easier with two people, at least the first few times you pack it away. 
Features and Benefits
Size
This swag comes in 3 size options, the 1400 model measures 215cm x 140cm with a height of 80cm. This can comfortably fit 2 people in but can also be used for a single person without feeling excessive. 
At 140cm wide, this swag is roomy and it weighs a total of 15kg so isn't too heavy. When packed away, the Dusk To Dawn will easily fit in a car. 
Tapered Dome
The Dusk to Dawn has a new tapered dome design that gives it more stability in the wind and makes the inside more comfortable and spacious. The tapered dome is freestanding so it can be positioned onto a stretcher if you prefer to sleep off the ground.  
Large mesh sides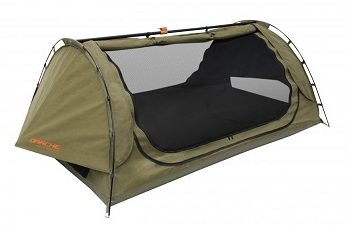 One of the great features of the Dusk to Dawn is the superfine insect mesh panels. These are full length and stop insects from coming in while offering excellent ventilation and views.
The mesh and solid canvas panels can be rolled up and toggled out of the way or can be kept closed during colder nights. When the panels are closed it not only offers protection from the weather but also keeps the swag dark in the morning so you can sleep in. 
Easy Access
The large mesh sides double as the entrance doors, both sides can be opened and it makes it easy to get in and out of the swag. The end fly screen can also be zipped open if needed (this is great for passing items out without needing to get up). There is also the option to set up the door panels as an awning if you purchase the additional awning set. 
High Quality Materials 
Darche has a reputation for producing innovative, high-quality products and the Dusk To Dawn model ticks all the boxes. This is one of the more weatherproof swags in Australia and features durable 420gsm ripstop canvas and a PVC bucket floor. 
One of the improvements seen on this swag compared to previous models is the thicker mattress. The high density 70mm mattress has a removable, washable cover and the thicker size offers a more comfortable bed so you won't feel every little bump on the ground. 
Easy to set up and pack down 
This swag has a standard 3 pole design; a main ridge pole to give tension and two end poles. The poles are easy to attach and lock into place. When the swag is set up, there can be a slight sag on the sides but this is something frequently seen when using only 3 poles.
Storage
The spacious storage bag is high-quality and made of the same canvas as the swag itself. One of the noticeable differences between this bag and competitors is the metal D-rings. Plastic clips are often used on swags but these are prone to breaking, so metal D-rings offer a strong and reliable alternative. 
While on the subject of storage, there are a couple of internal storage pockets in the swag too. These are great for keeping your valuables safe. 
What do users say about the Darche Dusk To Dawn Dome Swag?
The Dusk To Dawn swag is a firm favourite in Australia and this is reflected in user reviews. 
There are lots of positive comments, particularly in regard to the quality, ease of use and durability. This swag offers lots of space to move around and great ventilation for warmer weather. There were a couple of things some users disliked about this swag, namely the lack of a boot bag to store boots. 
Positives 
Comfortable – the thicker mattress, cross ventilation and spacious interior make this swag comfortable in any weather. 
Easy to set up – a swag needs to offer easy assembly and many users commented on how quick and simple the Dusk To Dawn is to set up. 
Negatives
No dedicated place for your boots – some swags have a waterproof boot bag to put your boots in but this model does not offer that. The latest model does offer a boot mat to help counter this issue. 
Can be difficult to roll up – another comment made by some users was that rolling the mattress up is challenging alone so two people were needed to put the swag away. 
Is the Dusk To Dawn Dome Swag Right For You?
The Dusk To Dawn is a high-quality swag that is weatherproof, spacious and well thought-out. It is a great all-around swag designed for Australian conditions, and the stargazing option of rolling up both sides of the swag is a definite bonus. The 70mm mattress is comfortable but as it is removable you can easily upgrade this if you wanted to use a self inflating mattress or add another foam layer. The boot mat is good but a boot bag would've made sure you have somewhere dry and protected for your boots. 
Pros: High-quality, great for stargazing, spacious, cross ventilation, metal D-rings
Cons: Can be difficult to roll up alone, no boot bag
Conclusion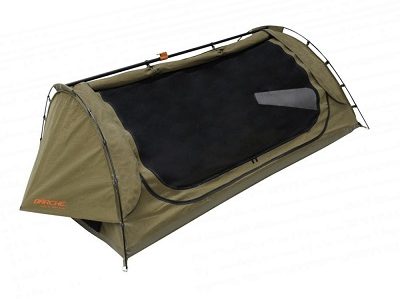 Material: 420gsm ripstop canvas
Size: 215cm x 140cm x 80cm
Weight: 15kg
The Dusk To Dawn swag is an Australian favourite and is a great choice for general camping and 4×4 touring. It can handle all weather conditions and is spacious, comfortable and well ventilated.