A good swag is the key to an enjoyable night in the wilderness. If your swag leaks or breaks then it can put a dampener on the entire experience, that's why it is so important to choose a tried and tested option that you know you can rely on. 
Swags can be costly but a good one doesn't need to break the bank. In this review we take a look at the affordable Weisshorn Double Camping Swag. Use this review to help you figure out if this is the right swag for you.
RELATED: The Best Swags
Who is the Weisshorn Swag for?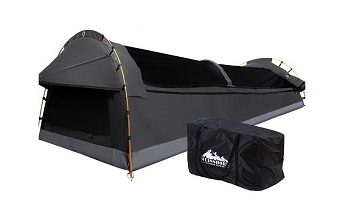 Material: 400gsm ripstop canvas
Size: 215cm x 150cm x 60-90cm
Weight: 15.5kg
Pros: Easy to set up, good quality compact carry bag, durable, well ventilated
Cons: Better suited to dry weather/light rain than harsh conditions
The Weisshorn Double Swag is best suited for those looking for an affordable, compact swag that comes with a carry bag. It is a value for money option ideal for weekend off road trips.
Getting Started with the Weisshorn Double Swag
Instead of the standard 3 pole set up, the Weisshorn swag uses just 2 pre-curved end poles and supporting guy ropes. This means it can be set up and ready to use in just a few simple steps. The swag comes with a mattress, a carry bag and an assembly kit containing poles and ropes. 
As the 7001-6T aluminium poles are pre-curved, they are strong, sturdy and easy to position. The curve helps to ensure the poles are snap resistant – a common issue with swags. The assembly of this swag is straightforward, even for first-time swag users. Once the Weisshorn Double is up, the canvas needs to be seasoned so it is ready for use.
Features and Benefits
Size
The Weisshorn Double Swag is one of the larger swags on the market. It's not quite as big as the King's Big Daddy Deluxe but it's close. This double swag measures 215cm x 150cm giving plenty of room for 2 adults. 
At the tallest point, this swag offers 90cm of head height but at the other end it is 60cm high. This isn't too bad and the decline is gradual so it shouldn't make too much difference to a users comfort level.   
Weatherproofing 
This swag uses 400gsm water-repellent canvas cover, this provides good UV protection and offers a good balance between weight and durability. 
The pre-curved poles also help with weatherproofing as they make the swag more wind-resistant and provide extra strength in stormy weather. 
Durability 
In addition to the high-quality canvas and poles, the zips are also heavy duty. The zippers can be fully closed for privacy and warmth or opened out to enjoy the evening air. As the zips are an integral part of the swag it is good to see they are good quality and built to last. 
The pegs are also robust and heavy duty so will keep the swag in position without a problem. 
Mesh
One of the great things about this swag is the sky demo mesh. This allows you to look out and enjoy the sky without any poles blocking the view. 
The specially designed mesh is great for keeping insects out while letting fresh air flow in. This helps to keep the swag comfortable without condensation or creepy crawlies. 
Thick Flooring
Another key feature that will help keep users dry and comfortable is the PVC waterproof floor with a 10cm edge. This extra high PVC edging helps to stop water or dew from getting inside.
Mattress
The high density foam mattress that comes with this swag is 40mm thick. This is one of the thinner mattresses but has the benefit of being easy to pack away. 40mm does provide some protection from the hard ground and can be made more comfortable with an extra blanket on top. 
Carry Bag
Something that will help to keep this swag in good condition in between uses is the carry bag. The Weisshorn Double Swag comes with a high quality bag made with an oxford PVC coating. 
This bag measures just 85cm x 55cm x 55cm. This is compact so it is easy to throw in the back of the car and take on adventures. 
Is the Weisshorn Double Swag Right For You?
The Weisshorn Swag is a reliable swag that is particularly well suited to weekend adventures. The carry bag is compact enough for the car and the swag can be up in no time. 
Although the swag is durable, it isn't the best choice for harsh, stormy conditions. The mesh panels are great for warm, clear nights where users can lay back and enjoy the stars. 
Pros: Easy to set up, good quality carry bag, durable, well ventilated
Cons: Better suited to dry weather or light rain
Conclusion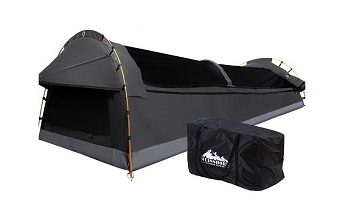 Material: 400gsm ripstop canvas
Size: 215cm x 150cm x 60-90cm
Weight: 15.5kg
The Weisshorn Double Swag is a durable, reliable and low-cost swag that is ideal for the occasional recreational trip or weekend adventure. It is not luxurious but offers everything you need in a swag and can give you an incredible view of the starry sky. 
FAQ
Are Weisshorn Swags any good? 
Yes, Weisshorn swags are good quality, well-made and offer excellent value for money. Weisshorn makes a few different swags to suit a range of situations, these are each portable, waterproof and made using good-quality canvas. 
Are Weisshorn Swags waterproof? 
Yes, but they tend to be most comfortable in dry weather or light rain. The Weisshorn Swags use a water-repellent canvas that needs to be seasoned before use and have a waterproof PVC flooring to stop moisture from getting in through the bottom of the swag. 
How do you roll a Weisshorn Double Swag? 
The swag can be folded in half lengthways and then rolled tightly. Once rolled up, use the wrap straps to secure the swag and place it into the carry bag.