Southern Cross is well known for its high-quality canvas products built specifically for Australia's weather conditions.
These premium swags are Australian-made and priced at the higher end of the market, with the larger models costing almost $1000 AUD.
They are therefore targeted more at seasoned campers or those with deeper pockets, however, take comfort in knowing that this is one of the best swags on the market and an icon of Australian camping.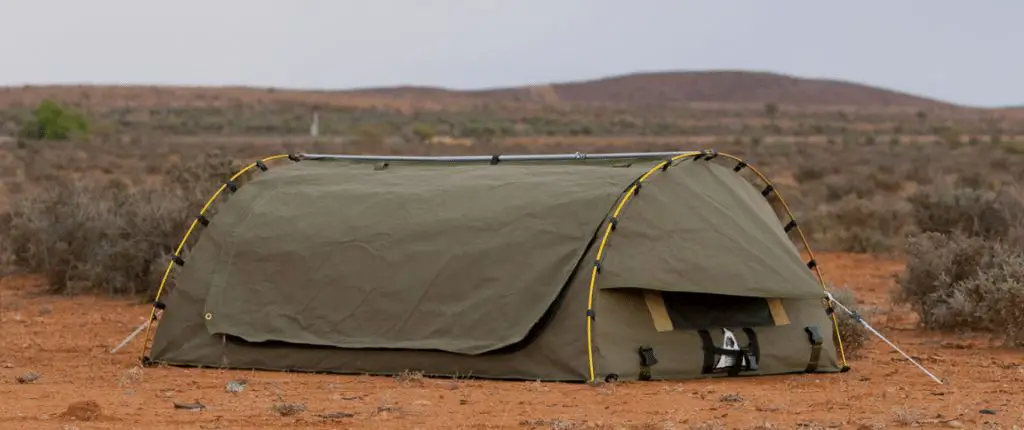 Capacity: 1-2 person
Weight: 7kg (Single) / 15kg (double)
Pros: High quality, durable
Cons: Expensive, only has 50mm mattress
See how this swag ranks against other swags in our swag reviews.
Setup
The Southern Cross Swag is easy to unpack and can be set up within a minute.
It has a good-looking structure, similar to that found on Adventure Kings swags, using two identical poles at either end of the swag as well as one long adjustable centre spreader bar to hold it up.
This swag comes with 50mm roll-up straps and quick-release buckles to ensure it can be rolled up and unpacked quickly.
Once rolled up, the carry handles make it easy to move and get onto the roof of any 4wd.
Weatherproofing
This high-quality swag has Wax Converters Dynaproofed Billabong 370g/sq.m canvas making it fully waterproof and rot and mildew resistant.
In addition, it has a weather flap running across the top of the swag to ensure rainwater rolls off easily, and an impressive 50+ UV rating.
Size
Southern cross swags come in a variety of sizes. Both the single and double have the same length (2130mm) and height (700mm), with the double having a width of 1280mm versus the single's 900mm.
This is one of the longest swags on the market is and perfect for people who are above 6 foot / 180cm (its mattress is almost as big as a queen-size bed).
Due to its extra length, the swag is large when rolled up and this is a consideration for those travelling with space restrictions.
Construction
The canvas on the Southern Cross swag is rot & mildew resistant, and also has a UV rating of 50+ protection.
The super fine UV Stabilised fly screens, which are sand-fly/midge, proof.
This swag has floors made from heavy-duty vinyl with welded seams that keep you protected in wet conditions.
The end bows are high-quality and American-made from high-strength, aerospace alloy.
The adjustable spreader bar with c-clips helps with ease of set-up, meaning you can set up your swag quickly and easily by yourself.
Features
The Southern Cross swag has all the features you would expect from a top-of-the-line swag.
It has plenty of ventilation due to the opening at both ends as well as a UV fly screen down both sides that are sand-fly/midge proof that allows you to roll the wides up during hot weather.
A number of people on various forums have complained about the comfort of the 50mm mattress that comes with the swag.
Some people have put additional padding (egg shell foam) under the mattress to provide extra comfort.
Another great feature of the South Cross swags is that they are freestanding meaning they can be set up without guide ropes, making them perfect for those who set up in the dark.
About Southern Cross
Southern Cross is a family-owned and operated business that has been making high-quality canvas products for over 35 years.
They produce a range of goods to complement Australia's outdoor, 4WD, and camping lifestyles.
Their products are made to withstand the harsh Australian environment and stand the test of time.
Their product range includes Touring Tents, Swags, Roof Rack Bags and Camper Trailers.
Conclusion
An awesome premium swag perfect for those looking to make an investment in their camping experience. We highly recommend the Southern Cross swag.
Images: Southern Cross