The Black Wolf Bushranger Swag is an awesome mid-priced option perfect for those planning on taking camping trips mostly in summer.
With a 300 GSM canvas, it is suitable for most Australian weather conditions, offering great weatherproofing and breathability.
Black Wolf manufactures a large range of quality camping products and stands by them all with a lifetime warranty.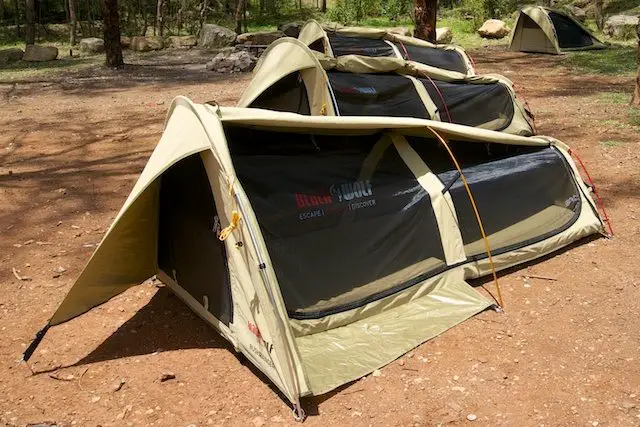 Capacity: 1–2 person
Weight: 10kg (Single) / 13kg (double)
Pros: Long length, light weight
Cons:  Canvas GSM is lower than competitors
Setup
Like most swags, the Black Wolf Bushranger is straightforward to set up and pack down.
It does take longer to set up than more traditional swags dues to its 3-pole system and front door flap. It is however completely free-standing and does not require it to be tied down and importantly allowing it to be easily moved around once set up.
Weatherproofing
With a 350 GSM ripstop canvas and a 300D oxford polyester base, the Black Wolf Bushranger is waterproof and suitable for most of Australia's weather conditions.
350 GSM canvas does put this swag at the lower end of canvas thickness compared to other swags we review, however this is still perfectly adequate and you are unlikely to face any issues resulting from the lower rating.
Size
The Black Wolf Bushranger is one of the larger swags on market with a length of 2800mm and height of 950mm.
The swag is wider at the top end (1850mm) than the bottom (1400mm) due to its unique shape.
The double swag will comfortably sleep 2 people and like the Southern Cross, it is perfect for those who are above 6 feet.
When rolled up, this swag weighs 13kg, making it one of the lighter double swags on the market.
What we really like about the Bushranger is the height at the top end of the swag. This allows you to sit up to get changed or read with ease – something that is difficult in most other swags on the market.
Another great feature of this swag is that it has 3 entrances including one at the front that provides shelter when getting out during wet weather.
Due to its extra length, this swag is large when rolled up and this is a consideration for those travelling with space restrictions.
Features
The Bushranger swag is packed with all the features expected from a quality swag. One thing that really stands out is its 11mm tick alloy poles which are very durable and less prone to snapping than in most other swags on the market.
The Bushranger also comes with an Australian lifetime warranty if anything does go wrong.
With 3 entrances, this swag has plenty of ventilation as well as fine no-see-um mesh panels to keep bugs and sand out.
There is a foot mat under the side vestibule that is an excellent addition and will keep your shoes and gear dry without needing to store them inside the swag, preventing dragging unwanted dirt inside.
Lastly, the Black Wolf Bushranger swag comes with a 70mm mattress which is in line with other top-of-the-range swags.
This mattress has been reported to be quite firm and easily marked due to its tan colouring. Some people have replaced the mattress with a more comfortable one for longer trips.
Conclusion
The Black Wolf Bushranger swag is perfect for summer trips where you don't expect extended periods of rain.
Its long length means it is also great for taller people, however, this can add difficulties if you want to pack this inside your vehicle.
Overall an awesome swag and one of the best available in Australia.