Setup:
The CrashPad swag uses a traditional swag set up. Two poles are placed at either end of the swag and one larger support pole holds the swag up. Unlike the Adventure Kings Swag, the larger support pole is not adjustable and therefore can be challenging to clip on. 
Weatherproofing:
The base of the crashed swag is 600gsm PVC, and the canvas is 410gsm. This is in line with other high-quality swags and is suitable for all weather conditions. I have personally used this swag on a stretcher under an awning that keeps it out of the rain and dew. 
Features:
The CrashPad swags come with a comfortable 70mm foam mattress with a protective water-resistant cover. One of the great features of this swag is the oversized large canvas bag. This makes putting the swag away easy compared to most other brands and even allows you to roll up the swag with a sleeping bag and pillow inside. 
Also, you can purchase the optional swag stretcher that keeps you off the ground and makes it easier to get into.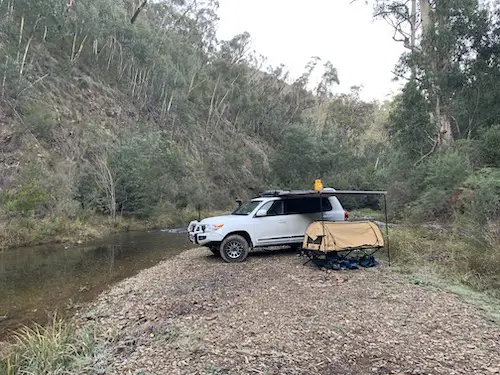 Conclusion:
The CrashPad swag is priced similar to other high-quality swags available in the Australian market. I would recommend purchasing this swag for the following reasons:
High-quality material and constructions
Optional swag stretcher keeps you off the ground and out of the elements 
Oversized storage bags make it easy to pack and even allows you to roll it up with a sleeping bag inside
They come in a variety of colours and styles