With such a wide selection of family tent types on the market choosing one can be confusing. The number of people going camping, the age range of campers, the weather conditions, and the type of trip are all going to impact which tent is best.
With a 3000mm waterproof rating and a sturdy and spacious design, it's clear why the Bedarra is one of the most popular options on the market. In this review, we take a closer look at this family tent from Outdoor Connection to help you decide if it's right for your family. 
Who is the Outdoor Connection Bedarra for?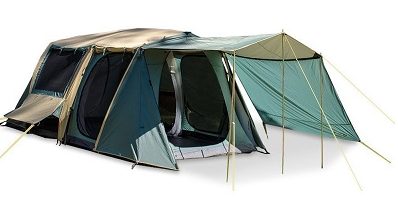 Full Capacity: 8 people
Recommended Capacity: 2-4 people
Weight: 24.8kg
Waterproofing: 3000mm
Pros: Spacious, lots of headroom, well ventilated, excellent in all weather
Cons: One room has mesh walls so may be colder if used as a bedroom, no separate awning panel (doors double up as awning)
This 2 room family dome tent is great for couples that want plenty of space as well as families of up to 4 people (providing you're happy to use the second mesh-walled room as a bedroom). 
This tent is well suited to weekend and week-long trips and has been designed to give plenty of airflow to keep cool in summer and hold warmth in winter.
Getting Started with the Bedarra 2R Dome Tent
The Bedarra is a premium tent that comes with the inner, fly, pegs, poles, ridge pole and awning poles. It also comes with a combination lock so you can lock the tent when you head out for the day. When you open the kit, it may feel like there are lots of parts but the set up is actually relatively straight forward. It's definitely worth practicing in the yard before the trip. 
This tent uses a strong centre ridge pole that has 6 side poles attached which makes the structure rigid. The side poles are grey and the ridge poles are black to help avoid confusion. Pitching this tent will take some time and it is better to have two people to do this.
After it's pitched, the front and rear fly doors can be pegged out as awnings. After use, careful folding and rolling will help to get the tent into the tent bag at the end of the trip.
Features and Benefits
Weatherproofing 
The outer fly of the Bedarra is high-quality and durable, it has been treated with UV-PROTEK (Outdoor Connection's own treatment) so it is protected against UV damage and degradation. The tent has a 3000mm waterproof rating so users don't need to worry about rain. 
Headroom 
This tent is 210cm high so is one of the best options when it comes to headroom and being able to stand up comfortably. This is thanks to the "Hornet Pole System" which is basically using a strong ridge pole in the centre and having other poles attached to it in a rib-like way. This system not only makes the tent strong and secure but also makes it spacious with high ceilings throughout the tent. 
Windows
The Bedarra has plenty of windows to let natural light in and keep the tent well ventilated. The bedroom has 2 floor to ceiling windows as well as Ventraflow panels and a door while the front room has mesh walls and 3 doors.
All of this mesh helps to keep this tent cool during summer and you can close off the windows and doors to help protect you from the cold in winter. This ability to keep the tent temperature comfortable regardless of the season is a definite advantage of the Bedarra tent.
Access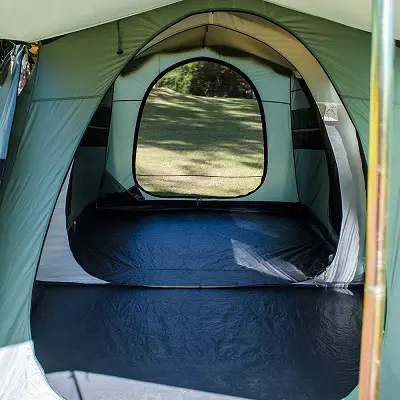 One thing this tent isn't short of is doors. In total the tent has 4 doors, 3 leading from the front room outside and 1 leading out from the bedroom.
This is great as if you're using this as a family tent and there are people sleeping in the front room the people in the bedroom can leave the tent without disturbing them.
You can also open out the doors and put them up as awnings to provide additional shade and space. 
Storage Pockets
The rooms have handy corner storage pockets and the divider door has its own pocket for when you want to leave it open. Each room also has 2 light hooks as well as 1 power cord inlet. 
Upgraded Walls
The Bedarra Dome Tent has been upgraded so it now features solid walls and privacy screens in the bedroom instead of mesh walls.
This is a big improvement that helps make it warmer in winter and improve the tents overall weatherability. The back room has also been squared off rather than tapered off from the ground as it was with the previous version. 
What do users say about the Bedarra 2R?
The Outdoor Connection Bedarra 2R Family Tent has received lots of positive feedback from campers. The tent has proven to be spacious and sturdy but the awning design could be improved, although this would be more for convenience than anything else. 
Positives
Stable in winds – Some users commented on how stable the tent felt in all conditions including strong winds.
Plenty of ventilation – With lots of windows and doors users appreciated the ability to keep cool and feel the breeze when inside the tent. 
Spacious – The design of this tent gives it good height and space so it doesn't feel cramped and there is no need to crouch no matter which room you are in.
Negatives
Door as awning panel – the tent is designed so you use the door panel as the awning. This means you need to take the awning down to close the solid part of the door. 
Set up time – this tent will take around 30 minutes to pitch so it is not as quick as pop up or instant pitch options. This makes the tent better suited to staying at one site for a few days rather than touring. 
Is the Bedarra 2R Dome Tent Right For You?
The Bedarra Dome Tent is a fantastic tent for couples that want a quality tent that can handle all seasons. It's a great tent for new campers that would like plenty of storage space and a large bedroom that will easily fit a double or queen sized mattress.
This tent can also be used for small families but we'd recommend this for summer camping as the second room has mesh walls so it may get a bit cold during winter nights.  
Pros: Spacious, lots of headroom, well ventilated, excellent in all weather
Cons: One room has mesh walls so may be colder if used as a bedroom, no separate awning panel (doors double up as awning)
Conclusion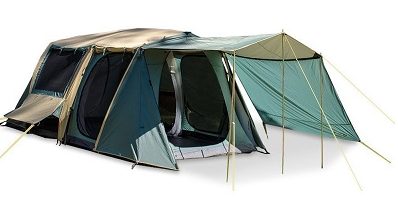 Full Capacity: 8 people
Recommended Capacity: 2-4 people
Weight: 24.8kg
Waterproofing: 3000mm
The Outdoor Connection Bedarra Dome Tent is a large two room tent that's best suited to couples wanting a spacious living space while camping. The tent offers plenty of headroom, excellent ventilation and lots of room for mattresses and kit. The Bedarra tent is great in all weather and remains sturdy in windy conditions.
FAQ
How big of a tent do I need for a family of 4?
It depends on the design of the tent but an 8-10 person tent will be best for space and comfort. 
What are the best tent brands in Australia?
There are many high-quality, trusted tent brands in Australia including Oztent, Coleman, Oztrail and Zempire.