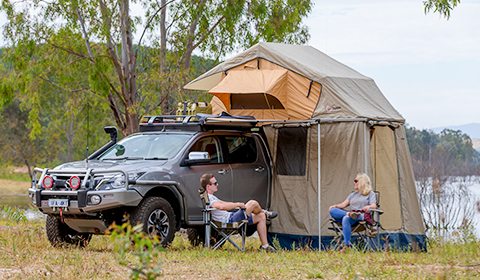 Verdict:
ARB is known for their high-quality products, great customer service and premium pricing – and the ARB Simpson III and Kakadu rooftop tents are no different.
These rooftop tents are perfect for those heading off on extended trips across Australia and are looking for a superior level of quality and comfort and a tent that is sure to stand up against the elements.
Capacity: 2 Person
---
Weight: 63 kg
---
Pros: High-quality build and great customer services
---
Cons: Price
Setup:
Both the Simpson III and Kakadu ARB rooftop tents can be set up in a matter of minutes by using the ladder a lever to pull it down.
The ARB series of rooftop tents are easy to set up with one person due to a number of great features such as easy access straps and zips attached to a rope to assist with opening.
Like all rooftop tents, it requires two people to lift and fit the tent onto an existing roof rack. 
---
Weatherproofing:
A heavier, 300gsm poly/cotton Rip Stop canvas is now used on this range, with polyurethane coating and welded seam tape for improved waterproofing.
There is plenty of ventilation in the ARB rooftop tents making them perfect for warmer climates such as Northern Australia. In addition, the tent cover has Velcro tabs to ensure dust and water are kept out of the zip lining meaning the tent is protected from the elements while driving.
---
Size:
The ARB Simpson and Kakadu rooftop tents have dimensions of 2400mm long, 1400mm wide and 1300mm high when set up.
The Tourer version also has an additional Annex with dimensions of 2500mm long and 2000mm wide that gives great additional space for sleeping and storage.
This rooftop tent can comfortably sleep two people.
When folded down, the tent has a height of 280mm when encased in the durable 600 GSM PVC cover.
Features:
Unlike many other rooftop tents on the market, bedding including pillows can be stored inside the ARB rooftop tent while it is folded up. This is great for when you need to set up the tent late at night in the dark and also frees up space inside your vehicle.
The adjustable ladder is sturdy and there are straps inside the tent to support you as you climb down to the ground. Inside there a total of four pockets that offer great storage for keys, phones and other small items.
---
Conclusion:
The ARB rooftop tent series is perfect for more seasoned travellers who require a very high quality, well thought out and spacious rooftop tent.
These rooftop tents are designed in Australia and built for Australia conditions. Like all ARB products, you can have peace of mind when purchasing with their robust warranty and great after-sales customer service.
Darche Panorama 2 with Annex
Adventure Kings Tourer/Weekender