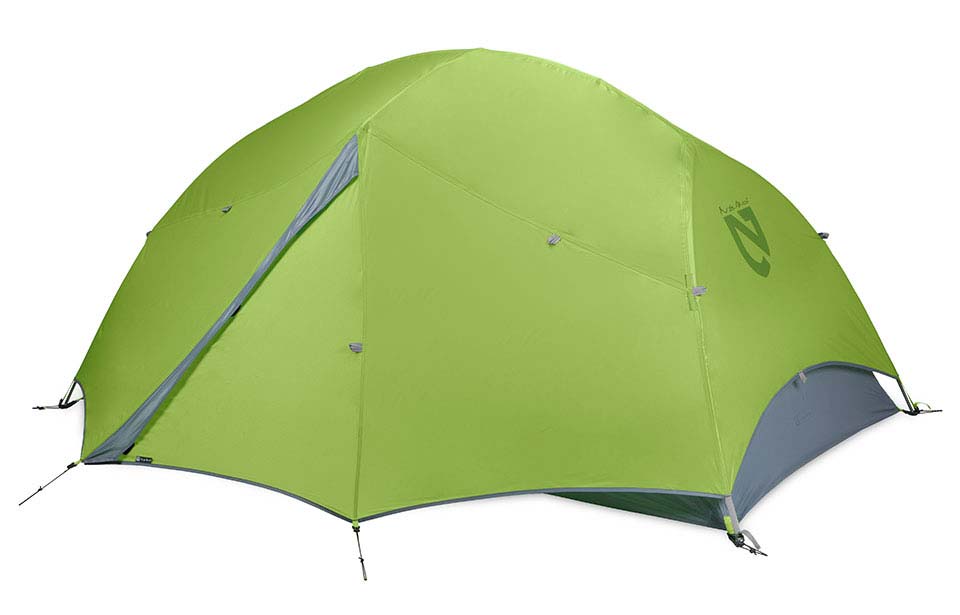 Verdict:
The Dagger fairly comfortably trumps its close competitor, the MSR Hubba Hubba NX in the competition of providing a high quality adventure tent that is both super-lightweight and roomy.
But are there any trade-offs?
Not that we can find. Set-up is very easy, weather proofing is impressive, and the Dagger is packed with clever and functional features, as you would expect from an innovative company like Nemo.
We are comfortable that this tent represents the best lightweight hiking tent currently on the market.
It is however at at the pricier end of the scale so if this is a concern we recommend looking into the Zempire Atmos or Companion Pro Hiker.
Capacity: 2 person
---
Weight: 1.7 kg
---
Pros: Lightweight, Spacious
---
Cons: Expensive
Setup:
The Nemo Dagger 2P Ultralight Tent offers a very easy set-up, assisted by the single hubbed pole design. After a couple of practice rounds, you should be able to get it fully set up in around 5min.
---
Weatherproofing:
Nemo is constantly pushing the boundaries in terms of innovation and in this case, their Pole Supported Technology means that for its weight, the Dagger offers superior strength and wind resistance.
Same goes with their materials, with 20D Nylon (1200mm) fly fabric, 30D PU Nylon Ripstop (3000mm) floor, and a 20D Nylon Ripstop canopy providing more than ample waterproofing and breathability at minimal weight.
---
Size:
At 2.3m (L) x 1.3m (W) x 1.1 (H), the Nemo Dagger 2P Ultralight Tent is one of the more generous options in terms of internal space.
Also worth noting here is that the headroom is at its maximum at both ends of the tent, proving symmetry when companions are in a top-and-tail formation. It weighs in at an impressive 1.7kg.
Features:
The Nemo Dagger 2P Ultralight Tent is packed with all the features you'd expect on a high end hiking tent, but with the attention to detail Nemo has become famous for. One of the most celebrated features of this tent is that both doors stake out to two points rather than the usual one, increasing storage space and assisting with entry and exit.
However, the thing that comes up again and again when people report back on this tent is how impressed they are with the spaciousness provided by the unique cross-bar design of the roof poles, which means the side walls are almost vertical. It really provides an experience offered by no other tent on the market.
Other features include a light pocket made from light diffusing material to evenly distribute torch light within the tent, and a dual pack option meaning you can easily split the load between hiking companions.
---
Conclusion:
There are so many amazing tents in this category it can be fairly overwhelming trying to weigh up the alternatives.
Rest assured that the Nemo Dagger 2P Ultralight Tent is one of the very best, if not the best, lightweight hiking tent currently on the market.