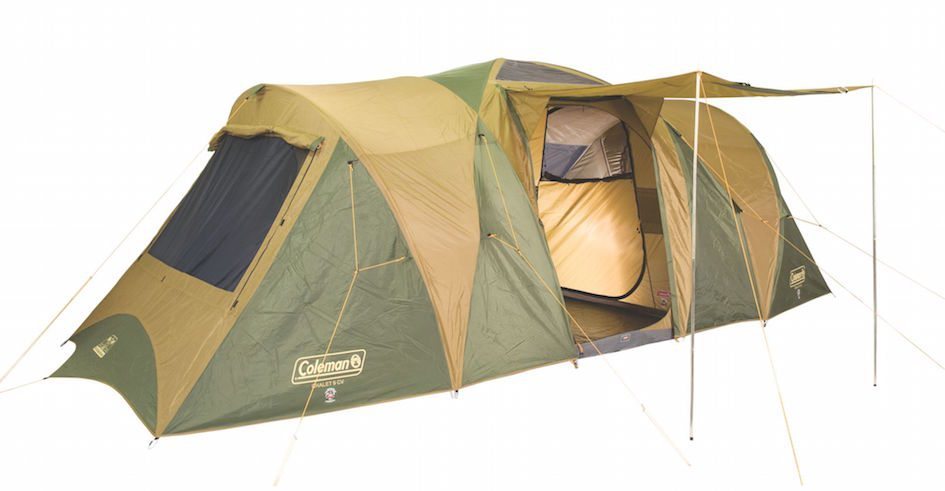 Verdict:
If there ever was a tent designed for family camping, the Coleman Chalet 9 CV is it.
Part of the Colemans Gold series, this tent is a mainstay of Australian camping. The only tent we review with three separate rooms, this tent offers the luxury of having two bedrooms separated by a central living area.
Weatherproofing is another strong point of the Coleman Chalet 9 CV with an impressive waterproof rating and a dome style that excels in high winds.
The setup time is the main drawback, but this really is the price you pay for the security this style tent offers in bad weather.
Capacity: 9 person
---
Weight: 26 kg
---
Pros: Amazing performance in high winds, three-room design, great value
---
Cons: Long setup time
Coleman Chalet 9 CV Tent Review
Setup:
The Coleman Chalet 9 is a more traditional style tent and therefore you will need to invest slightly more time in the setup than for the pop-up varieties.

Coleman, however, do their best to make things as simple as possible with a colour coded fibreglass pole system and pre-tied guy ropes.

As a rough guide, you'll be looking at around 30-40min all up.

To be clear, the setup time is the main drawback of the Chalet 9 CV, but we don't consider it a deal breaker given the superior stability this style tent provides.
---
Weatherproofing:
With 75D/185T polyester/taped seams, a 3000mm proofed fly, and heavy-duty PE flooring, the Coleman Chalet 9 CV is almost storm proof.

Being a traditional style dome tent, this will be one of the best performers in high wind.

Like some of the other Coleman tents, the awning of the Chalet 9 CV has a tendency to pool water so needs to be taken down during heavy rain.
---
Size:
At 6m x 2.8m x 2.0m this is the most spacious tent we review.

It is marketed as a 9 person tent, however this assumes you will sleep 3 people in each room.

Most Families would opt for two adults in one end room, and 2 or 3 children in the other, with the centre room being utilised as a living area.

Packaged size is 0.88m x 0.50m x 0.26m and weighs 26kg.
Features:
Superior ventilation is the stand out feature of the Coleman Chalet 9 CV, achieved through mesh roof panels, large windows (with external weatherproof flaps) in the bedrooms and Coleman's trademarked Circle Ventilation™ System.
A skylight over the centre room assists with daytime lighting and internal organiser pockets and a power cord management system help keep things tidy. A wheeled carry bag assists with transport pre-setup and post takedown.
---
Conclusion:
One of the most popular family tents in Australia, the Coleman Chalet 9 CV offers a family camping experience like few others can.
In terms of value, it is second to none. Being a traditional style dome tent it offers great performance in bad weather but comes at the cost of a slightly increased setup time.