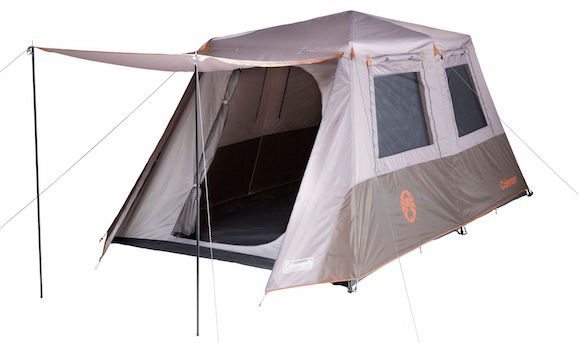 Verdict:
The Coleman Instant Up 6 Person Tent is the perfect combination of a high-quality build and innovative features at a low cost. These tents currently retail around $300 AUD and are a perfect sized tent for between 2-3 adults. 
The Instant Up tent is packed with the latest tent technology, including a fully seam sealed fly, patented welded floors, inverted seams, and a waterproof rating of 1500mm.
There have been issues with awnings pooling water in previous versions meaning these tents may not suitable during the Australian rainy season. But this is the only real fault identified with this model of Coleman Tent and has since been rectified with more recent models with the inclusion of a polyester roof panel.
Capacity: 6 person
---
Weight: 13.4 kg
---
Pros: Quick set up, lightweight, great value for money
---
Cons: Older versions had a potential for rain to pool on awning
Review by:
Jame S.
Review Editor
OutbackReview
Last Updated:
Saturday 10th January 2018
Coleman Instant Up 6 Person Tent Review
Setup

:
The Coleman Instant 6P Tent is one of the fastest tents to set up currently on the Australian Market. Its unique HUB design means this tent can be set up or packed down in just 2 minutes making this tent perfect for those who want to spend get set up in a hurry.
Once the frame is erected, the tents fly can quickly be attached and awnings extended to provide additional shade or shelter. 
---
Weatherproofing

:
All Coleman Instant tents are built for a wide range of weather conditions and feature the WeatherTec™ System. This system has been built to handle extreme weather such as winds up to 80km per hour and heavy rain.
The combination of fully-taped rainfly seams, coated polyester fabric and plenty of ventilation makes the Coleman Instant 6 person tent perfect for a wide range of Australian weather conditions. 
---
Size:
The Coleman Instant six-person tent is a suitable size for 2-3 adults and has internal dimensions of 320cm L x 260cm W. As well as being big enough to put two queen-sized air beds in the tent, its HUB design means a high roof pitch making it easier for taller people to move around inside it. 
Features:
The Coleman Instant Six Person tents are packed with features to make them not only suitable for a wide variety of weather conditions but also make them comfortable for extended camping adventures. The Key features include 
Large windows will roll-up rear flaps to allow increased airflow
Inverted seams to ensure rain is kept out
Internal cord management
Fully seam sealed fly with large front awning
Welded floors
A sturdy carry bag included for easy transport
---
Conclusion:
We highly recommend the Coleman Instant up 6 person tent for those wanting a tent that can hold up in a range of Australian weather conditions. There are not many tents in this class that offer as many features as such an affordable price.
The Coleman Instant Up 6 Person Tent is fantastic value and would recommend this to those who are on a budget.