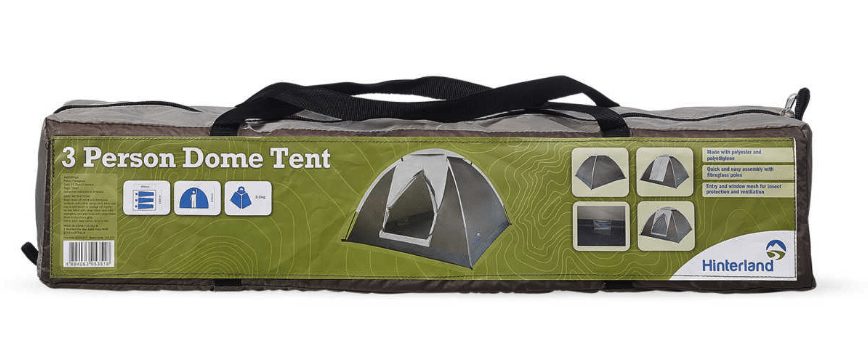 Verdict:
As the cheapest tent we review in our selection of the best cheap tents on the market, the Hinterland 3 Person is generally what you would expect for the price.
If you take care with handling and set-up, and avoid heavy rain and wind, this tent will be money well spent and will serve as a perfectly acceptable home base for a summer festival or kids tent on a family holiday.
If you can stretch your pennies a little further we recommend making a small upgrade to the Oztrail Festival range.
Capacity: 3 person (recommended 1-2 adults)
---
Weight: 2.9 kg
---
Pros: Quick set up, cheap
---
Cons: No guy ropes, questionable waterproofing
Hinterland 3 Person Dome Tent Review
Setup:
Being a small dome style tent, the set-up of the Hinterland three-person dome tent is fairly straightforward.
The fibreglass poles are internal as opposed to passing through external loops as you would normally see on this style tent, but this shouldn't cause too many problems.
---
Weatherproofing:
Fully seam sealed, and made from TREKTEX waterproofed polyester you shouldn't face any problems in light rain and wind.
There are several reports of leakage in this Hinterland range so if heavy rain is forecast we would suggest setting up a tarp over the Hinterland 3 Person Dome or opting for a tent of slightly higher quality.
There is a generous amout of ultra-fine mesh that improves ventilation and protects from insects.
---
Size:
Coming in at 0.2m (W) x 0.18 (L), this is a fairly small tent, which we recommend for 1-2 adults or 2-3 children.
At only 2.9kg this tent is very transportable and easy to manage with one person.
---
Features:
Included are all the features you would expect - internal storage pockets provide a safe spot for car keys and electronics, power cord access and lantern loops.
---
Conclusion:
If you've blown all your cash on a festival ticket and are in penny-saving mode as you gather up the camping essentials, the Hinterland 3 Person is one of your better options. However with only reasonable quality materials and questionable waterproofing if you can stretch yourself we recommend making a small upgrade to the Oztrail Festival dome tent.