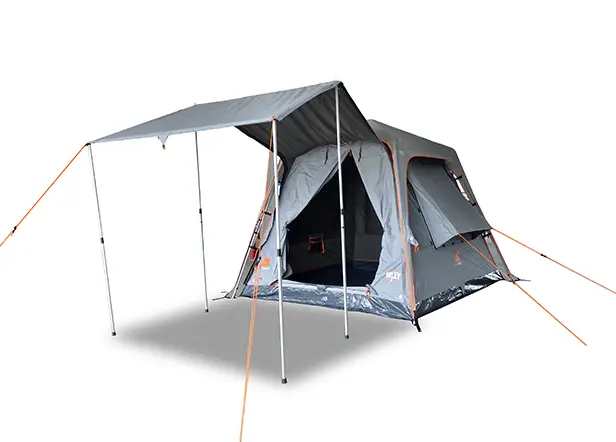 Verdict:
The Oztent Oxley 5 Tent is one of the best 4 person tents available on the Australian market. It's unique "fast setup" structure means it can be set up in a hurry so you can spend more time relaxing at your campsite. This tent has a high-quality canvas making it suitable for all Australian weather conditions and includes a rain fly for when it really pours down.
The only downsides of the Oxley tent are the price ($900 AUD+) and the large pack down size. It is only suitable for those who have larger cars or 4wd's who are not concerned about keeping weight down on their journeys.
Capacity: 4 person (recommended for 2 adults)
---
Weight: 23 kg
---
Pros: High Quality tent, loads of features
---
Cons: Price, Heavy
Oztent Oxley 5 Fast Frame Tent Review
Setup:
The Oztent Oxley 5 Fast Frame Tent is more complex to set up than a traditional dome style or cross pole tent. This is due to the robust exterior frame is one unit and therefore is quite heavy and therefore its best to have 2 people to erect this tent.
Also, as this tent is very heavy (23 kg) it can be difficult to move to and from your car, even inside its strong carry bag. This tent is also large in size when packed down and therefore is not suitable for space conscious travellers.
---
Weatherproofing:
This tent is perfect for a range of Australian weather conditions due to its 100% waterproof rip-stop polycotton canvas. This tent also comes with a fly that is only required for the most intense rain conditions. The bottom of the tent is protected from the elements by a heavy duty PVC floor.
The tent has additional protection against the elements from the corrosion resistant aluminium parts as well as the fully tapped streams to present leaks along the sticking.
---
Size:
The Oztent Oxley 5 Fast Frame Tent is one of the larger four-person tents on the Australian market with dimensions of 250 (w) x 250 (d) x 210 (h). The 2.1-meter height makes this the tallest 4 person tent we can find making it perfect for extended camping trips.
The downside of this large footprint is that this tent is large when packed and therefore this tent is really only suitable for those with plenty of space.
Features:
As this is a top of the range tent, it is packed with features that sets it apart from its competitors. The Oztent Oxley 5 Fast Frame Tent features a media pocket that allows you to watch movies from your ipad or phone while laying on your back (perfect for those rainy nights). This tent also comes with a large front awning that provides extra shade and shelter from the rain or wind in adverse conditions. This awning is fully enclosed and therefore offers great storage for camping equipment and baggage.
The last great feature of the Oztent Oxley is the passive ventilation system that allows fresh air to move through the tent to minimise condensation during the night.
---
Conclusion:
The Oxley tent is a high-quality tent that is suitable for those campers who like to head off on adventures all year round. Its high price point and large pack size will put off some buyers.