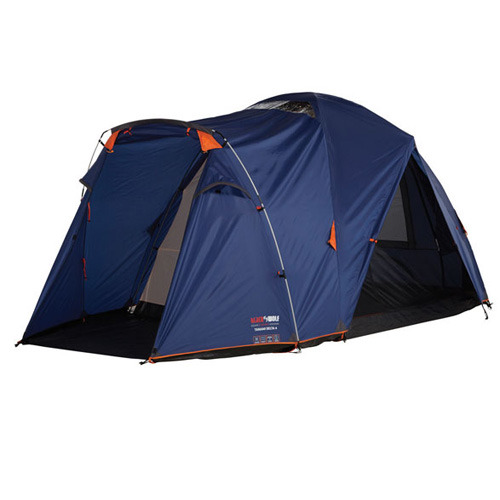 Verdict:
The Blackwolf Tanami Delta 4 Dome Tent is a great value and easy to set up. There are not many tents available on the Australian market that offer this quality and range of features at a price point of below $300 AUD.
The downside of this tent is the poles that have been known to be flimsy and break in certain conditions. These tents do come with a lifetime warranty and Blackwolf has been known to have some of the better customer services in Australia.
Capacity: 4 person (recommended for 2 adults)
---
Weight: 10 kg
---
Pros: Great value
---
Cons: Flimsey poles
Blackwolf Tanami Delta 4 Dome Tent Review
Setup:
The Blackwolf Tanami Delta 4 Dome Tent is easy to set up with one person and requires a total of three FibreFlex poles to erect the tent and the front room. This model tent is known to be easy to also pack down and only weights 10 kg making it perfect for those who are trying to keep their weight down on long trips.
---
Weatherproofing:
The Tanami Delta 4 Dome Tent has been proven to hold up against a range of weather conditions. The base of the tent is made out of heavy-duty polyethene and the fly constructed out of 68D 190T Polyester PU. To add additional protection against the rain the Tanami Delta 4 Dome Tent has waterproof taped seams on the fly.
Like all Blackwolf tents, these are made specifically for Australian conditions and therefore utilise No-See-Um mesh across the large windows giving this tent great airflow for hotter days/nights. 
During summer months the windows on each side can be folded back to allow airflow through the tent.
---
Size:
This tent is a good size with dimensions of 410cm (L) x 220cm (W) allowing you to comfortably have 2 large single or 1 queen airbed inside.Blackwolf tents generally have good amounts of height meaning even tall people can stand up inside and this model has an internal height of 1.9 meters.
---
Features:
This tent has a decent amount of features for its price. The standout features of the Blackwolf Tanami Delta 4 Dome Tent include:
Ground level ventilation openings to allow airflow
Large side and back windows to allow light and ventilation.
No-See-Um mesh doors and windows to prevent bugs and insects inside
Waterproof taped seams on fly
Skylight windows on roof to allow stargazing
---
Conclusion:
This tent offers a good range of features and is one of the best value 4 person tents on the market.